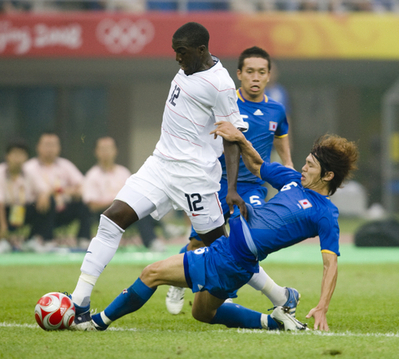 Photo by ISIphotos.com
Jozy Altidore will be staying with Villarreal for at least the first half of the upcoming La Liga season.
The U.S. national team striker and former Red Bulls standout revealed that he will not be going to another Spanish club on loan, which had long been expected, and will stay with Villarreal as the club deals with a rash of injuries at th forward position.
Altidore made the revelation on his blog on the New York Times website on Friday.
Perhaps even more stunning than that development is Altidore's revelation that he was not injured during the Olympics and simply didn't see more playing time because coach Peter Nowak decided not to use him more.
"I know there were some things written about me being injured … I don't know where that came from because I wasn't injured," Altidore said. "Maybe my left ankle is not the greatest, but I was more than fine to play. How much I played was really a coach's decision.
"I had a game plan for myself, but I guess it wasn't the same as the coach's plan. My playing had nothing to do with my ankle, it was just how the coach made the lineup."
What do you think of the news that Altidore will be staying with Villarreal? What do you make of his revelation that injuries had nothing to do with his lack of playing time at the Olympics? Share your thoughts below.