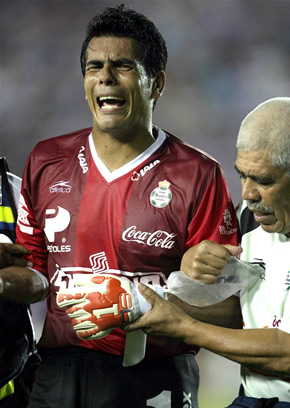 Oswaldo Sanchez might want to think about burning his passport and never leaving Mexico again.
No, not because U.S. fans absolutely hate his guts, but because the Mexican goalkeeper just hasn't had much fun outside of Mexico over the past eight months.
Counting last night's loss to Montreal in the CONCACAF Champions League quarterfinals, Sanchez has gone 12 straight games without a win outside of Mexico with both Santos Laguna and Mexico. His last win outside Mexico? A 2-0 Mexico victory against Belize in Houston (it was a World Cup qualifier in Houston, which served as Belize's home leg). The losses have come in six different countries, against teams ranging from a pair of MLS squads to a pair of USL teams.
Sanchez's problems seemed to begin last June, when he was arrested at a Chicago hotel. That arrest came after he was in net for Mexico's 4-0 win against Peru at Soldier Field. Things have gone downhill ever since.
How bad have things been for Sanchez? A look at the list of his teams' results since the Chicago arrest shows you just how bad things have gotten for Sanchez since last June:
Oswaldo Sanchez's recent road results
$6/15/08- beat Belize (with Mexico), 2-0, in Houston
*7/13/08- lost to New England (with Santos Laguna), 1-0, in Foxborough, Mass.
*7/16/08- lost to Chivas USA (with Santos Laguna), 1-0, in Carson, California
*7/20/08- tied Pachuca (with Santos Laguna), 1-1, in Frisco, Texas
+9/23/08- lost to Puerto Rico Islanders (with Santos Laguna), 3-1, in Puerto Rico
+10/2/08- lost to Tauro FC (with Santos Laguna), 2-0, in Panama City
$10/11/08- lost to Jamaica (with Mexico), 1-0, in Jamaica
$10/15/08- tied Canada (with Mexico), 2-2, in Canada
+10/30/08- tied CD Municipal (with Santos Laguna), 4-4, in Guatemala City
$11/19/08- lost to Honduras (with Mexico), 2-0, in Honduras
01/29/09- lost to Sweden (with Mexico), 1-0, in Oakland
$02/16/09- lost to USA (with Mexico), 2-0, in Columbus
+02/25/09- lost to Montreal Impact (with Santos Laguna), 2-0, in Montreal
*-SuperLiga, + CONCACAF Champions League, $- World Cup qualifier
——————-
Admit it, you absolutey LOVE that Sanchez has struggled so badly outside of Mexico (if I forgot to include any of Sanchez's matches from this time period, please send them along).
What do you think of these results? Think someone put a hex on Sanchez? Do you think all the losses to the United States have rendered him useless away from home? Still wondering why Guillermo Ochoa isn't starting for Mexico yet?
Share your thoughts below.