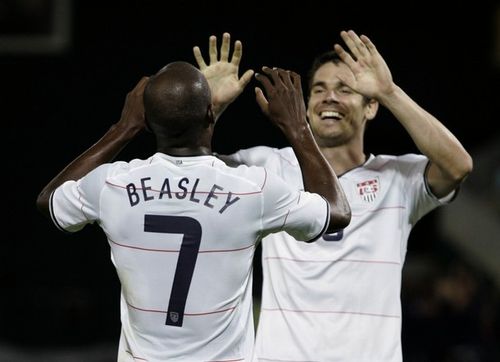 by GIANFRANCO PANIZO
With Steve Cherundolo and Frankie Hejduk both sidelined with injuries, much has been made of the United States men's national team's right back situation against Costa Rica. But while right back does present an issue, it is the problematic left back spot which has just as many question marks surrounding it heading into tonight's qualifier.
With a chance to further distance themselves from the rest of the pack, the U.S. national team will need a strong defensive showing against a Costa Rican side that has scored 16 goals throughout qualifying in the fortress that is Saprissa Stadium. Left back candidates DaMarcus Beasley, Jonathan Bornstein and Heath Pearce are all available for tonight's match, and a case can be made for any of them to start.
Here is a closer look at the three left backs who could potentially start tonight:
DaMarcus Beasley
Some U.S. fans are concerned with his slight frame, but Beasley could just be the best option for head coach Bob Bradley tonight. Beasley showed glimpses of a solid left back when he shut-down the speedy Carlos Edwards en route to helping the U.S. post a cleansheet in their 3-0 victory over Trinidad and Tobago on April 1. His defensive performance against one of the best right wingers in CONCACAF drew praises from Bradley and goalkeeper Tim Howard in the process.
Beasley also showed a willingness to jump into the attack against T&T, a trait Bradley is fond of in his fullbacks. To add to his case, Beasley has also played in more tough road qualifiers in his career than both Bornstein and Pearce combined and he is the player least likely to be phased by the hostile crowd at Saprissa, where Los Ticos are 18-1-2 in all matches since 2000.
The major concern surrounding Beasley is that he has not played since April 8, when he suffered a rib injury in the 14th minute of Rangers' league match against St. Mirren.
While his sharpness is in question, Bradley knows Beasley very well and has shown confidence in him in the past when he hasn't been playing much for his club, which makes Beasley the favorite to start vs. Costa Rica.
Jonathan Bornstein
Bornstein has had a solid year for Chivas USA and that, paired with Heath Pearce's struggles at Hansa Rostock, was reason enough for Bradley to call him back into the squad. Bornstein has helped Chivas USA post a 7-2-3 record, a record good enough to help them reach the top of the standings in the West.
Although he has not provided much of an offensive spark this season for Chivas USA, the former UCLA Bruin is still a threat going forward. Bornstein is also the only left back available to Bradley that has been getting regular minutes at the club level.
But Bornstein's last performance in the red, white and blue left for a lot to be desired. Playing against a heavily-domestic Sweden side, Bornstein showed some questionable positioning and defending in the United States' 3-2 win back in January. Although his errors did not change the outcome of the friendly played at the Home Depot Center, mistakes like those might turn out to be to too costly in Costa Rica, where the U.S. is 0-5-1 all-time in World Cup qualifying.
Heath Pearce
Having started in a team-best 11 games in 2008, Pearce's familiarity with centerbacks Oguchi Onyewu and Carlos Bocanegra still make him a viable candidate to start tonight against Costa Rica. Among those 11 games were two tough road qualifiers, wins at Cuba and Guatemala.
Pearce, who also led the team with 945 minutes played in last year, still remains as the most natural left back in the pool. He is not a converted forward like Bornstein, nor is he a midfielder making the transition to defender like Beasley and that could give him the edge tonight.
Like Beasley though, Pearce has not played in the past couple of months. Pearce was demoted to Hansa Rostock's reserve team on April 13 and has not seen the field for the Bundesliga 2 side since.
Before his club issues, Pearce had already been struggling for the U.S. team for much of the year and had a poor performance against El Salvador on March 28 which led to his benching against T&T. With Pearce not having played a game in two months, his form and fitness might be the reason he could watch from the sidelines once again.
—————————————-
Are you okay with these three options at left back? Who do you see getting the nod tonight? Which player has the best chance to lock up the position before the World Cup?
Share your thoughts below.