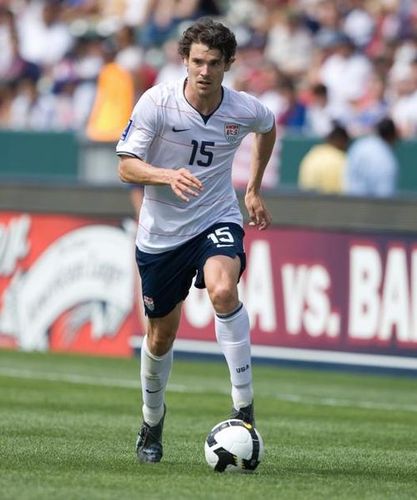 photo by ISIphotos.com
Heath Pearce looked to be the solution to the U.S. national team's problematic left back situation in 2008, but that was before a drop in form saw him fall out of favor with head coach Bob Bradley last year. That demotion looks to have lit a spark under Pearce, who enjoyed one of his finer performances in recent memory in the U.S.'s 2-1 victory over El Salvador.
Pearce had not started (nor played in a match) at the international level since the 2009 Gold Cup final, but that did not stop him from being one of the top U.S. players at Raymond James Stadium in Tampa on Wednesday night. Throughout the game, the FC Dallas defender, who earned a surprise start with usual left back Jonathan Bornstein playing centrally, showed glimpses of why he was once considered an automatic starter.
Defensively, Pearce was solid and his positioning was good, although, to be fair, El Salvador's right side looked to be one of the team's many weaknesses on the night. 
On the offensive side, Pearce connected with most of his passes, got forward well and even showed off some moves when he juked defender Alexander Escobar in the first half. Pearce also provided a few dangerous crosses, including one which Brian Ching thundered home with a diving header in the 75th minute to pull the score level at 1-1.
"Heath played a couple good balls [tonight]," said Ching. "I knew he was going to get the ball across so I just tried to put myself in a good position"
Pearce wasn't as convinced by the cross when it left his foot.
"When I crossed it to him, when I looked up I thought it that it had hit the outside of the side netting, so I didn't know it went in until he started celebrating," said Pearce. "It was a relief."
A bigger relief for the United States was Sacha Kljestan's 92nd minute goal, which gave the hosts a 2-1 victory in front of the 21,737 fans in attendance, and ended a four game winless streak.
"We have had a rough stretch as a group here in terms of our recent results with the national team," said Pearce. "So it is nice to get a win."
The win will surely be even nicer for Pearce if it ends up being the game which put him back in contention for a World Cup spot.
—————
What did you think of Pearce's performance? What are the odds he makes the World Cup team? Hoping to see him called up against the Netherlands?
Share your thoughts below.