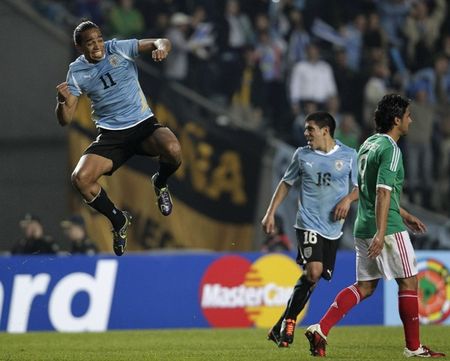 By FRANCO PANIZO
Uruguay wasted a number of chances, but Alvaro Pereira's goal was enough to give Los Charruas a 1-0 win over Mexico and set up a mouth-watering quarterfinals match against Argentina.
Pereira gave Uruguay three points in the final game of Group C on Tuesday night when he netted his second goal of the tournament in the 14th minute. Pereira pounced on a rebound and knocked the ball in from inside the six yard box with his left foot.
The victory, combined with Chile's win over Peru in the first game of the night, lifted Uruguay to second place in the group with five points. It also set up an appetizing quarterfinals date against Argentina, which finished second in Group A. The game will be played on Saturday, July 16.
Mexico was eliminated from the competition with the loss, finishing fourth in the group and dead last in the tournament after failing to secure a single point.
Here are the game highlights as well as a recap of Chile's win versus Peru:
LATE OWN GOAL SEES CHILE WIN GROUP C
Chile and Peru entered their final match in Group C knowing that a victory would be enough to take first place. The spoils went to Chile as an agonizing own goal in the final seconds of the game saw Peru lose for the first time in this Copa America.
Chile defeated Peru, 1-0, after a corner kick whipped in from the right smacked off Peruvian midfielder Andre Carillo before rolling into his own net in the 92nd minute.
Both teams rested regulars as they had already secured advancement to the knockout stage, but both finished the game with 10 men after Chile's Jean Beausejour and Peru's Giancarlo Carmona were given red cards for a physical incident off the ball in the 62nd minute.
The result, combined with Uruguay's triumph over Mexico, dropped the La Blanquirroja to third place on four points. But like Chile, the Peruvians will have to wait until group play is wrapped up on Wednesday to see who they'll face in the quarterfinals.
Here are the game highlights:
——-
Happy to see Mexico lose to Uruguay and finish the Copa America in dead last? What did you think of Chile's win over Peru? Excited to see Uruguay-Argentina in the quarters?
Share your thoughts below.