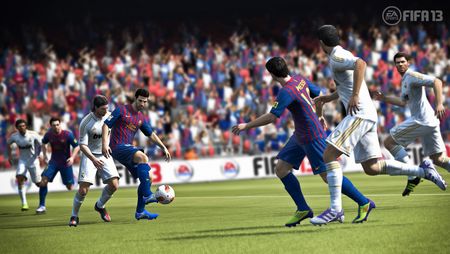 By FRANCO PANIZO
NEW YORK — A handful of reporters were given a glimpse of what FIFA13 will be all about when it is released in the fall, scoring a rare chance to play a beta test version of the video game in New York City on Wednesday afternoon.
SBI was among the groups in attendance and we can tell you that the game is looking promising. The game is as sharp, if not sharper, than last year's version in terms of aesthetics and the gameplay has been fine-tuned a bit to further resemble the realistic soccer we all watch every week.
Gone are the immaculate first touches that seemingly every player had in years past no matter what their rating was, and it is easy to notice right away. Players will take poor touches that will kill some promising attacks, which was more enjoyable than frustrating.
The other aspect that really stood out is how the noncontrolled players on your team make and time their runs. The straight forward and simple diagonal runs are no longer the only options. Now, players make curving runs and they will try their best to hold their runs so as to stay even with the defensive line in anticipation of a pass.
Passing is also less accurate, with more going astray and matches feeling more realistic and less pinball-like. Chipped shots also do not seem to be as precise as before, as the ball feels heavier and harder to accurately place when an onrushing goalkeeper comes out. Quick free kicks can also be taken now even if the ball rolls away from the spot of the foul, as the CPU-controlled teammates will pass the ball back to the spot quickly.
One play that really stood out in particular happened in my first game. I was using Chelsea and one of the FIFA13 developers opted to play me with Barcelona (there were only six different teams to choose from in the beta).
In one of my early attacks, I ran down the left with Ashley Cole while Didier Drogba was making a run in my direction with a defender on his shoulder. In a split-second, Drogba spun away from the defender and made a curving run towards the middle of the field. I hit him with the pass and it created a chance on goal for me, which felt very rewarding.
There were a couple of things that could use some more fine-tuning (and there will be, as the game does not drop until September 25). Most of the goals scored still seem to come from the forwards, breakaways still happen a bit too frequently and the impact engine, although improved, still has an occasional big hiccup. But overall, FIFA13 felt like an improved version of last year's game, with slight tweaks that have been made so far building on an already-strong foundation.