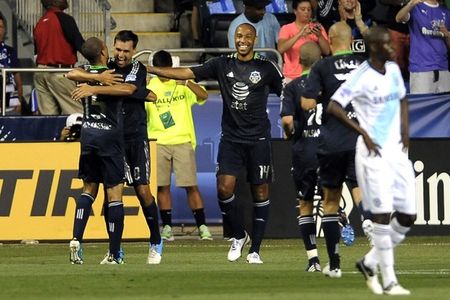 CHESTER, Pa. — It may have come in part because of a fortuitous deflection, but the MLS All-Stars pulled out a win for the first time in four years.
With penalty kicks looming, the MLS All-Stars grabbed a 3-2 victory over UEFA Champions League winners Chelsea thanks to a stoppage time finish from substitute Eddie Johnson. The Seattle Sounders forward took a shot that deflected off a defender in the 91st minute and it took a kind bounce before rolling into the back of the net to give the MLS All-Stars their first win in an All-Star game since 2008.
The goal capped a back-and-forth game played in front of a record crowd at PPL Park that saw both teams take leads before surrendering them. The MLS All-Stars had pulled level at 2-2 off a finish from Chris Pontius, but that came after Chelsea had taken a lead earlier in the second half due to Frank Lampard's simple finish in the 59th minute.
Lampard had also assisted on Chelsea's first tally, hitting a corner kick that captain John Terry headed past starting MLS All-Stars goalkeeper Jimmy Nielsen in the 32nd minute. Terry's goal had negated the MLS All-Stars' opener, which came 11 minutes prior courtesy of red-hot Chris Wondolowski.
The San Jose Earthquakes forward put the home team out on top the match up top after a cross from the left from New York Red Bulls forward Thierry Henry, who was played in on the flank by Los Angeles Galaxy midfielder Landon Donovan.
What do you think of the MLS All-Stars' 3-2 win over Chelsea? Who was your Man of the Match? Which players impressed you from both teams?
Share your thoughts below.