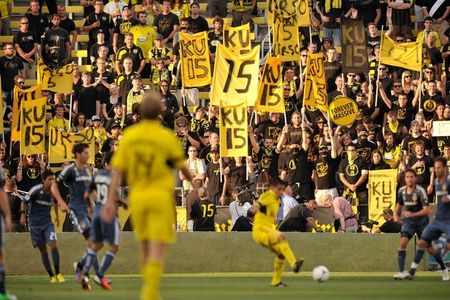 The Columbus Crew made an emotional return to action on Wednesday night, playing their first match since the death of midfielder Kirk Urso. As difficult as it was to get back on the field after such a tragedy, the Crew battled on and honored their fallen teammate with a gutsy performance.
A Jairo Arrieta goal and some outstanding goalkeeping by Andy Gruenebaum helped the Crew earn a 1-1 draw against the Los Angeles Galaxy at Crew Stadium on Wednesday. Robbie Keane spoiled the chance for a home-team win with his own second-half equalizer.
The Crew honored Urso before the match with a moment of silence and a video tribute. The emotional moment took its toll on the Crew early on, but Columbus eventually got going and gave the favored Galaxy all they could handle.'
After a scoreless first half, Arrieta opened the scoring in the 47th minute to give the Crew the lead. Keane tied things up in the 65th minute to leave the teams tied.
Here are the match highlights:
What did you think of the match? Impressed with how Columbus handled such an emotional night? See the Galaxy playing their way into the top two spots in the Western Conference?
Share your thoughts below.