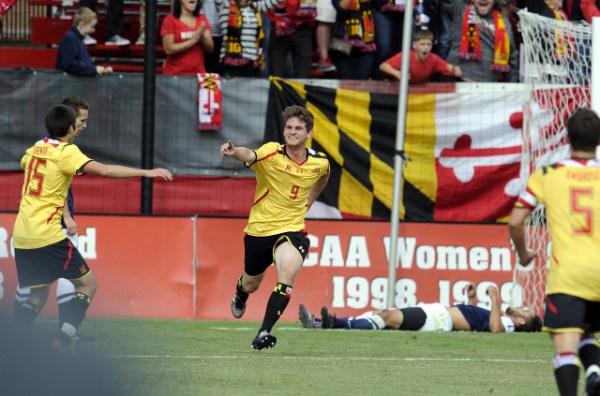 Photo by Maryland Athletics
By AARON CRANFORD
The SBI No. 25 Maryland Terrapins defeated  No. 1 ranked Indiana, 2-1, on Sunday, and while the Terps are heating up, many of the other top college teams seem to be simmering down.
The Terrapins have now won four consecutive matches, while defeating Penn State and Indiana in that stretch. Senior Alex Shinsky and sophomore Alex Crognale scored for the Terps before the Hooisers' Femi Hollinger-Janzen scored in the 73rd minute. Maryland improves to 7-5-2, and the Hoosiers fall to 8-2-3.
In one of the biggest matches this weekend, No. 13 Michigan State beat No. 6 Penn State, 2-0, Saturday. The win is the fourth straight for the Spartans.
Junior Jason Stacy bagged the first goal in the 21st minute, and junior Jay Chapman quickly followed suite, as he netted the Spartans second in the 26th. The Nittany Lions were unable to find the net for the remainder of the match and suffered their second straight loss.
No. 3 UC Irvine scored a late goal from a corner kick Saturday to beat Cal State Fullerton, 2-1. Bryan Breslin connected with Gor Kirakosyan's corner kick in the 72nd minute, while Michael Breslin earned his fifth shutout of the year.
If you missed it, here are Friday's results. Check out the rundown of the rest of this weekend's top college results:
WEEKEND COLLEGE SCORES
SATURDAY
No. 3 UC Irvine 1, Cal State Fullerton 0. (Recap)
No.6 Penn State 0, No. 13 Michigan State 2. (Recap)
Old Dominion 2, No. 7 Charlotte 1. (Recap)
Xavier 1, No. 9 Creighton 1. (Recap)
Seton Hall 1, No. 10 Georgetown 0. (Recap)
Kentucky 1, No. 11 New Mexico 0. (Recap)
No. 12 Marquette 1, Villanova 1. (Recap)
Liberty 0, No. 16 Coastal Carolina 2. (Recap)
Dartmouth 1, Penn 2. (Recap)
No. 21 American 0, Army 0. (Recap)
Boston University 3, Lafayette 1. (Recap)
Winthrop 1, UNC Ashville 1. (Recap)
Northeastern 0, UNC Wilmington 2. (Recap)
UAB 7, Marshall 2. (Recap)
Davidson 2, St. Bonaventure 0. (Recap)
SMU 2, South Florida 2. (Recap)
SUNDAY
No. 1 Indiana 1, No. 25 Maryland 2. (Recap)
San Diego State 2, No. 4 Washington 3. (Recap)
No. 5 UCLA 3, Oregon State 0. (Recap)
No. 14 George Mason 1, Fordham 0. (Recap)
No. 18 Saint Louis 5, Massachusetts 0. (Recap)
Grand Canyon 0, Air Force 0. (Recap)
UNLV 1, UMKC 2. (Recap)