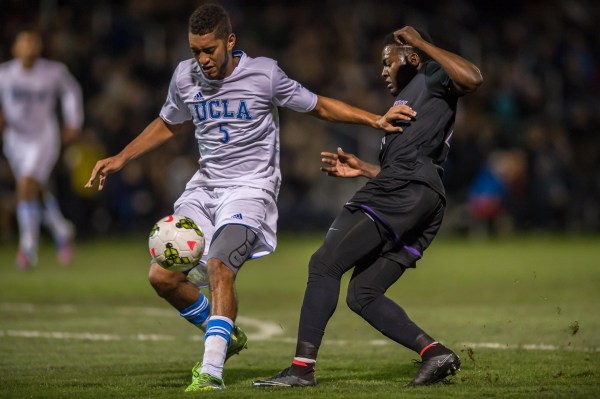 Photo by Wilson Tsoi/Washington Athletics
By AARON CRANFORD
SBI No. 2 UCLA just finished a thrilling draw with No. 6 Stanford on Thursday, but will turn right around and face No. 8 California on Sunday in the weekend's most intriguing college match.
The Bruins are now unbeaten in six matches, while the Golden Bears are unbeaten in their last four as well. With the regular season winding down and tournament time approaching, both sides will be wanting to continue their good form.
In an ACC match that has big implications for ACC tournament seeding, No. 16 North Carolina will face off against Virginia on Saturday (7 p.m., ESPN3). The Tar Heels are on a roll, winning seven in a row and scoring 24 goals in that streak. They are averaging 2.38 goals per game, making them one of the highest scoring teams in the nation.
The Cavaliers dropped out of the SBI Top 25 and have finished the season on a bumpy note, suffering two losses in their last three meetings, but they will want to produce a result so they can host a match in the ACC championship.
Meanwhile, No. 12 Penn State visits Northwestern in an interesting Big Ten affair. The Nittany Lions sit atop the conference, and will be looking to win their last conference match against the Wildcats.
The Wildcats suffered a disappointing midweek loss to Loyola-Chicago Wednesday, but will hope to rebound against a Nittany Lions' side that has only won once in its last four matches.
Check out a rundown of this weekend's top college matches:
THIS WEEKEND'S COLLEGE SOCCER SCHEDULE
FRIDAY
5:30 p.m. — (22) Davidson vs. Duquesne
7 p.m. — (4) Syracuse vs. Boston College
7 p.m. — Clemson vs. North Carolina State
7 p.m. — (18) George Mason vs. George Washington
10 p.m. — UNLV vs. CSU Bakersfield
SATURDAY
1 p.m. — (10) Georgetown vs. St. John's
1 p.m. — Boston U. vs. (19) American
2 p.m. — DePaul vs. (9) Creighton
2 p.m. — Radford vs. (13) Coastal Carolina
4 p.m. — Drexel vs. UNC Wilmington
6 p.m. — Seton Hall vs. Marquette
7 p.m. — Butler vs. (15) Providence
7 p.m. — (20) Maryland vs. Ohio State
7 p.m. — (25) Xavier vs. Villanova
7 p.m. — Wake Forest vs. (24) Louisville
7 p.m. — (5) Charlotte vs. Florida Atlantic
7 p.m. — (16) North Carolina vs. Virginia
7 p.m. — Pittsburgh vs. (7) Notre Dame
7 p.m. — (21) New Mexico vs. Marshall
8 p.m. — Northern Illinois vs. Akron
8 p.m. — UAB vs. Old Dominion
10 p.m. — Cal State Northridge vs. (11) UC Irvine
SUNDAY
1 p.m. — Florida International vs. (23) Kentucky
1 p.m. — (14) Michigan State vs. Michigan
1 p.m. — (22) Davidson vs. Massachusetts
1 p.m. — Delaware vs. Elon
2 p.m. — Northwestern vs. (12) Penn State
3 p.m. — San Diego State vs. (6) Stanford
3 p.m. — (17) Saint Louis vs. Rhode Island
4 p.m. — UNLV vs. San Jose State
8 p.m. — (2) UCLA vs. (8) California