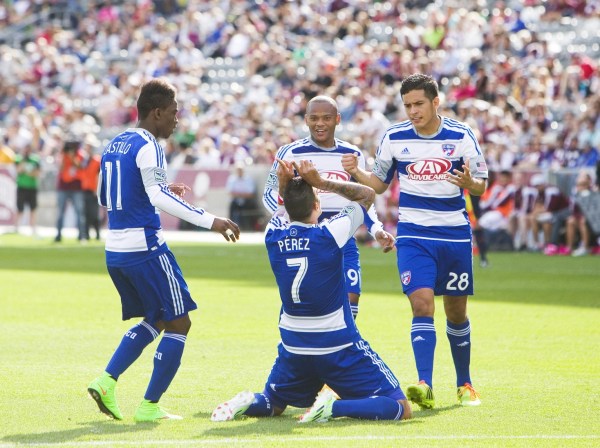 Photo by Chris Humphreys/USA TODAY Sports
By RYAN TOLMICH
Having seen Real Salt Lake settle for a draw, FC Dallas entered Saturday's meeting with the Colorado Rapids knowing that a victory would be enough to push the club into the driver's seat for the coveted third place position.
A victory is exactly what FC Dallas got, as a Blas Perez penalty kick was enough to earn a 1-0 victory over the Rapids Saturday at Dick's Sporting Goods Park.
Perez's spot kick came in the 55th minute due to a handball in the box from Rapids defender Chris Klute. The Panamanian forward finished the spot kick following a stutter step, which sent goalkeeper Clint Irwin the wrong way as Perez shot to the goalkeeper's right for his 11th goal of the 2014 season.
Closing out the game proved to be an easy task for FC Dallas, who finished the contest up a man after Rapids defender Jared Watts was sent off with a second yellow following a challenge on FC Dallas' Andres Escobar.
The victory was enough to push FC Dallas one point ahead of Real Salt Lake, who settled for a scoreless draw with the Portland Timbers Friday. FC Dallas will look to ensure their avoidance of the dreaded wild card game Oct. 25 against the desperate Portland Timbers.
Meanwhile, with the loss, the Rapids see their winless streak extend to thirteen games ahead of their final game against the Vancouver Whitecaps.