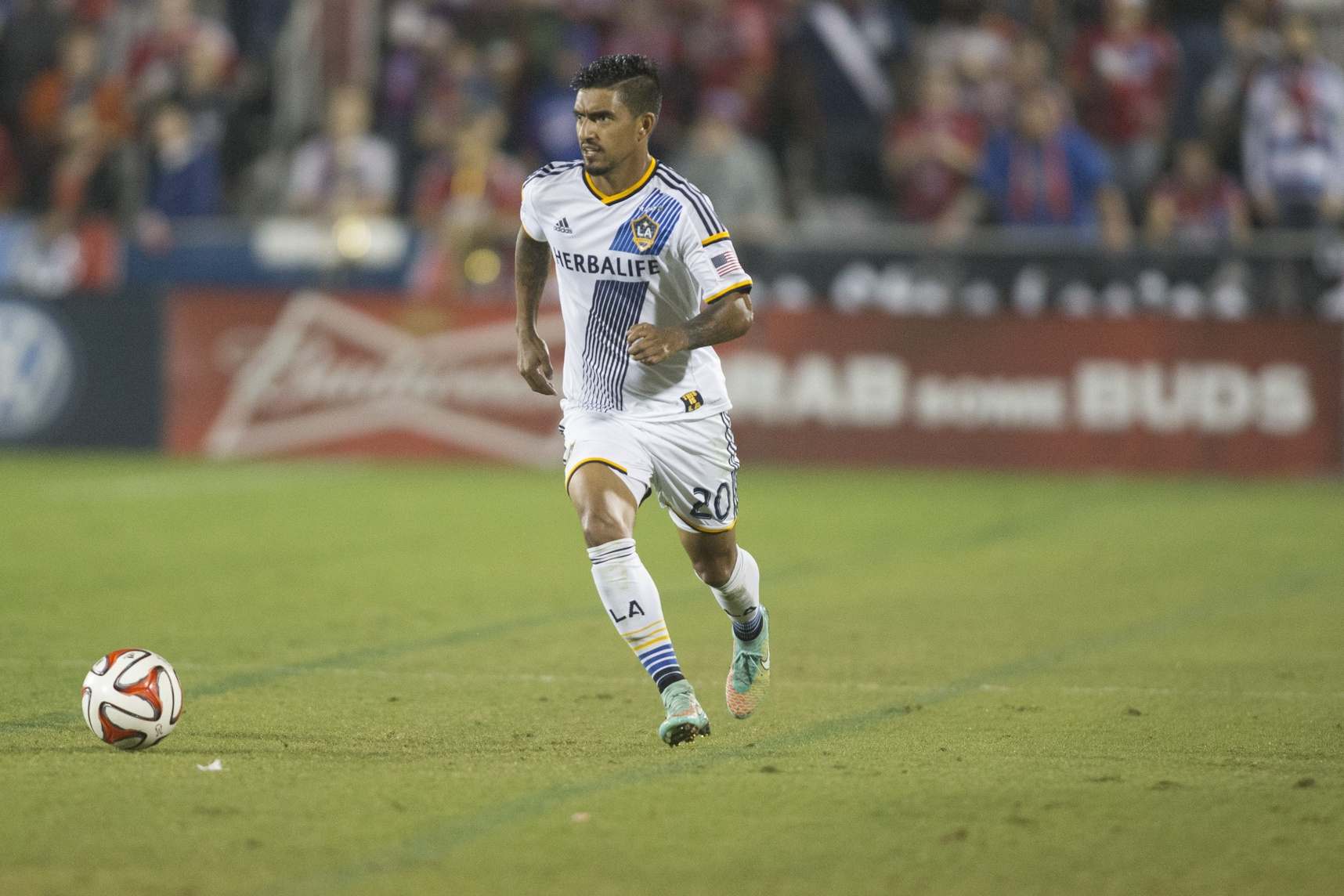 Photo by Tim Heltman/USA TODAY Sports
By DAN KARELL
On the verge of making a deep playoff run, the LA Galaxy have locked down one of their top defenders to a long-term deal.
The Galaxy announced on Wednesday that they've signed A.J. DeLaGarza to a new multi-year contract, the third new contract he's signed with the club since being drafted in 2009.
"We're thrilled to sign A.J. to a multi-year contract," LA Galaxy head coach Bruce Arena said. "He is one of the most versatile defenders in MLS and has been an important part of our organization's success both on and off the field over the past six years. We look forward to A.J.'s continued leadership as an LA Galaxy member."
Since joining the Galaxy, DeLaGarza has made 155 appearances and 150 starts, the most of any defender selected in the 2009 MLS SuperDraft. This season, DeLaGarza has dished out two assists in 28 games, with 27 starts.
Here are some more stories from around MLS:
PARKHURST BACK IN FULL TRAINING
Columbus Crew head coach Gregg Berhalter was able to exhale this week when Michael Parkhurst returned to practice.
The Crew centerback was taken off at halftime of the team's 3-1 victory at the New York Red Bulls due to a back injury, and following the match, Berhalter expressed doubt over Parkhurst's health heading into this week.
"Michael's back seized up on him," Berhalter said. "I don't know what it was, it could have been that collision or it could be something out of place or you know, Emmanuel [Pogatetz] came in under difficult conditions: up two [to] nothing, but I think he did well with a two goal differential."
On Wednesday, Berhalter confirmed that Parkhurst was back in full training, with an eye on Parkhurst starting in the regular season finale on Sunday against the Philadelphia Union.
REVOLUTION ANNOUNCE CONFERENCE SEMIFINAL PLAYOFF DATE
The New England Revolution don't know their playoff opponents yet, but they've already determined when they'll be hosting their Eastern Conference semifinal match.
The Revolution announced that they'll host the second leg of the conference semifinal on Sunday, Nov. 9, at 5 p.m. with the game televised on ESPN2. The first leg of the semifinal will take place on Nov. 1 or Nov. 2.
The Revolution can take on either Sporting Kansas City, the Columbus Crew or the New York Red Bulls in the semifinal.
ORLANDO CITY DENY TAKING PART IN JAN. FRIENDLY TOURNAMENT
Orlando City SC say they won't be taking part in a preseason tournament in Orlando with Bayer Leverkusen after all.
One day after the German club announced that they'll be playing in a tournament with Orlando City from Jan. 9-18 in Orlando, Fla., the MLS newcomers responded by saying that they are not going to be playing in a locally-based preseason tournament this season.
"Orlando City will not play a preseason tournament in Orlando," Orlando City spokesman Lenny Santiago told the Orlando Sentinel. "The team is scheduled to start training camp in late January, and additional details regarding preseason matches will be released at later date."
The Sentinel reports that "all indications" point to Orlando City spending their preseason in Brazil, growing their global brand before returning to the U.S. ahead of their inaugural MLS season.
—————-
What do you think of this news? How important is it to the Galaxy that they've re-signed DeLaGarza? Did you expect Parkhurst to miss significant time? What do you think of Orlando's comments on the preseason tournament?
Share your thoughts below.