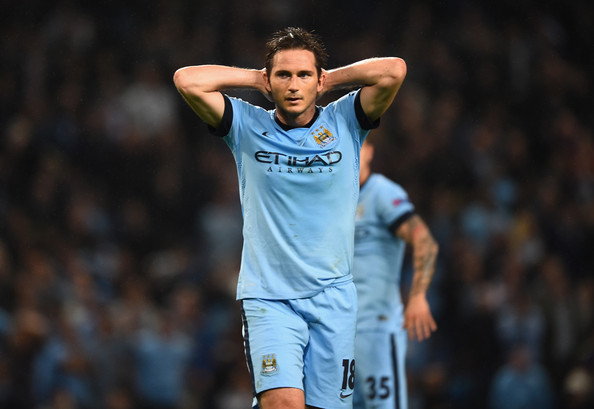 By DAN KARELL
Coming off strong early-season performances that earned Frank Lampard the club's Player of the Month honors, Manchester City are considering every option available to try and retain him until the start of the 2015 MLS season.
While the plan remains for Lampard to leave Man City on Jan. 1 and join up with New York City FC for their preseason training schedule, Man City are reportedly looking into possibly bringing NYC FC over to England for their preseason, potentially allowing Lampard to develop chemistry with NYC FC while also keeping him in Manchester City's squad for the beginning portion of the second half of the English Premier League season.
A report in the Telegraph claims that Man City is looking into scheduling friendly matches for NYC FC to play "lower-league opposition in the Northwest" of England next January and February.
New York City FC have not yet addressed the latest reports.
Both Lampard and coach Manuel Pellegrini have addressed the topic of potentially extending Lampard's stay at Man City, with both player and coach saying they would address the issue when as January draws nearer.
"The important thing for me is to train well, play well if I can, and then see what happens," Lampard told the Guardian in September. "I signed on here till January so that is all I can say at the minute." Lampard is currently sidelined for Man City with a thigh injury.
A trip to England for NYC FC's preseason training program would set them apart from most other clubs in the USA. A majority of MLS, North American Soccer League, and USL Pro teams complete their preseason schedules in warm-weather climates such as Florida, Southern California, or Arizona.
Last season, FC Dallas conducted some of their preseason in the United Arab Emirates, while Minnesota United FC spent nearly two weeks this past March training in England and playing in friendly matches against Matlock Town and Derby County.
————-
What do you think of this report? Do you see NYC FC allowing Man City to keep Lampard on loan until the start of the MLS season in March? Do you think a preseason schedule in England is a good idea?
Share your thoughts below.