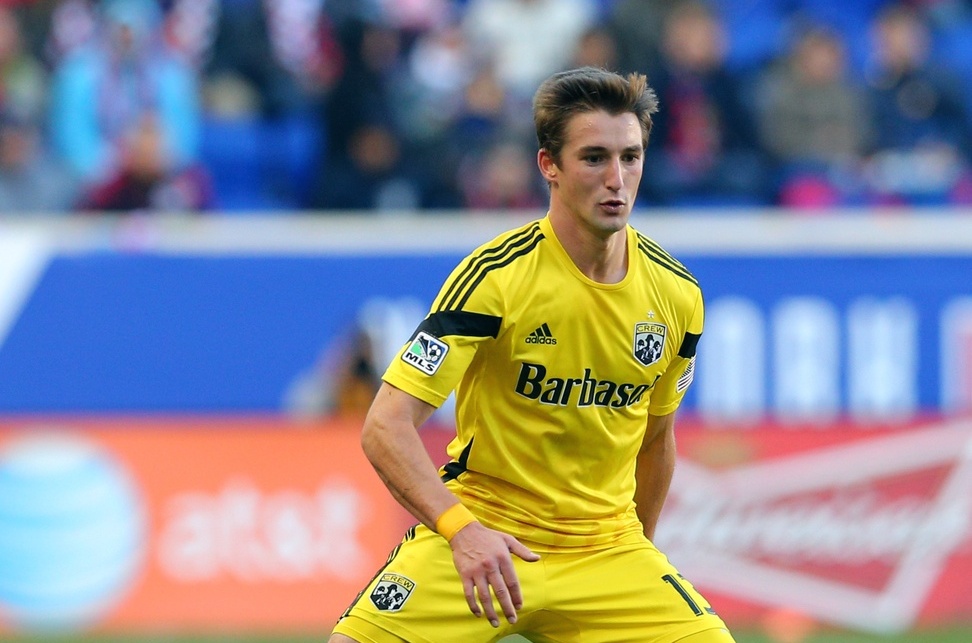 Photo by Brad Penner/USA TODAY Sports
 By DAN KARELL
After starting the season on the outside looking in, Ethan Finlay has developed into an automatic starter for the Columbus Crew and was a big reason for the team's late season push to end a two-year playoff drought.
The strong performances earned Finlay a new contract, one he signed during a fan Q&A event at a local bar in Columbus last week.
"It feels great," said a beaming Finlay the next day after training at the team's practice facility in Obetz, Ohio. "It's something we've been working for. I'm extremely happy, my family's happy, and the club's happy. It's a win-win for both sides."
The speedy winger, who was drafted with the 10th overall selection in the 2012 MLS Draft out of Creighton University, only started six games total entering his third year in the league.
Heading into a crucial season with the Crew, his first under new head coach Gregg Berhalter, Finlay took his chance to break into the starting 11, first scoring a goal in a wild 3-3 draw at the Portland Timbers on May 17 and then scoring and showcasing his blazing speed in his first start of the season in a 1-0 victory against the Chicago Fire a week later.
Since then, Finlay has started nearly every game and finished the regular season tied for the most goals on the team with 11, and adding seven assists. Berhalter said that while Finlay has developed incrementally this season, the performance he put in against the Fire opened not only Berhalter's eyes but also the eyes of Finlay's teammates about what kind of asset they had on the field.
"It's a process," Berhalter said. "I think he was patient with the process, at times it was frustrating for everyone. You've got to give him a lot of credit for his determination, to hang in there and keep pushing and not get down by one weekend's decision.
"I would say, the Chicago home game was a big game for him," continued Berhalter. "He was really effective, not only the goal he had but just getting behind (the defense). I think that's when it clicked with him and his teammates, knowing what exactly his strengths were and how he was going to be effective in our group."
Finlay certainly took advantage of a lack of scoring from the rest of the Crew this summer, with opening day starter Jairo Arrieta struggling to score and the club's decision to trade away speedster Dominic Oduro.
That left the team with either rookie Adam Bedell or the still green Aaron Schoenfeld to start up top as the center forward, and put even more pressure and opportunities at the feet of Finlay and winger Justin Meram. Meram took his opportunities as well as well, scoring six of his eight goals in the last three months of the regular season.
Maybe just as importantly for Finlay's growth this season was working one-on-one with former MLS Cup champion and U.S. Men's National Team member Josh Wolff, who is an assistant coach with the team.
Having the opportunity to work every day with a veteran of the league taught Finlay to pay attention to the small things in his play, and improve them bit by bit.
"I think it was just little movements, adjustments I've made," explained Finlay. "Little movements here and there. If you look back (at my first two years), it's not that much different but it's the little things and when you're learn more about the game and you're able to understand it, that's why I think my soccer IQ has just been raised by the ocaching staff and the players I've been around. It's easier, it just kind of comes (to me). It's inate now and I've been able to have a lot of success."
One play that showcases Finlay's growth on the field this season was in the Crew's stunning 3-1 victory at the New York Red Bulls. Late in the match, after spending the match sprinting up and down the right wing, Finlay found himself with the ball just outside the box on the right side of the field.
Although he takes a heavy touch, Finlay still manages to direct the ball towards his teammate Federico Higuain. Instead of watching the ball or continuing moving into the center of the Red Bulls defense, Finlay backpedals, finds space between Red Bulls centerback Armando and left back Roy Miller, and darts forward, taking a pass into the box from Higuain.
Instead of shooting, Finlay has the presence of mind to pick out Schoenfeld, who finished the opportunity to put the game away and secure a massive late-season road victory.
"We rehearse a lot of our movements out on the field," Wolff told SBI. "We wouldn't say that every single play is something that we rehearse but we put these guys through these situations a lot. We watch a lot of video with them, (Finlay) watches a lot of soccer I'm sure. And again, his skill set matches up well with how we play."
"The movements of when you get it, the timing of how you move," continued Wolff, motioning with his hands to explain the off-the-ball movements he wants to see from Finlay. "If (the ball) comes it comes, if it doesn't come, kind of resetting yourself so that you can still be part of the play.
"He did a really good job (on the third goal against the Red Bulls) of not running offside, pulling himself away and buying himself a half step, and then to take it another notch forward, he finishes off the play. That's kind of where we've been encouraged by, his composure. Now when he does get into these situations, he's not panicking, he's not overthinking or rushing, he's been able to put a number away for us this year."
Considering his overall performance this season, there's plenty of Crew fans wondering if Finlay has a national team future. Eligible to represent Canada through his father as well as the USA by birth, Finlay admitted in a recent interview that a national team federation had made an inquiry into his availability, but he refused to get into specifics.
Finlay said last Friday that there had been nothing new on the national team front, but with the playoffs looming ahead, he was putting all of his focus on the Crew's chances in November, and potentially December.
"Right now on those questions I'm going to be free and willing to answer come Dec. 8," Finlay said jokingly, referring to the day after the MLS Cup final.