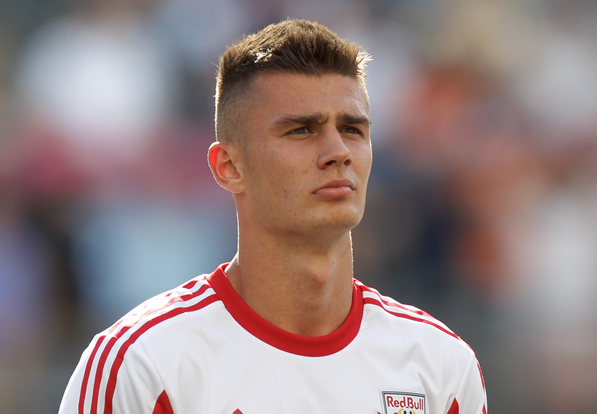 Photo by Andrew Katsampes/ISIPhotos.com
By FRANCO PANIZO
HARRISON, N.J. — Matt Miazga may not be a significant piece of the New York Red Bulls' roster ahead of their upcoming playoff push, but that is far from the case when it comes to the U.S. youth national team setup.
Miazga has been part of the U.S. youth ranks since playing for the Under-18 team in 2013, and since then has steadily climbed to higher levels. The lanky centerback has been with the U-20 side on a handful of occasions as it prepares for World Cup qualifying next year, but earlier this month experienced something unexpected.
Miazga took part in his first U-23 camp earlier this month despite being just 19 years old and not having many appearances with the Red Bulls under his belt this season. He was summoned by temporary U-23 head coach Tab Ramos, who is the full-time manager for the U-20 U.S. team, and returned from the brief trip to Brazil with plenty of lessons learned.
"It's obviously at a higher level," Miazga told SBI. "I now know what the next level is. From the U-20 to the U-23 Olympic team, I know what I have to improve on and I know that pace of that game. It was definitely faster and obviously the players are stronger, quicker, so it was a lot more physical."
For Miazga, the highlight of the four-day camp that ran from Oct. 10-13 was the friendly against the Brazilian Under-23 team at Estadio Nacional. He did not start in the game played in front of an announced crowd of 10,000, but came off the bench in the 61st minute.
Partnered next to the Colorado Rapids' Shane O'Neill in central defense, Miazga tried to quickly find his footing but endured some rough moments in his cameo. The Clifton, New Jersey, native was not able to stop a cross that led to the talented Brazilians' second goal and he was partially to blame for the final tally in the 3-0 loss.
Miazga and O'Neill failed to get on the same page on the 82nd-minute play, allowing Standard Liege striker Vinicius Araujo to slip through the heart of the defense untouched before finishing off a quality pass.
"At first I thought he was offside," said Miazga. "We had a high line at the moment and I guess we kind of lost communication between me and Shane, and he stepped in between us. Obviously, it's our fault. We're the center of the defense. Every goal we should take on our shoulders because it's our defense.
"We should organize and be ready, but obviously he stepped in between us and to his credit, a good finish by him. We've just got to learn from it, watch video."
While Miazga enjoyed his first stint with the U.S. U-23s, his eyes are currently laser-focused on the 2015 CONCACAF U-20 Championship in January. That tournament in Jamaica will serve as the region's qualifiers for the summer's U-20 World Cup, and four nations will advance from it to the competition in New Zealand.
Miazga figures to be an integral part of that, especially since Ramos is considered to be high on the promising dual-national who was also courted by Poland's U-21 team earlier this month.
"He obviously tells me I'm an important part of the U-20 cycle preparing for qualifiers in January and for the World Cup if we qualify," said Miazga. "That's the goal, obviously, but first we have to qualify. (His message is that) I'm an important part and just keep doing my thing, keep playing well and play with confidence."
Playing with confidence would come a lot easier for Miazga if he were seeing some semblance of action at the club level, but that is currently not the case.
After starting six league games this summer and experiencing some expected growing pains, Miazga has been reduced to a spectators' role. He has not played since receiving his first career red card in a win vs. the New England Revolution on Aug. 2, even failing to earn minutes in the three CONCACAF Champions League games that the Red Bulls used mostly reserves in.
Fair or not, the youngster is currently at the bottom of a five-man centerback depth chart that includes veterans Jamison Olave, Ibrahim Sekagya, Armando and Damien Perrinelle. Miazga could break back into the rotation in New York's meaningless Champions League finale against the Montreal Impact on Wednesday, but it seems very unlikely for him to move close to MLS minutes again this season.
"Matt needs to continue to improve on a daily basis," Red Bulls head coach Mike Petke told SBI. "He needs to realize the opportunity that he has and is given and if he understands that and commits himself he'll be huge in this league, he'll be huge for us.
"If he doesn't, he's going to be struggling on a daily basis."
Miazga is receptive to that message. He knows he needs to continue to develop not only to make his way back into Petke's good graces, but to also continue to be a promising prospect coming through the U.S. pipeline.
"I haven't been playing a lot lately, but what can you do about it," said Miazga. "I just have to continue to work hard in training and show coach that I deserve another chance, and just try to get better every day."