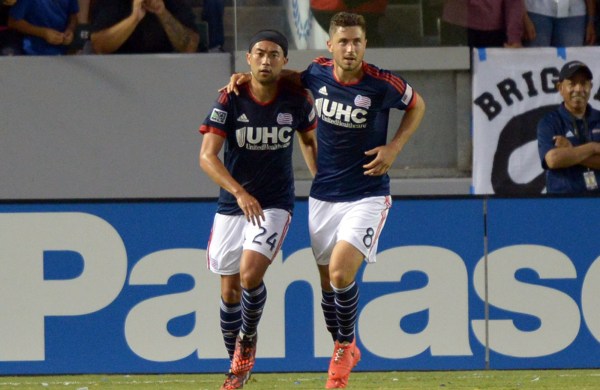 Photo by Kirby Lee/USA TODAY Sports
By CARL SETTERLUND
FOXBOROUGH, Mass. — Can't the New England Revolution find another storyline?
For the ninth time this season central midfielder Lee Nguyen provided the winning goal, this time on a simple finish from 10 yards out to boost the Revs to a 1-0 win over free-falling Toronto FC.
Nguyen's late MVP push might fall short to his Western Conference peers, but he's been integral in the Revolution's stretch of nine wins in their past 11 games. Nguyen scored or had an assist in 10 of those games and was silenced in the only loss of that stretch, Sept. 20 at Columbus.
"He's just been really good," Revs coach Jay Heaps said of Nguyen. "He's finished all his chances, he hasn't missed many. But it's not just what he does inside the other team's 18, it's the way he plays, the way he defends, the way he picks up second balls. He's collecting the ball at midfield and the second he gets it he's creating space and options for everybody."
Nguyen's 18 goals on the season are the most ever for a true midfielder, while only four players have scored nine game-winners in a season before, putting Nguyen in pretty lofty MLS territory.
Chris Wondolowski's 11 in 2012 set the current standard, while Wondolowski also had nine in 2010 and Carlos Ruiz held the record for eight years, scoring nine winners in 2002.
Nguyen netted in the 35th minute and New England (17-13-4) held on for the final hour to notch the team's first shutout in a month and the eighth of the season for goalkeeper Bobby Shuttleworth.
"Everyone was very organized," Shuttleworth said. "The communication was great, but it wasn't just the back line, it was Scotty (Caldwell) and Jermaine (Jones) and everybody closing down up front. I think it was a collective team effort and that's exactly what we're going to need going forward."
New England had already clinched the No. 2 seed in the Eastern Conference and will play either Sporting Kansas City, the Columbus Crew or the New York Red Bulls depending on Sunday's results.
The Revs' win total of 17 ties a franchise record set in 2005, back when it was a 32-game season.
Toronto FC (11-15-8) went in the opposite direction of the Revs late in the season, only winning two of their final 13 games to fall out of playoff position.
The Revolution won all three games against Toronto in 2014.
"For us, it's about looking at the entire season as a whole and understanding that we need to continue to improve," TFC midfielder Michael Bradley said. There's still a lot to take from this season in terms of things to build on but we have to be honest with ourselves."
The visitors tried for an early lead when Gilberto sent a volley of the crossbar in the ninth minute, while Shuttleworth was forced into his first save in the 17th.
The Revs were in control the rest of the first half and that translated into a 1-0 lead in the 35th after Jose Goncalves played Chris Tierney down the left sideline. The linesman initially raised his flag, but referee Ricardo Salazar ruled that a flick from Dominic Oduro kept Tierney onside.
The left back made a diagonal cutback pass to Nguyen, who had plenty of time to shoot as the entire Toronto back line appealed for an offside call and nobody stepped to Nguyen. He took a pair of touches and deciding if there was no whistle, then he might as well score it.
"Chris did a great job getting to the line and finding me," Nguyen said. "Also, credit to Charlie (Davies) for being able to lay it off and letting it go through his legs. After that, I was just trying to find an opening. After taking a couple of touches, I was able to put it in cleanly."
Daigo Kobayashi played a dangerous ball to spring Kelyn Rowe in the 71st minute, but the unmarked Rowe chipped a potential insurance goal over the crossbar.
Luke Moore put a header on target for the visitors in the 75th minute, but Shuttleworth was there to parry it away and the Revs held strong the rest of the way.
"You want to go into the playoffs with a rhythm and I think having the long break from Thursday to Saturday guys were chomping at the bit to play," Heaps said. You want to go in (to the playoffs) confident and also I thought tonight was a good test because we only had the one goal and the last ten minutes we really made an effort to make sure we didn't give up anything."