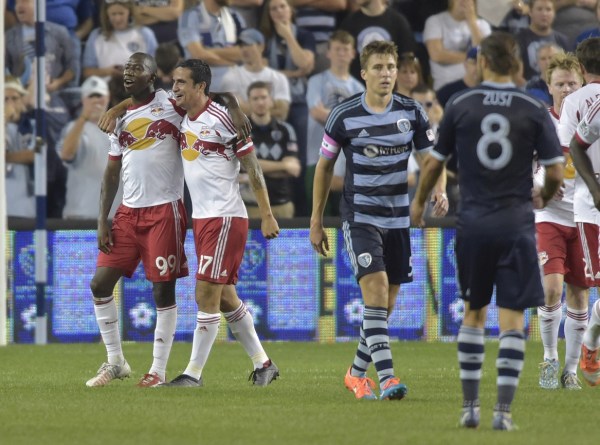 Photo by Denny Medley/
USA Today Sports
By RYAN TOLMICH
HARRISON, N.J. — Down a goal at home in yet another playoff match, Thursday night's knockout round matchup had all the makings of yet another New York Red Bulls failure.
However, with the season on the line, it was the league's Golden Boot winner who propelled his side to victory with a pair of second half goals to earn the Red Bulls a 2-1 victory.
Bradley Wright-Phillips' winner came in the 90th minute off a cross from substitute Ambroise Oyongo, who worked into space on the right side before looping a ball into the box. With the ball hanging in midair for what felt like an eternity, Sporting KC failed to close down on the Red Bulls forward, who headed into the left side of the net so secure his sides advancement.
"Initially, the ball was quite high, wasn't it?" said Wright-Phillips. "I thought I couldn't get much of it and just tried to hit it on target.
"I was quite surprised because they marked me well the whole game. I was very quiet. They marked be but on that one, it might have been the height of the ball, they might have thought the keeper would come, but he didn't and thankfully I got a head on it."
With the victory, the Red Bulls will now take on rivals D.C. United Sunday at Red Bull Arena.
Despite looking to be the more comfortable side throughout the first half, Sporting KC conceded the half's two best chances, which the Red Bulls proceeded to squander to spare the visitors an early deficit.
The game's first chance came via Tim Cahill, who found himself back in the starting lineup for the second straight game. Following a free kick, the Australian ended up with the ball within close range, but Cahill fired the ensuing shot high with a whole net to shoot at.
Cahill's miss was equalized by one from Golden Boot winner Bradley Wright-Phillips, who failed to capitalize on a chance of his own by heading over the bar from within the six yard box.
When all was said and done in the opening stanza, the Red Bulls failed to record a shot on target, while Sporting KC's only effort was snagged by Red Bulls goalkeeper Luis Robles in the 35th minute
The Red Bulls yips in front of goal continued into the second half, when Dax McCarty missed a wide open header with Sporting KC goalkeeper Eric Kronberg off his line.
"There was a time in the second half where I was questioning if this team is scared of the playoffs," said Red Bulls head coach Mike Petke. "Over the last couple of years, I don't believe in any curses or jinxes, I just thought maybe we're scared of the playoffs."
Sporting KC finally made the Red Bulls pay in the 53rd minute through Dwyer, who fired home on a counter attack.
After Eric Alexander was stripped at midfield, Sporting KC midfielder Benny Feilhaber led the charge for the visitors before sliding a ball into Dywer that wrong-footed Red Bulls centerback Jameson Olave. With plenty of room to shoot, Dwyer took full advantage by firing past Robles to give his team the 1-0 lead.
With Sporting KC bunkering down, the Red Bulls attempted to turn up the pressure, but struggled to create anything of significance against a stout SKC defense, aside from an attempted volley from Thierry Henry that soared over the bar.
"I was telling the other players that this can't be the end already," said Red Bulls midfielder Lloyd Sam. "That comes into your head."
"I thought it worked in our favor," added Wright-Phillips. " They sat back because they had a lead and it gave us a little bit of possession and we took our time…. They sat back like they just wanted to see the game out and it worked in our favor."
However, with time ticking away, the Red Bulls finally converted a chance by way of Wright-Phillips, who tapped home an Henry cross to level the scoreline.
Substitute Peguy Luyindula kickstarted the Red Bull attack by finding a streaking Henry down the left side. The Frenchman sent a low cross in towards Wright-Phillips, whose shot caromed off Sporting KC defender Matt Besler and into the back of the net to tie the game.
"For us, it settled a lot of nerves with us thinking that every chance meant so much," said  Sam. "Once we got back to 1-1, I think it effected them too because they had defended so well. To give us one, it was tough because they had to change their gameplan again. It meant a lot, the timing of that score."
The hosts continued pressing until Wright-Phillips' late winner, as Red Bull Arena went into a frenzy as the Red Bulls eliminated the defending champions to secure a place in the conference semifinals.
"Bradley, what can you say?" Petke said. "Two goals again tonight. I love him."
"The guys showed resiliency and guts, which is something I'm more proud of than any goals or any tactics," added Petke. "Kansas City is a great team… The guts that we showed, I'm very proud of. Now, we have two-and-a-half days left to get ready for D.C. but I'm proud of my guys."
Eastern Conference winners D.C. United now await their fierce rivals, as the two sides collide Sunday afternoon at Red Bull Arena.
Here are the match highlights: