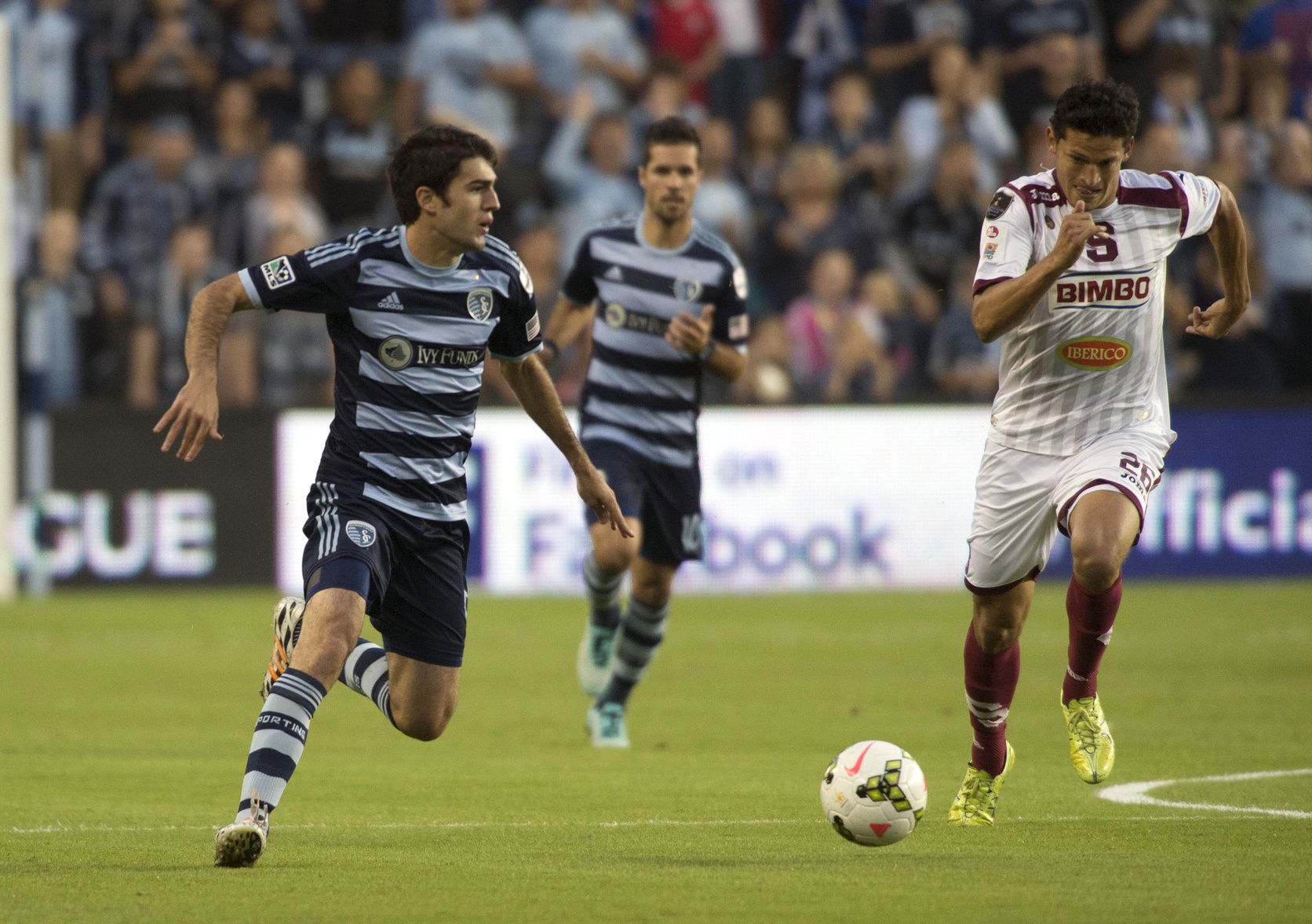 By TATE STEINLAGE 
Sporting Kansas City entered the night needing only a draw to advance to the CONCACAF Champions League quarterfinals for the second-straight year. Standing in their way, though, were Deportivo Saprissa and a rowdy "Monster's Cave" crowd.
It proved to be too much in the end for the defending MLS Cup champions. Heiner Mora and Ariel Rodriguez scored for Saprissa, eliminating a two-goal deficit in Group 2 to jump Sporting KC in the standings on away goals, en route to a 2-0 shutout victory.
"I thought we battled," Sporting KC manager Peter Vermes said over the phone after the game. "We're playing away from home at their place, we're going to push the game — they know they have to run after it — and we're going to try to not open ourselves up.
"From that point of view, I thought we did some good things. Unfortunately, they scored two and we couldn't get one in."
Rodriguez celebrated the feat with thousands chanting and screaming his name. It was his goal in the 47th minute that punched Saprissa's ticket into the next round. Late Thursday evening, Saprissa was drawn with Mexican giants Club America in the quarterfinals, with a trip to Estadio Azteca between March 3-5 and a home match against the Eagles between Feb. 24-26.
To add salt to Sporting KC's wound, they lost both Benny Feilhaber and Igor Juliao to injuries in the first half. Feilhaber had to be carried off the field on a stretcher with an apparent ankle injury, while Juliao limped off under his own power.
"It wasn't the atmosphere at all," Vermes said. "When you lose two guys in the first half like we did — we're trying to manage people already for the weekend game — it's almost ludicrous the number of guys we have out. Trying to manage those other guys, at some point something's going to break."
The MLS side will now travel back to Kansas City ahead of their final regular season game against the New York Red Bulls. A win or draw Sunday would secure Sporting KC the third playoff spot in the Eastern Conference. A loss would force them into a one-game, winner-take-all match to decide who makes it to the Conference Semifinals.
Feeding off the energized home crowd, Saprissa struck first in the 22nd minute with a rebounded effort off a quality corner kick. Sporting KC goalkeeper Eric Kronberg stopped the initial header, but had the ball spill in front of him for Mora to take advantage with an easy tap in.
The goal jolted Saprissa's attack. Rafael Morales fired a scissor kick inches above the bar in the 28th minute. Later, he nearly positioned himself on the end of a cross for a goal, but the diagonal ball was placed just ahead of his outstretched leg.
Saprissa's lead all but doubled in 47th minute when it had Sporting KC caught out of position on a speedy counter attack. A one-on-one opportunity developed on the far flank, but defender Kevin Ellis swooped in to halt the sequence inside the 18-yard box.
Ellis was unable to bail out Sporting KC's defensive miscues two minutes into the second half. Mora found himself in the right place at the right time once again, crossing a deflected ball to Rodriguez who placed it in the back of the net to give Saprissa the decisive advantage in Group 2.
Sporting KC struggled to hold possession long enough to push numbers forward for an opportunity to answer late in the second half. Substitute forward Dom Dwyer gave the visitors their best chance at doing so in the 75th minute, but his free kick sailed over the bar, much to the enjoyment of those sporting maroon.
"Both of the (goals) where off of set pieces. We could of definitely done a lot better on both situations, we should of," Vermes said.
"Again, I'm not going to deny that they battled for the result. There were a lot of things against us. We went into the game not thinking we were going to have to sub two guys in the first half … It just put a lot on us."
Here are the match highlights: