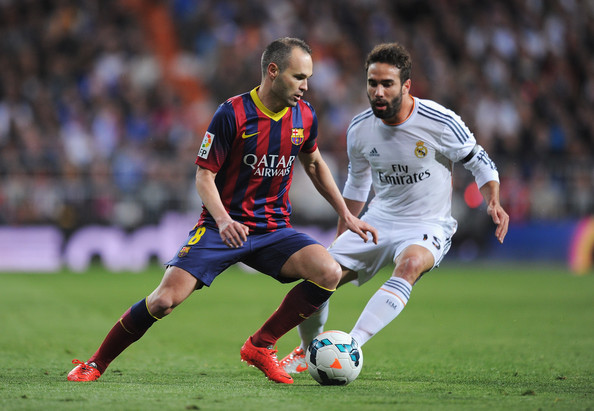 By DAN KARELL
Barcelona have a chance to move seven points clear of arch-rival Real Madrid when the two meet in today's El Clasico encounter.
The Catalan side hold a four-point lead over Real Madrid and remain undefeated in the 2014 La Liga season, but Carlo Ancelotti's side are feeling confident, especially with new signings Toni Kroos and James Rodriguez settling in. The game could also see history as Lionel Messi sits only one goal behind Telmo Zarra's La Liga goalscoring record of 251 goals, and the match could be stopped to honor Messi if he breaks the record.
Both Liverpool and Manchester City look to rebound from disappointing mid-week performances in the UEFA Champions League, with Man City visiting West Ham in the lunchtime kickoff and Liverpool hosting Hull City. Arsenal meanwhile visit Jozy Altidore and Sunderland.
Elsewhere in action on Saturday, Bayer Leverkusen face Schalke 04, the Seattle Sounders and LA Galaxy battle for the Supporters Shield, and in Mexico, the Clasico Regiomontano takes place with Monterrey hosting Tigres UANL.
If you will be watching today's action, please feel free to share your thoughts, opinions and some play-by-play in the comments section below.
Enjoy the action (Today's schedule is after the jump):
7:15 a.m. – beIN Sports USA – Millwall vs. Cardiff City
7:45 a.m. – NBCSN – West Ham vs. Manchester City
9 a.m. – beIN Sports Connect – Empoli vs. Cagliari
9:30 a.m. – GOLTV USA – Borussia Dortmund vs. Hannover
10 a.m. – NBCSN – Liverpool vs. Hull City
10 a.m. – Premier League Extra Time – Sunderland vs. Arsenal
10 a.m. – Premier League Extra Time – Southampton vs. Stoke City
10 a.m. – Premier League Extra Time -West Brom vs. Crystal Palace
10 a.m. – beIN Sports Connect – Almeria vs. Athletic Bilbao
10 a.m. – beIN Sports Connect – Leeds United vs. Wolverhampton
11 a.m. – beIN Sports Connect – Paris Saint-Germain vs. Bordeaux
12 p.m. – beIN Sports Connect – Parma vs. Sassuolo
12 p.m. – beIN Sports USA – Real Madrid vs. Barcelona
12:30 p.m. – GOLTV USA – Bayer Leverkusen vs. Schalke 04
12:30 p.m. – NBC – Swansea City vs. Leicester City
2 p.m. – beIn Sports Connect – Bastia vs. Monaco
2 p.m. – beIn Sports Connect – Evian vs. Nantes
2 p.m. – beIn Sports Connect – Reims vs. Montpellier
2 p.m. – beIN Sports en Espanol – Valencia vs. Elche
2:30 p.m. – NBC – Seattle Sounders vs. LA Galaxy
2:30 p.m. – beIN Sports USA – Sampdoria vs. Roma
4 p.m. – beIN Sports en Espanol – Cordoba vs. Real Sociedad
4 p.m. – beIN Sports Connect – Eibar vs. Granada
4 p.m. – MLS Direct Kick- Montreal Impact vs. D.C. United
6 p.m. – Univision Deportes – Cruz Azul vs. Morelia
6 p.m. – Univision Deportes 2 – Veracruz vs. Chiapas
7:30 p.m. – MLS Direct Kick – New England Revolution vs. Toronto FC
7:30 p.m. – ONE World Sports – New York Cosmos vs. Tampa Bay Rowdies
7:30 p.m. – ESPN3 – Fort Lauderdale Strikers vs. FC Edmonton
8 p.m. – Univision – Monterrey vs. Tigres UANL
8:30 p.m. – MLS Direct Kick – FC Dallas vs. Portland Timbers
9 p.m. – Univision Deportes – Atlas vs. Puebla
10 p.m. – MLS Direct Kick – Vancouver Whitecaps vs. Colorado Rapids
10 p.m. – Univision Deportes – Pachuca vs. Universidad Guadalajara