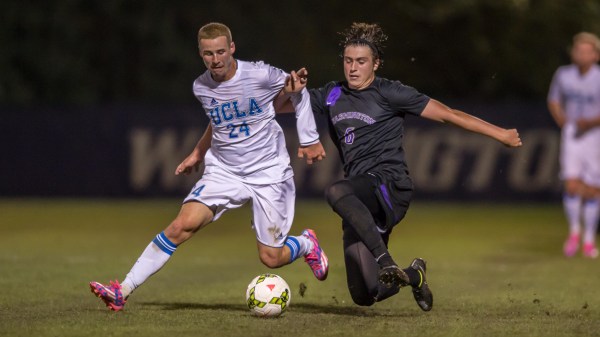 Photo by Wilson Tsoi/Washington Athletics
By AARON CRANFORD
Both No. 2 UCLA and No. 5 Stanford had players score a brace, but neither side could find a win in the thrilling 2-2 tie Thursday night.
Cardinal midfielder Corey Baird scored a brace, netting one in the 14th minute and in the 77th minute, while Bruins forward Seyi Adekoya also slotted two on the night. Adekoya equalized by scoring 34 seconds after the opening goal by Baird. Adekoya finished his second in the 59th minute, but the Bruins could not hold on for the win.
No. 7 Creighton bounced back from their weekend loss to No. 15 Georgetown with an important 2-0 win against No. 8 Marquette Wednesday.
Ricardo Perez opened the scoring in the 30th minute after Timo Pitter assisted, and Pitter scored a goal of his own to secure the Blue Jays' win in the 79th minute. With the loss, the Golden Eagles have gone winless in their last five matches.
Meanwhile, No. 5 Notre Dame and No. 18 Michigan State played to a 1-1 draw Wednesday. Fighting Irish midfielder Evan Panker tallied the first goal of the match in the 56th minute, but the Spartans found a late equalizer from Tim Kreutz in the 80th minute.
If you missed it, here are Tuesday's midweek results. Take a closer look at Wednesday's and Thursday's top college matches below:
MIDWEEK COLLEGE SOCCER SCOREBOARD
WEDNESDAY
Evansville 0, (1) Indiana 2. (Recap)
(5) Notre Dame 1, (18) Michigan State 1. (Recap)
Cal State Fullerton 0, (6) UC Irvine 1. (Recap)
(7) Creighton 2, (8) Marquette 0. (Recap)
(13) Coastal Carolina 2, Winthrop 0. (Recap)
(15) Georgetown 1, Xavier 0. (Recap)
(16) Providence 2, DePaul 1.  (Recap)
UAB 3, (17) New Mexico 2. (Recap)
(21) American 1, Loyola (MD) 0. (Recap)
Delaware 4, Drexel 0. (Recap)
Boston U. 2, Colgate 0. (Recap)
Northwestern 0, Loyola-Chicago 1. (Recap)
THURSDAY
(2) UCLA 2, (5) Stanford 2. (Recap)

San Diego State 1, (9) California 2. (Recap)