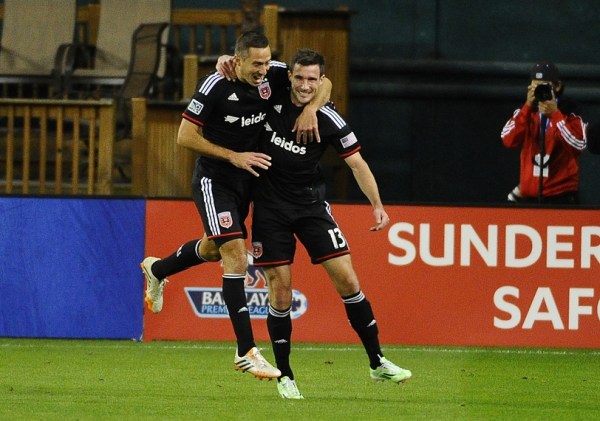 Photo by Brad Mills/USA TODAY Sport
By RYAN TOLMICH
After spending last season buried in the doldrums of the league's cellar, D.C. United have clinched the top spot in the Eastern Conference.
D.C. United locked up the conference's number one seed Saturday with a 2-1 victory over the Chicago Fire at RFK Stadium.
The hosts opened the scoring in the 31st minute through Chris Pontius, who was left wide open on the backpost to head home to push D.C. United ahead.
Following a goalkick, D.C. United quickly moved the ball up field with Eddie Johnson finding space on the right side. The forward looped in a cross to Pontius on the backpost, who was left all alone to score the game's opener.
D.C. United doubled their advantage in the 53rd minute by way of Johnson, whose goal was the forward's seventh of the season.
Johnson's finish was a gift from the Fire's Patrick Ianni, who played a lackadaisical ball back to Jeff Larentowicz. The D.C. United forward pounced, beating the defender one-on-one before firing past Sean Johnson to double the lead.
The Fire pulled one back 14 minutes later through Rookie of the Year candidate Harrison Shipp's sixth goal of the season
Shipp's goal came as a result of a perfectly timed run through the D.C. United defense, as the Notre Dame product slipped onto the end of a Patrick Nyarko through-ball. Shipp thens lotted past goalkeeper Bill Hamid to pull the score to 2-1.
However, the D.C. United defended successfully held the league's draw specialists from leveling the score by holding on for the 2-1 victory.
With the victory, D.C. United clinches the top spot in the Eastern Conference and a bye to the conference semifinal round. D.C. United will close out their regular season Oct. 25 against the Montreal Impact, while the Chicago Fire wrap up their season Oct. 24 against the Houston Dynamo.