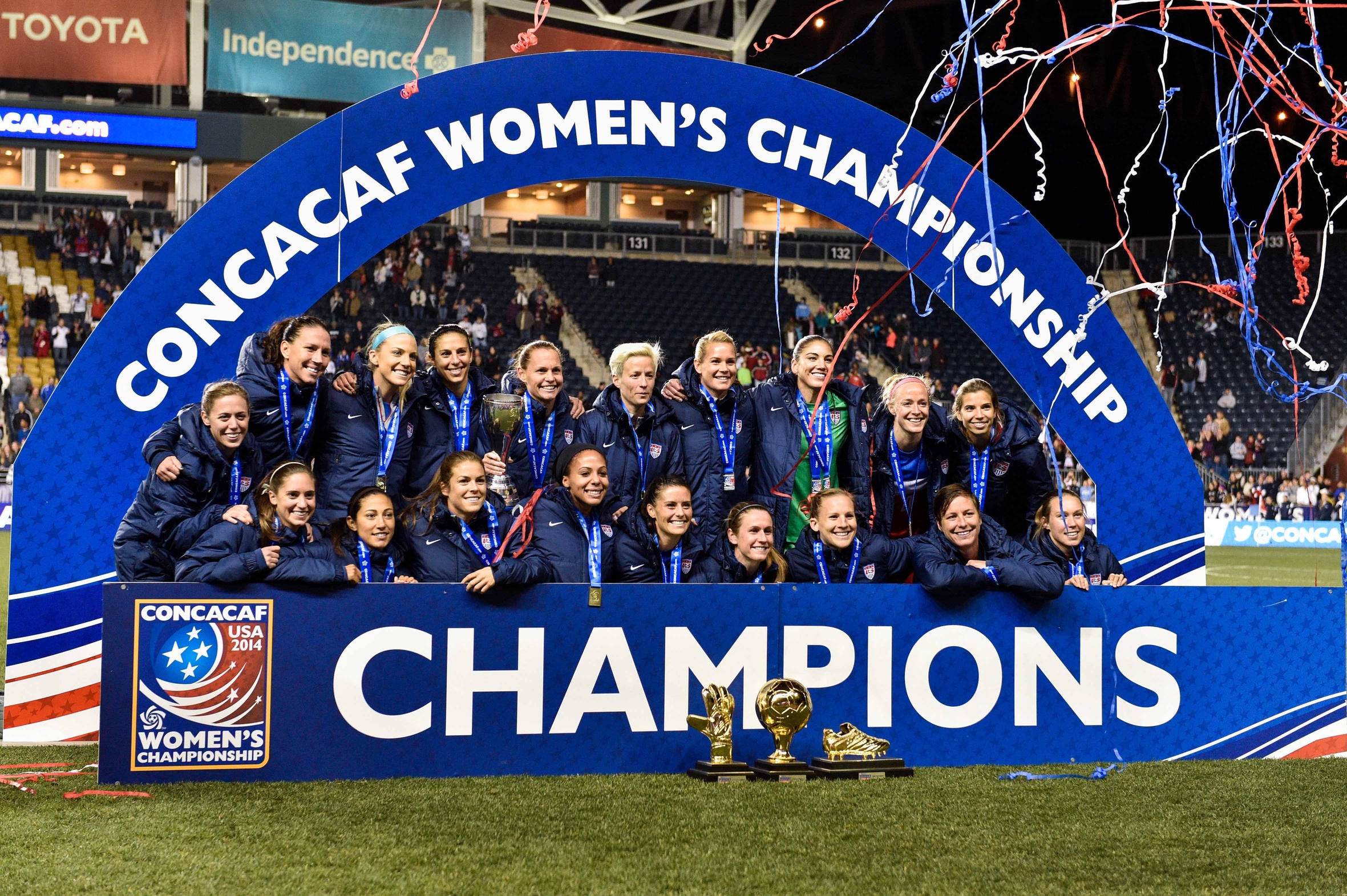 Photo by Derik Hamilton/USA TODAY Sports
By CAITLIN MURRAY
The U.S. Women's National Team already qualified for a World Cup, but with a win Sunday over Costa Rica, they are now the CONCACAF champions.
It took the Americans only four minutes to take the lead as Abby Wambach showed what kind of night the crowd at PPL Park was in for – Wambach would finish the match with four goals as the USWNT cruised to a 6-0 victory.
Three of Wambach's goals were near-copies of each other utilizing a tried-and-true formula – sending a ball to Wambach's head as she towered over defenders to knock the ball home. Wambach won the tournament's Golden Boot with seven goals.
Carli Lloyd assisted two of Wambach's goals and scored one of her own to cap off a sparkling 2014 CONCACAF Women's Championship performance that earned her the tournament's Golden Ball award as MVP after Sunday's match.
After nabbing a hat trick in the first half, Wambach extended her world record of international goals in the 71st minute. Sydney Leroux threaded a long pass through the midfield to Wambach running at goal, and Wambach deftly chipped over the head of goalkeeper Dinnia Diaz. It was the only goal the USWNT would score with their feet Sunday as Leroux added the final goal on a header two minutes later.
Although the USWNT won their seventh CONCACAF championship, in practical terms, the tournament was really about qualifying for the 2015 Women's World Cup in Canada. In that sense, the sting of Sunday's lopsided loss likely won't last long for Costa Rica – the Ticas are heading to their first World Cup in program history.
Earlier in the day, Mexico rallied to beat Trinidad & Tobago in extra time to qualify for next summer's event. Trinidad & Tobago has one last chance to qualify as they are forced to try for a run-off spot against CONMEBOL's Ecuador in December.
As host of the World Cup, Canada is already qualified and did not participate in the CONCACAF tournament. Instead, they hosted reigning World Cup champions Japan for a friendly on Saturday, losing 3-0. Canada will host Japan again Tuesday.
Here are the match highlights: