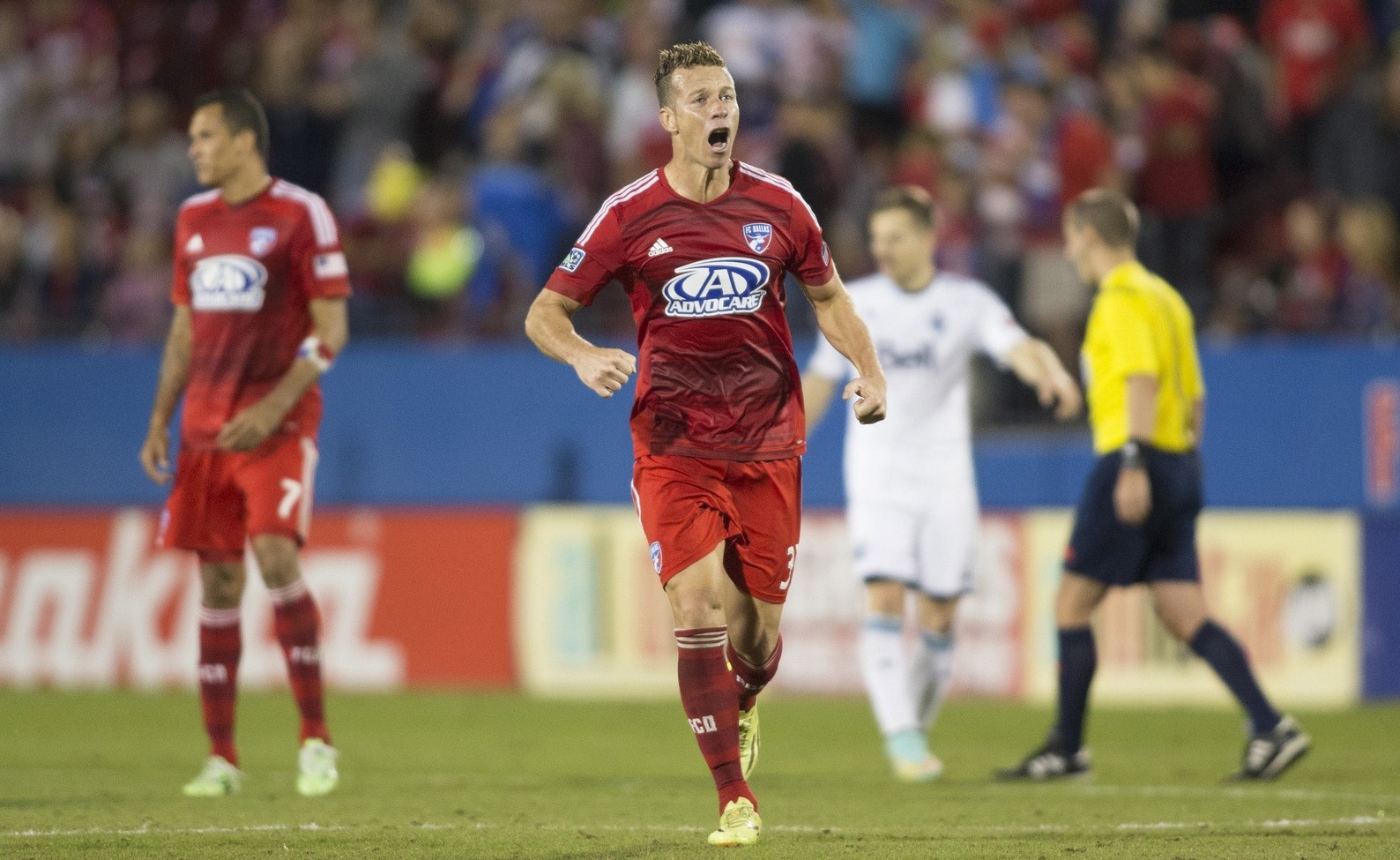 Photo by Tim Heitman
/USA TODAY Sports
By RYAN TOLMICH
Just days after scoring the goal that sent the Vancouver Whitecaps to the postseason, an unfortunate Kendall Waston handball proved to be the team's demise.
The Costa Rican defender was called for a questionable handball in the 82nd minute, paving the way for a Michel penalty kick finish as FC Dallas topped the Vancouver Whitecaps, 2-1, to book a spot in the Western Conference semifinals.
Waston's penalty was an unlucky one, as the Whitecaps defender was struck in the arm after an FC Dallas throw-in took a big hop in the penalty area. Referee Mark Geiger had a clear view and almost immediately pointed to the spot, giving Michel the chance to seal his team a Sunday matchup with the Seattle Sounders.
The hosts opened the scoring in the 40th minute through Tesho Akindele, who smashed home a pass from Mauro Diaz to give FC Dallas the lead.
It was Diaz's run that created the chance, as the Argentine dipped and darted past a majority of the Whitecaps backline. Diaz then teed up Akindele and the rookie responded by smashing the ball far-post on his second touch to send Toyota Park into a frenzy.
After nearly equalizing in the 60th, the Whitecaps leveled the scoreline just three minutes later through Erik Hurtado, whose finish came as a result of a bit of ping pong in the box.
Hurtado's finish came via a set piece, as the Whitecaps free kick bounced in and around the box off of several FC Dallas and Whitecaps players. Eventually, the ball found its way to Hurtado, whose shot ricocheted off FC Dallas midfielder Victor Ulloa and into the goal's right side to push the score to 1-1.
That scoreline lasted for 18 minutes before Waston conceded the deciding penalty, as the Whitecaps defender's handball in the box doomed the visitors to an early playoff exit.
Waston's handball led to a peanlty kick for Michel, who smashed the ball to the goalkeeper's right to earn FC Dallas a spot in the conference semifinals.
Frustrations boiled following Geiger's final whistle, as the Whitecaps' Sebastian Fernandez  ran towards the referee to argue the penalty call that spelled doom for his side. Fernandez's protests earned little sympathy from Geiger, who issued the Uruguayan a red card postgame.
FC Dallas will now look to regroup for Sunday, when Toyota Park plays host to the Supporters' Shield-winning Seattle Sounders.
Here are the match highlights: