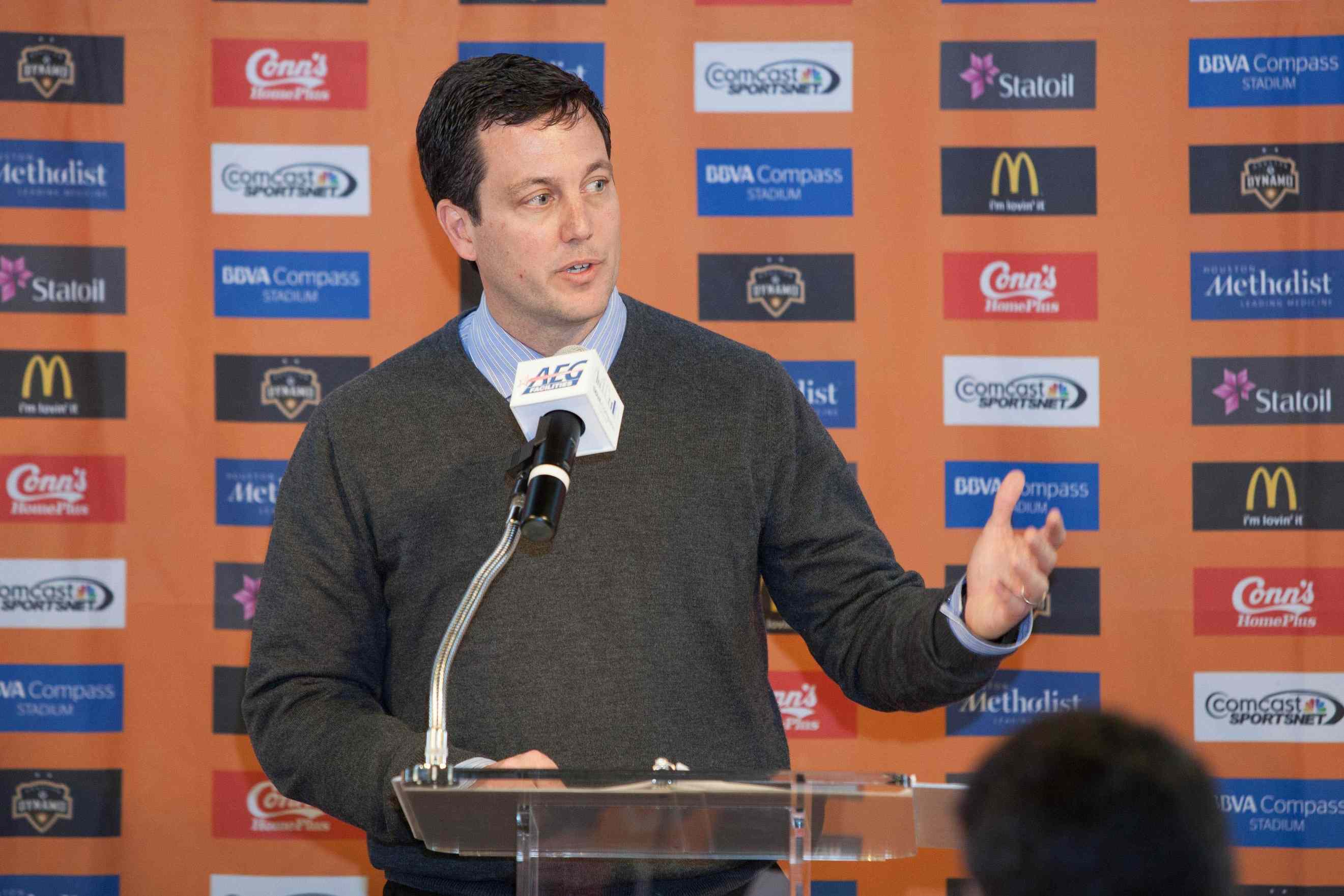 Photo by Andrew Richardson/ USA Today Sports
By RYAN TOLMICH
With Dominic Kinnear set to return to the San Jose Earthquakes, the Houston Dynamo are on the hunt for a replacement for their long-time boss.
Team president Chris Canetti and new general manager Matt Jordan are hoping to narrow the list of candidates to two or three before submitting recommendations to the club's ownership.
"My goal would be to have two-three finalists that we can present to ownership by the weekend," said Canetti, who declined to reveal the frontrunners amongst the reported nine candidates.
"We have an unbelievable list of candidates from all different walks of life and in different areas of soccer," Jordan said. "We've narrowed down the list. Now we're working hard to do as much due diligence and homework as we move forward."
Among the candidates are Kinnear assistants Wade Barrett and Steve Ralston, who the Houston Chronicle reports were interviewed for the job Monday.
"Wade and Steve were very impressive in their interviews," Canetti said. "They came into the interview and were very well prepared. I was impressed, and so was Matt."
Here are some more news and notes from around MLS:
REVS' KRAFT SAYS CLUB 'BELONGS IN BOSTON'
With the club on its best run since 2007, the New England Revolution have gotten plenty of public attention as the club continues to pursue a new stadium.
Owner Jonathan Kraft said Tuesday that he believes that the club  "belongs in Boston or the immediate surrounding area," while revealing that the club maintains hope for an urban stadium.
"They belong in a city with public transportation," Kraft said, "where new Americans and the 20-, 30- and 40-year-olds who played the game and live in and around urban areas want to go to it. And it's a different kind of vibe than a suburban football stadium has.
"It's something we've been working on for a while," he continued, "and we've come very close with a couple of situations over the past half dozen years and they didn't happen. Because of that we're just going to stay quiet until we have something. So hopefully we'll be able to do it and then create the special atmosphere that exists in many other venues around the league."
SEVEN MLS CLUBS PARTNER WITH HEINEKEN
As an official sponsor of the UEFA Champions League, Heineken is a company at the forefront of soccer sponsorships. However, the Dutch beer company is now set to explore commercial opportunities with a slew of MLS clubs.
Heineken, who is set to become the league's official beer in 2015, has reached partnership agreements with seven MLS clubs. The beer company will now become the Official Beer  of the Chicago Fire, D.C. United, New York City FC and Orlando City SC and the Official Import of the Columbus Crew, Houston Dynamo and New York Red Bulls.
"By partnering with these clubs we're able to more directly connect with  American soccer fans and provide them with a premium experience—and beer—they have come to expect from Heineken," said Nuno Teles, Heineken Chief Marketing Officer. "We are known worldwide as a genuine soccer brand, and these partnerships will provide a direct platform to reach the soccer fans and fuel their passion for the game.
"Heineken does a tremendous job in activating their partnerships and we're excited to see that creativity come to life alongside our league and these seven MLS clubs," added Gary Stevenson, President and Managing Director, MLS Business Ventures.
The deal will now see Heineken partner with clubs for stadium signage, fan experiences and intellectual property rights.
—-
Who do you think the Dynamo should pursue in their head coaching search? What do you expect to come of the Revs' stadium pursuit? What do you think of the Heineken deal?
Share your thoughts below.