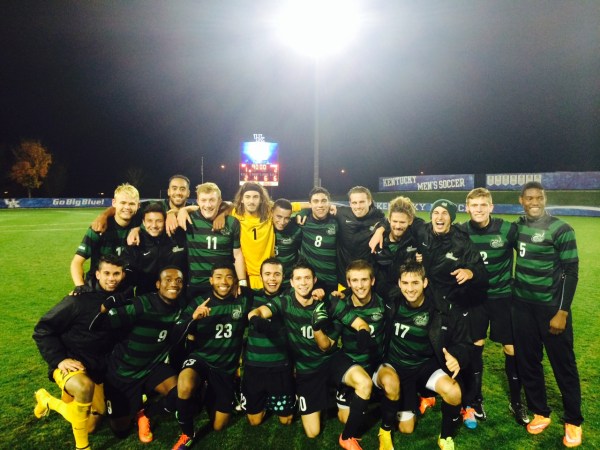 Photo by Charlotte 49ers Athletics
By AARON CRANFORD
The Conference USA regular season title was in Kentucky's hands nine minutes into the match, but the Charlotte 49ers fought through the early deficit and claimed a 2-1 result on the road.
Napo Matsoso put the Wildcats ahead in the 9th minute, but goals from Hans Honer and Conor Agnew were enough to see the 49ers celebrate their regular-season title in front of Wildcats supporters.
Meanwhile, Creighton shutdown Providence 3-0 to claim the Big East regular-season outright. The Blue Jays were in control from the very beginning. Sean Kim scored within two minutes, while Vincent Keller added the second in the 34th, and Ricardo Perez assured the Blue Jays' of a victory with a goal of his own in the 80th.
Washington began their tough weekend in California with a 0-2 loss against Stanford. Cardinal forward Zach Batter tallied the first in the 18th minute, while Seattle Sounders academy star Jordan Morris netted the second in the 48th.
If you missed it, you can catch the rest of the weekend's busy schedule here. Check out Friday's top college results below:
FRIDAY COLLEGE SCOREBOARD

Villanova 1, Georgetown 2. (Recap)
California 3, Oregon State 4. (Recap)
Stanford 2, Washington 0. (Recap)
Kentucky 1, Charlotte 2. (Recap)
VCU 0, Saint Louis 1. (Recap)
Xavier 2, Butler 0. (Recap)
Creighton 3, Providence 0. (Recap)
New Mexico 2, South Carolina 0. (Recap)