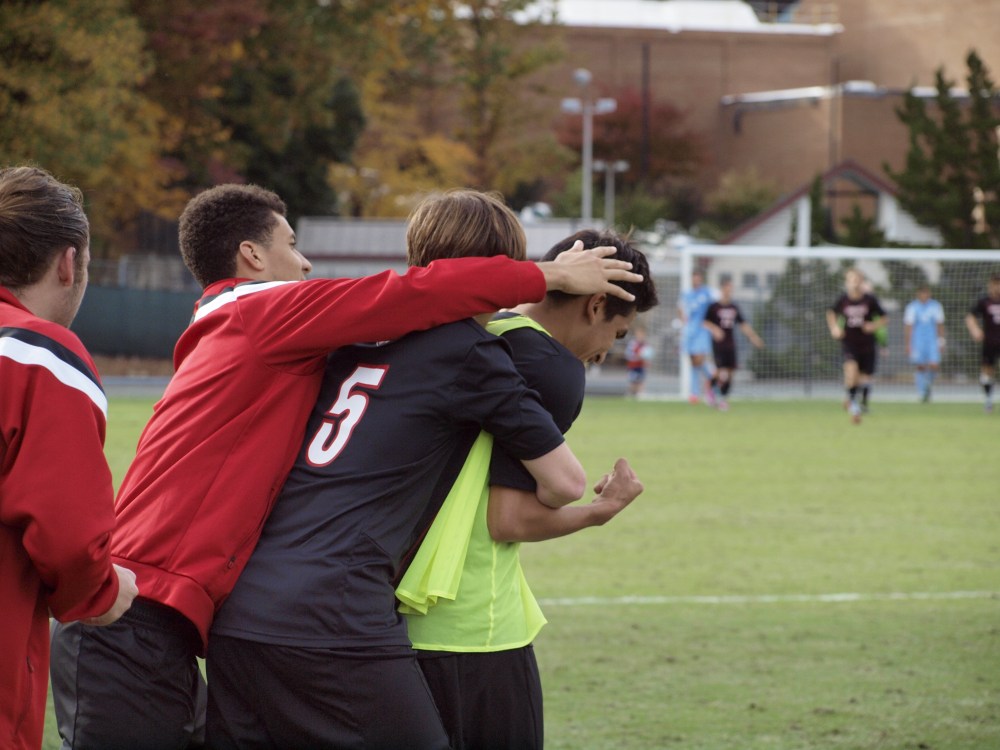 Louisville sophomore Ivan Gutierrez wanted to credit his teammates after the team's 1-0 win against North Carolina Sunday, but he could not hide his own excitement after the final whistle.
"I saw that we had the breakaway, and I kept thinking, 'this is our only chance,'" Gutierrez told SBI after the match. "But I also have to give credit to not only me but our teammates; we made it. If we play the way we did today, we can achieve anything."
His 76th minute goal sent the Cardinals into the ACC semifinals where they will meet Syracuse Friday in Cary, NC.
Michigan State advanced to the Big Ten semifinals after their 1-0 win over Penn State Sunday afternoon. Tim Kreutz netted the game-winning goal in the 54th minute. The Spartans will play Maryland Friday in College Park, MD.
Meanwhile, Washington rebounded from their loss to Stanford Friday with a 3-2 win against California Sunday. The Huskies scored the first three before the 25th minute with goals coming from Mason Robertson, Josh Heard and Garret Jackson.
Golden Bears forward Stefano Bonomo and Omid Jalali answered with two of their own, but their comeback attempt fell just short.
If you missed Friday's results, you can see those here. Check out this weekend's results, including conference tournament action across the country, below:
BIG TEN CONFERENCE

Quarterfinals (Saturday)
Rutgers 5, Wisconsin 2. (Recap)
Quarterfinals (Sunday)
Maryland 2, Rutgers 0. (Recap)
Penn State 0, Michigan State 1. (Recap)
Northwestern 1, Indiana 1. (Indiana won, 5-4, in PKs) (Recap)
Ohio State 1, Michigan 0. (Recap)
——————
ATLANTIC COAST CONFERENCE

Quarterfinals (Sunday)
Notre Dame 3, Virginia 0. (Recap)
Clemson 1, Wake Forest 1. (Clemson won, 3-2, in PKs) (Recap)
North Carolina 0, Louisville 1. (Recap)
Syracuse 2, Duke 0. (Recap)
——————
AMERICAN ATHLETIC CONFERENCE
Quarterfinals (Saturday)
UConn 5, Temple 0. (Recap)
USF 4, Memphis 2. (Recap)
UCF 0, SMU 4. (Recap)
Cincinnati 0, Tulsa 1. (Recap)
——————
AMERICA EAST CONFERENCE
Quarterfinals (Saturday)
Albany 1, Vermont 2. (Recap)
Binghamton 1, Stony Brook 1. (Binghamton won, 4-3, in PKs) (Recap)
——————
BIG WEST CONFERENCE
Quarterfinals (Saturday)
UC Davis 1, Cal State Fullerton 2. (Recap)
UC Irvine 2, Sacramento State 0. (Recap)
——————
COLONIAL ATHLETIC ASSOCIATION
Quarterfinals (Saturday)
James Madison 2, Hofstra 0. (Recap)
Northeastern 2, Elon 0. (Recap)
——————
METRO-ATLANTIC CONFERENCE
Quarterfinals (Saturday)
Monmouth 3, Siena 0. (Recap)
Rider 0, Fairfield 1. (Recap)
——————
SOUTHERN CONFERENCE
Quarterfinals (Saturday)
ETSU 1, UNCG 2. (2OT) (Recap)
VMI 0, Furman 1. (Recap)
——————
COLLEGE WEEKEND REGULAR SEASON SCOREBOARD
Saturday
Coastal Carolina 7, Longwood 0. (Recap)
Akron 4, Buffalo 0. (Recap)
Sunday
La Salle 1, George Mason 1. (Recap)
Stanford 2, Oregon State 1. (Recap)
California 2, Washington 3. (Recap)