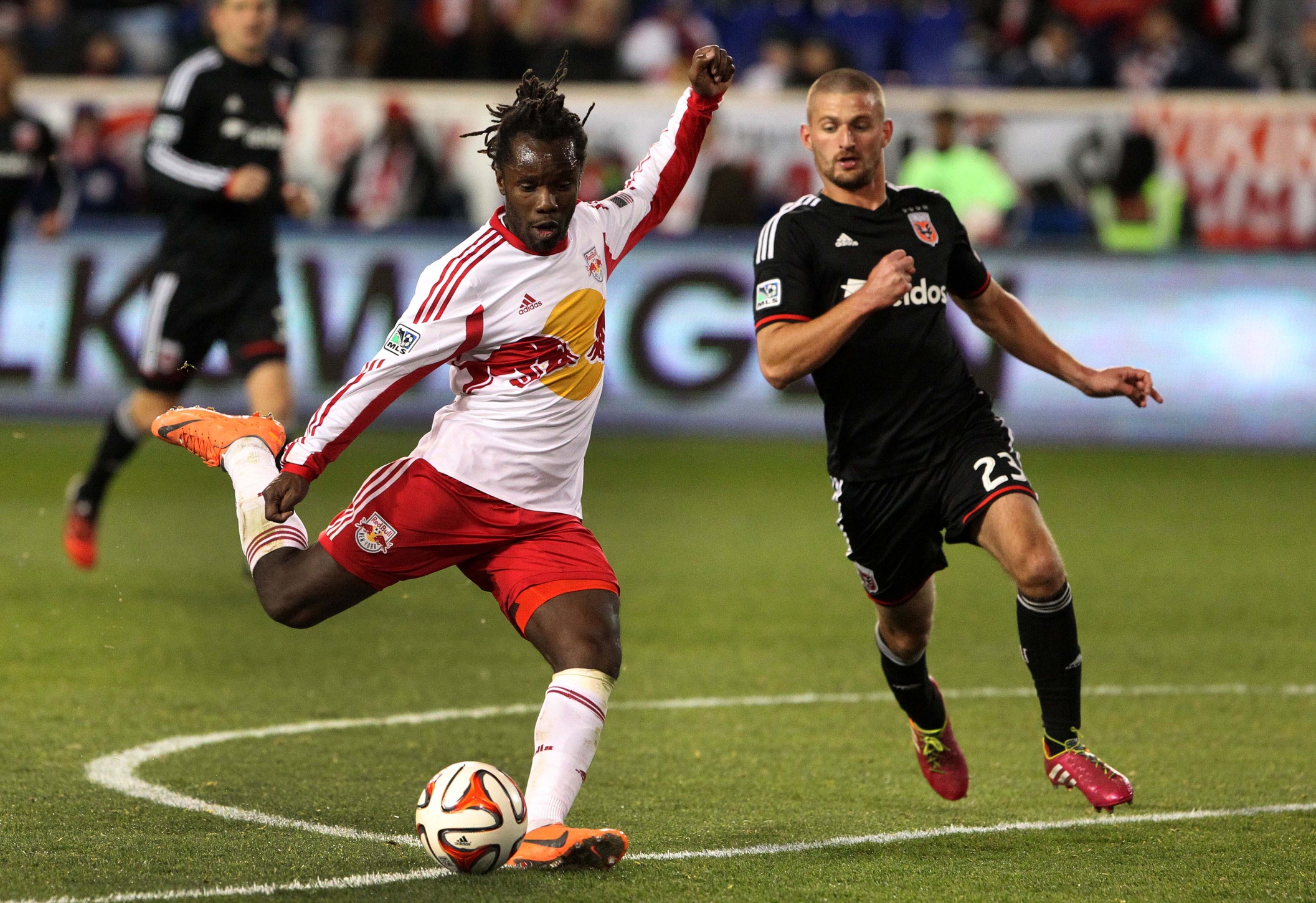 Photo by Noah K. Murray/USA Today Sports
By RYAN TOLMICH
Unlike their Western Conference counterparts, the Eastern Conference's semifinal matchups head into the second leg with two teams boasting distinct advantages.
Fresh off a 2-0 victory over heated rivals D.C. United, the New York Red Bulls take their recent hot streak down to RFK Stadium, where they will look to eliminate D.C. United for the first time after four previous failures.
Meanwhile, the New England Revolution return to Gillette Stadium fresh off a 4-2 victory over the Columbus Crew, whose were battered by four goals at Crew Stadium to put the team's postseason hopes on life support.
Here's a closer look at the Eastern Conference semifinal matchups:
D.C. UNITED vs. NEW YORK RED BULLS (Saturday, 2:30 p.m., NBC)
After years of struggling through postseason disappointment after postseason disappointment, the New York Red Bulls are finally on the verge of making a true playoff stride.
With a 2-0 home victory in the back pocket, the Red Bulls head to RFK Stadium boasting a significant advantage, knowing that a goal or two will all but doom D.C. United to an early exit due to the new away goals format.
Regardless, Red Bulls head coach Mike Petke reiterated that his team's philosophy will be far from timid as Red Bulls head into the crucial second leg
"It's 0-0. Our mentality going in is certainly not to go in there and lose 1-0 and advance, at all. Our focus is to be sound defensively as a team and we know that we'll have opportunities and we just have to capitalize on them.
"Of course we want to score," Petke continued. "An early goal would be phenomenal for us, or even a late goal, but, to me, defense first, and that doesn't mean sitting on top of the 18-yard box. It means sound defense… We know that if we get three-quarters of the way up the field, we can create things, and it's on us to finish those and get one on the board."
Petke also revealed that he expects a high-flying D.C. United side that will put forth every effort to claw their way back.
"Ben (Olsen) is going to have these guys wired up and they have good personalities in that locker room. They have MLS guys that have experienced things like this, but if we deal with that mentally, and I think we have the right mentality with the players we have to deal with that early on, things will open up. It could be a fast paced game. It could be a chippy game."
One player the Red Bulls will particularly keep an eye on is D.C. United forward Fabian Espindola, although Petke admitted that the opposition's depth at forward has kept the Red Bulls guessing.
"Fabian is a guy that likes to drift and find the ball," Petke said. "If you let him receive the ball and turn and face you, he's very dangerous. You can talk all day about how you want guys close to him so you don't let him turn, but in a 90 minute game he will have his moments when he does that. We just need to be organized behind him.
"We have two or three different scenarios that we're expecting, and we could be completely wrong. With the options that they have: (Chris) Pontius, (Chris) Rolfe, (Luis) Silva could be back, I don't know. Eddie Johnson, Fabian (Espindola), all of these guys, it doesn't matter who they bring on. We need to take care of what we're good at.
"They can bring Messi on," Petke joked. "Well, maybe not Messi, but they can bring whoever on but if we do that things that have made us successful then it doesn't matter who they have."
NEW ENGLAND REVOLUTION vs. COLUMBUS CREW (Sunday, 5:00 p.m., ESPN 2)
The New England Revolution enter Sunday's clash with the Columbus Crew in the best position of the league's eight remaining playoff contenders.
With four away goals last week, the Revs boast a significant advantage for Sunday's second leg, which will take place within the friendly confines of Gillette Stadium. Barring a significant collapse, the Revs, on paper, look set to claim a spot in the Eastern Conference finals.
However, standing between the Revs and advancement is a stingy Crew team that was arguably the league's hottest side entering the postseason after winning five of six games with the one loss, coincidentally, coming against the Revs.
The Crew may potentially enter Sunday's clash at a significant disadvantage, as the team could reportedly be without starters Federico Higuain, Bernardo Anor and Aaron Schoenfeld due to injury. Needing at least three goals for a chance at advancement, the Crew will need a major spark on the attacking end if any or all three are unable to feature.
In addition, the Crew will be forced to contain a Revolution side that ran rampant last time out on the backs of Charlie Davies and MVP candidate Lee Nguyen.
As they proved with their stunning three-goal explosion to all but eliminate the Union roughly a month ago, the Crew have the ability to score in bunches, which is exactly what they will have to do Sunday.
—-
What do you think of this weekend's playoff matchups? Which teams do you see advancing? What players will you be keeping your on?
Share your thoughts below.