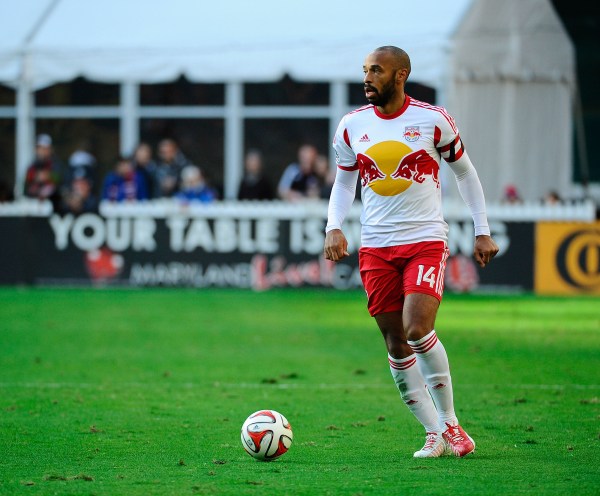 Photo by Brad Mills/USA TODAY Sports
By FRANCO PANIZO
Thierry Henry has never played a game on the turf field at Gillette Stadium, and it is being left a mystery as to whether or not that streak will come to an end later this month.
The New York Red Bulls and New England Revolution will kick off their two-legged Eastern Conference Championship at Red Bull Arena on Nov. 23, but the series will conclude six days later in New England and Henry's availability for that decisive game is unknown.
Henry has skipped most games played on turf surfaces since he arrived in MLS in July 2010 to avoid injuries, and has not taken the field in any of New York's five matches at Gillette Stadium since then. But all those meetings came during the regular season, never in the playoffs, never with a chance to advance to the MLS Cup Final.
It would seem a foregone conclusion that Henry would play in that decisive match, but with Henry and Red Bulls head coach Mike Petke refusing to confirm that he will play, the question continues to linger.
Henry passed on a chance to address the possibility after Saturday's series-clinching result against D.C. United because the Revs had yet to actually eliminate the Columbus Crew to book their place in the East finals.
Petke turned down his opportunity to address the "Will Henry play at Gillette" question when asked on Tuesday, choosing instead to focus on the first leg of the series, at Red Bull Arena.
"I'm only talking about the game at Red Bull Arena next Sunday. We're not talking about the following game and what if this and that," said Petke. "I'll have plenty to say, we'll have plenty to talk about at that situation after the game [next] Sunday.
"But definitely I'm not going to let something like that take any type of stage ahead of an important first game of the series at home at Red Bull Arena."
So why wouldn't Petke just remove any doubt and just say Henry will play in the second leg? There are plausible scenarios that could see him miss that match.
If the Red Bulls take a commanding lead to Gillette Stadium for the second leg, Petke could choose to sit Henry and only use him if the team gets into trouble. That scenario seems a bit unlikely considering the Revolution's recent 11-1-1 run.
Henry has had recent problems in the Achilles tendon in both legs, and playing him in the second match could mean the risk of losing him for the MLS Cup Final, and possibly beyond.
For a player who has yet to make his plans after 2014 publicly known, and whose contract expires at the end of the season, playing on artificial turf would carry even more risk than just a potential injury. That means this same dilemma could arise again if the Red Bulls reach the MLS Cup Final and face the Seattle Sounders, who also play on artificial turf.