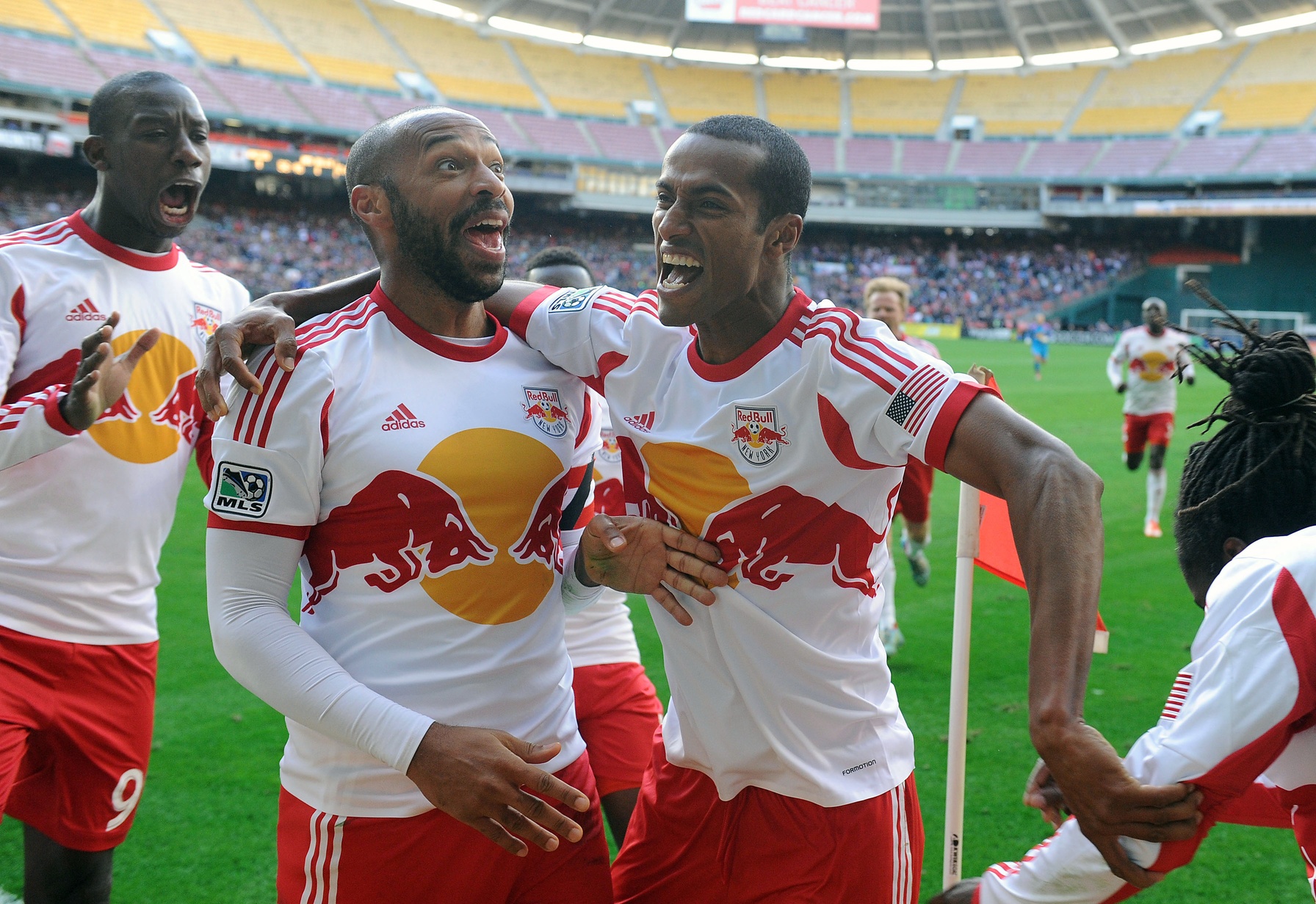 Photo by Brad Mills/USA TODAY Sports
By RYAN TOLMICH
WASHINGTON — Despite Saturday's 2-1 loss at the hands of D.C. United, it was hard not to feel the excitement building in the New York Red Bulls locker room.
Defender Ambroise Oyongo let out dozens of audible "Let's go Red Bulls" chants. Multiple players called for music to be played. Even the ever-stoic Thierry Henry let out a smile or two.
There was plenty to smile about for the Red Bulls, who knocked out rival D.C. United by a 3-2 aggregate scoreline with Saturday's result at RFK Stadium. For many, it was a new level of excitement that hadn't been reached since the club's 2008 MLS Cup Final appearance, but for head coach Mike Petke, Saturday's effort offered a chance to finally exhale.
"It was a release," Petke said after the game. "I'll be honest with you, this was one of the toughest days, if not the toughest day that I've had in my time as a head coach. It was just these weird feelings today. I know my guys were up for it. I know we're a better team on paper than D.C., but D.C. obviously earned the right to be the number one seed in the east because of what they did throughout the season. It was a huge release when we scored, huge."
Saturday's result saw the Red Bulls advance past D.C. United for the first time in club history. Petke, who played for both clubs during his MLS career, pointed to how nice it was to get that curse off the teams back as the Red Bulls advance to the next round.
"It creeped in my head as soon as we won to realize that this was the first time that we ever beat them in our history in a playoff series," Petke said. "That's a great accomplishment. It's another ghost to put back in the closet."
"It feels great, not only to go through to the next round but to knock out your biggest rivals and a team that we certainly don't want winning anything," added midfielder Dax McCarty. "T0 knock them out feels tremendous, but we haven't accomplished anything yet. "
Petke's and McCarty's sentiments were echoed by captain Thierry Henry, who has seen his side crash out of the playoffs unceremoniously since joining the team in 2010. Henry, who assisted Peguy Luyindula's game-winning-goal, admitted that Saturday was a major accomplishment, but one that had to be put in perspective.
"This one goes to the fans because I'm sure they had enough of losing against D.C.," Henry said. "On a personal point of view, and I'm sure the same with (the fans), we haven't done anything yet. You want to go all the way. 
"It will go down in history that it was the first time we beat D.C. in the playoffs, but that's it. You have to go forward and try to concentrate, stay committed on what's coming next."
What's next for the Red Bulls is a trip to the Eastern Conference finals, where they will matchup with either the New England Revolution or Columbus Crew. With D.C. United in the rearview mirror, the team can now look towards achieving another first in the club's history: an MLS Cup.
"We're happy that we're going through, but we're not satisfied," McCarty said. "I think we have a lot more to accomplish with this team. When you get this far in the season and your team is still playing, nothing less than a championship will do.
"We have our sights set on the MLS Cup, although we're not looking past the next round because obviously whoever we play, Columbus or New England is going to be a tough game, but the difference this year is our mentality. We're going to be very, very hard to beat."
—-
What do you make of the Red Bulls advancing? How impressed were you with the Red Bulls performance?
Share your thoughts below.