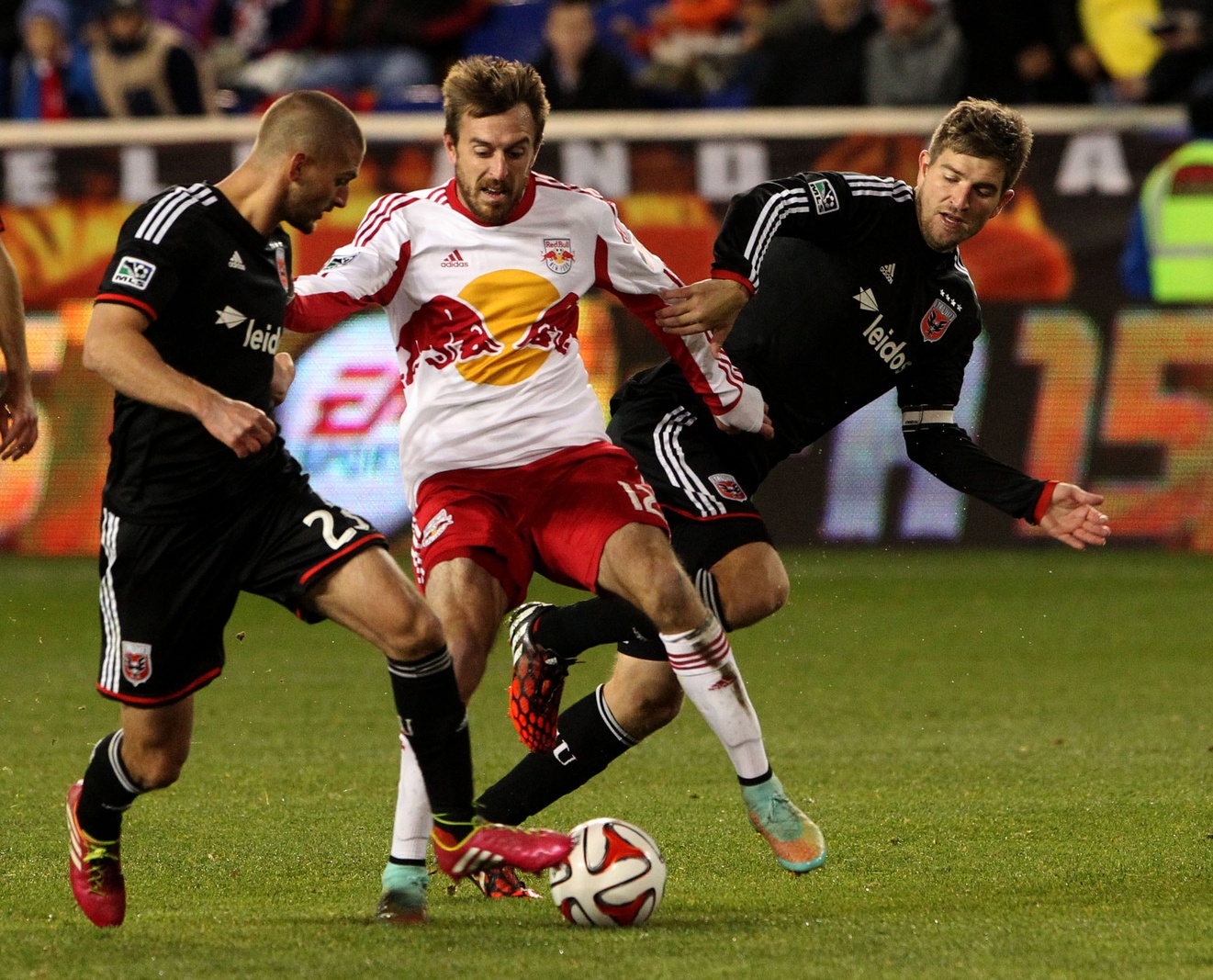 Photo by Noah K. Murray/USA Today Sports
By RYAN TOLMICH
With a 2-0 home victory in the rearview mirror, the New York Red Bulls now face the task of protecting their well-deserved lead Saturday with a trip south to take on D.C. United
Despite maintaining a major advantage heading into this weekend's clash, Red Bulls head coach Mike Petke does not expect a panicked, careless D.C. United side to emerge from the locker rooms of RFK Stadium. Rather, Petke is planning for the regular season Eastern Conference champions to come out disciplined and strong, much like they have all season.
"I don't think that D.C. is going to be desperate," Petke said Tuesday on a conference call. "We were not desperate this first game and we won 2-0. They're the top of the East. They're the favorites, I don't care what the score was, they're the favorites. They're at the top of the Eastern Conference going into the playoffs, so they will not be desperate."
However, D.C. United do enter the weekend needing at least a pair of goals to climb back into the series. Regardless, the Red Bulls plan on maintaining the same shape and style that has gotten them to this point.
"Our game plan is not going to change to start this game," Petke said. "Our game plan can perhaps be tweaked during the game depending on what goes on, but we are going to stick with what gotten us results over the last month, month-and-a-half, which is compact, solid defense, limiting space in the middle and looking to exploit when we win the ball, looking to go forward."
That philosophy is a recent one for the Red Bulls, whose change in formation toward the end of the season saw midfielders Dax McCarty and Eric Alexander shift into a holding role. Since the swap, the Red Bulls have improved what used to be one of the league's most highly criticized defenses.
"We were giving up way too many goals and way too many chances," Petke said of his side before the switch. "Of course everybody points to the back four when, in reality, tinkering with some place else in the team can pay dividends by helping them instead of leaving them stranded on an island sometimes.
"We have enough going forward that we really need to concentrate on our defensive side, and I mean team defense not just the back four. That's how this whole thing came about."
McCarty and Alexander are now considered the glue that maintains the Red Bulls shape. Serving as a link to stars Thierry Henry and Bradley Wright-Phillips ensures that the Red Bulls can be quick to merge on the counter attack, while the duo's protection of the back four led to a clean sheet in the opening leg victory.
Petke, as he has for the past few months, pointed to McCarty's and Alexander's understanding of their roles as important, as the two have finally become the deep lying midfield pair that the team has needed for some time.
"At the end of the day, it's really just putting guys in positions that we think will help the team," Petke said. "Dax and Eric, for chunks of the game, large chunks of the game you could say, have done a solid job in embracing their role in playing defense first. Anytime you have names like Thierry Henry, Lloyd Sam, Peguy Luyindula, Tim Cahill, Bradley Wright-Phillips, anytime you have those guys ahead of the ball, you know they're going to create things.
"There's no need for certain other guys to step out of position and get forward and have a shot on goal because that's not what their role is and they understand that now."
With that being said, Petke insists that the duo will be the key to protecting the Red Bulls' lead, as the team looks to knock D.C. United out of the playoffs for the first time in the club's history.
"That's who we are as a team," Petke said, "and if guys like, specifically, Dax and Eric do their job, then it doesn't matter how many goals Bradley scores or Thierry scores or assists, those two are going to be a big piece. That's where the game is going to be won."
—
What do you think of Alexander's and McCarty's play thus far? How far can you see the Red Bulls advancing in this postseason?
Share your thoughts below.