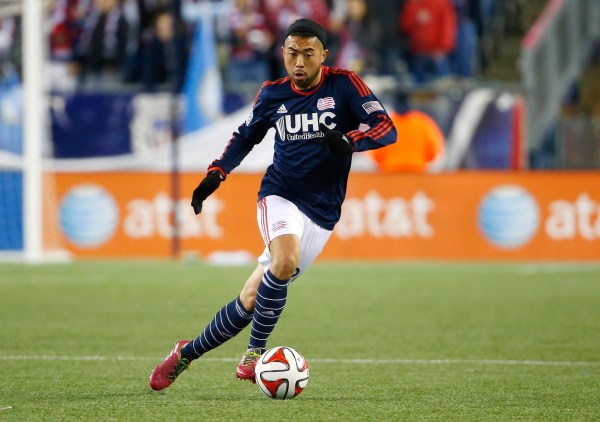 Photo by Winslow Townson/USA TODAY Sports
By FRANCO PANIZO
FOXBOROUGH, Mass. — Lee Nguyen missed it a lot, and who could blame him? It has been more than seven years.
Nguyen has been included in the U.S. Men's National Team's 25-man roster for its November camp in Europe, his first international call-up since earning two of his three caps at the Copa America back in July 2007.
The nod comes not only on the heels of an incredible season that has him in contention for the MLS MVP award and his New England Revolution among the final four teams competing for the MLS Cup, but also after an eventful few years across the globe that have seen him develop tremendously on the field and off of it.
"I was just a little teenager," said Nguyen of his brief inaugural spell with the U.S. back when Bob Bradley was head coach. "It was a great experience for me, and I've grown so much as a player and a person, so it'll definitely be different. Obviously, I've got more years under my belt, too. It'll be a different experience coming into the team now."
From the man in charge to the players to the system used, much has changed about the U.S. since Nguyen was last in camp. But the 28-year-old midfielder has evolved as well, with a more well-rounded game taking the place of a style that was certainly flashy but not overly effective.
Nguyen, make no mistake, still has the distinguishable silky smoothness and confidence on the ball that he had when he was 21 and on the books of Dutch powerhouse PSV Eindhoven. He just has added a lot more to his arsenal, including an improved ability to combine with teammates and knack for scoring timely goals.
In 2014, Nguyen has found the back of the net a combined 20 times in the regular season and playoffs. Ten of those have been game-winners, a league-leading amount, and part of the reason why the Revolution are playing such attractive and effective soccer right now.
He's a goal-scoring machine. An exciting and rising star in New England. A leading MLS MVP candidate.
"Right now he can do what he wants and he scores. It's crazy," said Revolution and now U.S. teammate Jermaine Jones. "I think he have to take that time now and enjoy it. He works hard and scores a lot of goals in the league and get called in the national team. I'm happy for him and maybe he's on the field against Colombia."
U.S. head coach Jurgen Klinsmann's plan for Nguyen is to have the veteran join the Americans in London ahead of Friday's friendly vs. the star-studded Colombians before returning stateside to prepare for the Revolution's Eastern Conference Championship series with the New York Red Bulls.
It will not be a lengthy return to the U.S. fold for Nguyen, but is still something he is excited for and eager to take advantage of in order to make a case for more looks in the near future.
"This is hopefully just the first," said Nguyen. "I still have got to keep going and keep pushing, and that's the main thing. As long as you keep playing well, you're going to get more chances."
That formula, over a sustained period, is what got Nguyen back into the U.S. mix. He had always wanted to be a part of the international game, even considering switching allegiances to Vietnam at one point, but it never came to be during a stretch of years in which he played professionally in Denmark and the southeastern Asian country.
Ultimately, he made his way to MLS in 2012 and signed with the Revolution. He impressed almost immediately with his close-control dribbling in tight spaces, technical skills and game-changing ability.
It took until this year, however, for his form to really garner the type of serious attention that could help him return to the international fray.
"I miss it a lot," said Nguyen. "Any time you can play for your country and represent your country, that's like the highest honor, the highest privilege you can have as a football player."
Nguyen will have that opportunity again this week thanks to his remarkable campaign, and he wants to seize the moment in order to avoid having to wait another few years before representing the U.S. again.
"It's definitely a dream to be able to come back in and represent your country," said Nguyen. "I'm very honored, I'm very happy, and I can't wait."