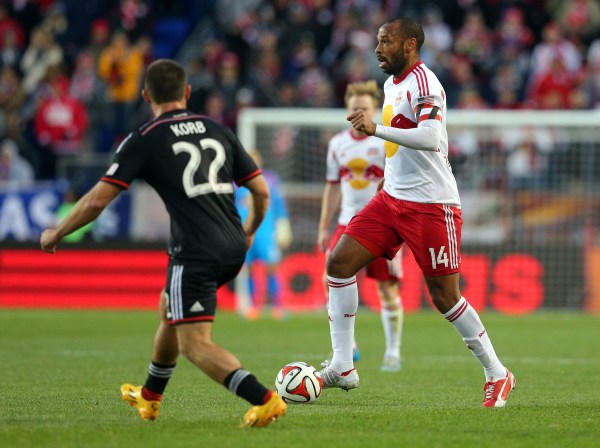 Photo by Brad Penner/ USA Today Sports
By RYAN TOLMICH
HARRISON, N.J. – Facing the conference's number one seed on just three days notice, the New York Red Bulls could have been excused for entering Sunday's clash with D.C. United with a bad case of tired legs.
However, there were no such issues for the Red Bulls, who toppled D.C. United 2-0 Thursday at Red Bull Arena behind goals from Bradley Wright-Phillips and Peguy Luyindula.
D.C. United set a physical tone early on, but it were the Red Bulls who created a majority of the chances throughout the opening stanza. However, despite having a plethora of opportunities on goal, Sunday's early efforts looked reminiscent of Thursday's victory over Sporting KC, where the Red Bulls were fortunate to overcome a slew of wasted opportunities.
"It started off, in the first 10-15 minutes, it was obvious that they were rested and were physically up for it and we looked a little slower than usual," said Red Bulls head coach Mike Petke. "They put it on us a little, great pressure by them.I think it opened up a little bit and once we were able to find the wings and play a couple of penetrating balls, especially in the second half, we found more success."
The hosts finally capitalized on one of those opportunities just five minutes before the half through Wright-Phillips, whose finish was his third of the playoffs and 30th of the season.
In a spectacular attacking sequence, the Red Bulls worked the ball down the right hand side through Lloyd Sam, who played a cross into the path of a surging Thierry Henry. The Frenchman corralled the effort before backheeling towards the far post on his second touch. After a dummy from Luyindula, Wright-Phillips pounced on the pass by smashing the ball into the open net to give the hosts the lead heading into halftime.
"I have to expect those things," Wright-Phillips said of Henry's pass and Luyindula's dummy. "When I first came here, (Henry) told me to always expect the ball, and that's what I do."
The Red Bulls continued to put D.C United under pressure throughout the second half, while the hosts' defensive unit severely limited D.C. United's attacking opportunities. Led by centerbacks Jameson Olave and Ibrahim Sekagya, D.C. United forward Eddie Johnson and Fabian Espindola struggled to get relevant touches in and around the Red Bulls' box.
"Olave and Ibra, the whole back four, played great today," said Red Bulls goalkeeper Luis Robles. "We knew that they were going to be direct. They were going to find Espindola and their offense runs through Espindola. They expect him to do something great every single time and if he doesn't they're kind of at a standstill."
"I'm proud of them," Petke said of his defense. "It was definitely a concern, but they looked pretty energized in the second half. I think they understood that we wanted to keep a clean sheet, but the more goals we put in puts in a better situation."
The hosts continued to attack patiently and intelligently through a mix of build up play and quick counter attacks. After prodding in and around the D.C. United final third, the Red Bulls finally got their insurance goal in the 73rd through Luyindula.
With his side marooned in the midfield, Luyindula made a darting run through the center of the D.C. United defense, which was spotted by Henry, whose through ball found his French compatriot. While D.C. United's backline called for offside, Luyindula continued his run on goal before firing between the legs of goalkeeper Bill Hamid to give the Red Bulls a 2-0 lead.
"That ball was perfect," Luyindula said of Henry's pass. "I just had to focus on my control and the finish. As you could see, the ball was right on me."
With a pair of goals in the team's back pocket, Red Bulls head coach Mike Petke took the chance to remove Henry, who finished the contest with pair of assists. Henry's substitution in the 80th minute gave the Frenchman some will earned rest, as the Red Bulls head to RFK Stadium Saturday for the series' second leg.
"It's only 2-0," said D.C. United head coach Ben Olsen. "We've dug ourselves a little bit of a hole, but it's certainly doable. We'll get a chance to get at them a little bit. We know what we have to do now. I do believe in the resiliency of this team and it's staff, so I have no doubt that we'll make a little push and make this thing interesting."
"We're not there yet, so it's kind of a mixed feeling," Henry said. "Obviously you're happy because you won and we go there with something we can defend. I've been in some ties before where everyone thought we were out or going through and it didn't happen. We need to relax. They have showed us all season they are a good team We took care of business at home and I expect them to try and do the same thing on Saturday.
"It's always better to go out there with something to defend," Henry continued, "but we haven't done anything yet."
Here are the match highlights: