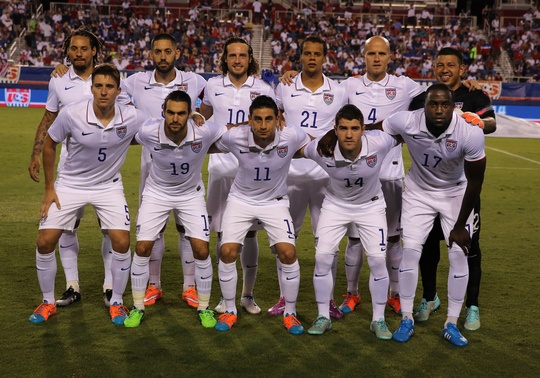 Photo by USA TODAY Sports
 By IVES GALARCEP
The final U.S. Men's National Team matches of 2014 are just around the corner, and Jurgen Klinsmann will find himself with some interesting decisions to make about the roster he chooses to call in.
The upcoming friendlies against Colombia and Ireland will be some of the toughest tests the U.S. has faced this year outside of the World Cup, with Colombia arguably the best opponent the Americans will have faced in the calendar year.
What will the team look like that Klinsmann calls in? There will be some players missing through injury, such as Michael Bradley, Joe Corona and Joe Gyau, as well as some others who seem good bets to be rested after long years, like Matt Besler and Graham Zusi.
Those absences should pave the way for some new faces to get minutes in the friendlies, and could allow some players to earn their first call-ups under Klinsmann.
In my recent Goal USA piece, I broke down what the USMNT roster could look like for the November friendlies, and there are some new faces in the mixes, as well as the return of some players who have been out of action.
Give my Goal USA story a read, and then go to the jump for a closer look at some positional options Klinsmann could consider for his call-ups.
GOALKEEPER
If Klinsmann doesn't want to bring in both Hamid and Rimando, he might just call in one and have Cody Cropper be the third goalkeeper. The goalkeeper pickings are slim in Europe beyond Guzan and Cropper with Howard on his one-year break. David Yelldell anybody?
DEFENDERS
Eric Lichaj is someone who has continued to earn regular starters for Nottingham Forest, at both right back and left back. Klinsmann has only called him in once before, but could be hard pressed to pass on him this time around.
Michael Orozco is someone Klinsmann rates for his technical ability, and his consistent role as a starter for Puebla, but will Klinsmann call him in ahead of some European-based options? It is entirely possible, though might require Jermaine Jones to be called into this camp as a defensive midfielder rather than central defender. That's possible given the relative lack of defensive midfielder options available, unless Danny Williams really is healthy enough to play some national team minutes this month.
Someone else who is looking like a lock for a January call-up, if not sooner is Matt Hedges, and Klinsmann could want to get an earlier look at the left-footed central defender, especially with Besler out and John Brooks not playing at Hertha Berlin.
MIDFIELDERS
With the U.S. playing at Fulham, it would seem that Emerson Hyndman makes too much sense as a call-up not to include in the camp. My initial projection had some MLS call-ins in Lee Nguyen and Perry Kitchen. I still think Nguyen is a possibility, but am not as sure about Kitchen, and with Hyndman someone who should be included in the camp, Kitchen might have to wait until January for a look from Klinsmann.
What about Tesho Akindele? News broke on Wednesday that he was  turning down a Canadian national team call-up and considering playing for the U.S. If Klinsmann calls him up for the November friendlies will he come in? Akindele is an ideal fit as a wide forward in a 4-3-3, an area of need for the current U.S. pool, so it's easy to see why Klinsmann has been recruiting him heavily.
FORWARDS
Aron Johannsson and Terrence Boyd only just recently returned from injury, but given the fact this is Klinsmann's last chance to see either until March, we can see him bringing both in. If Klinsmann does that, then that will likely eliminate the chances we see Gyasi Zardes in a U.S. camp in November.
Someone who might merit a look is Andrew Wooten, who has been enjoying a good season in Germany and hasn't been called in by Klinsmann. Bobby Wood's struggles at 1860 Munich will probably cost him a chance at this camp, and if it does, Wootten is someone who could merit a look.
——–
What do you think of the roster I projected on Goal USA? Who are you hoping earns a rare look from Klinsmann?
Share your thoughts below.