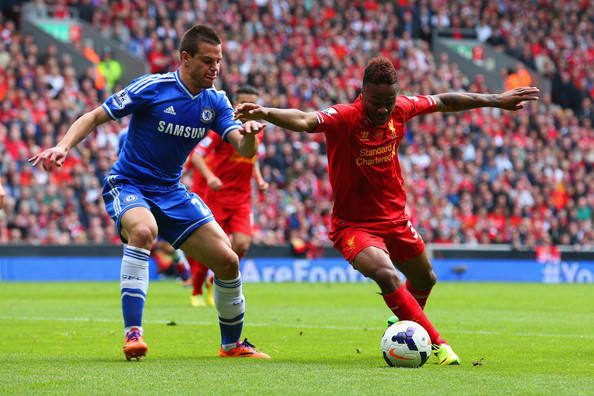 By DAN KARELL
Liverpool's 2013/2014 season hasn't carried over so far into the current campaign, but the club can take a huge step forward on Saturday when they host Chelsea in this weekend's biggest matchup.
The Reds have struggled to score both on the home front and in European competition, with Mario Balotelli failing so far to live up to the hype and the rest of the squad failing to replace Luis Suarez. Chelsea meanwhile have surged to the top of the English Premier League and are sitting comfortably, four points ahead of second-place Manchester City.
Following successive weeks of big matches in Spain (El Clasico) and Germany (Der Klassiker), the first La Classique of the season takes place on Sunday in France as Paris Saint-Germain host first-place Marseille. Legendary coach Marcelo Bielsa has guided Marseille to an impressive 9-2-2 record early this season, while PSG has struggled to win consistently with Zlatan Ibrahimovic on the bench.
The Swedish star though should be in play this weekend, which should make for a great matchup.
Elsewhere, first-place Club America face second-place Toluca in Liga MX action and the MLS playoffs continue with D.C. United hosting the New York Red Bulls, New England Revolution facing the Columbus Crew, and the LA Galaxy taking on Real Salt Lake.
Here's a look at This Weekend's Soccer on TV:
FRIDAY
2:30 p.m. – GolTV USA – Hertha Berlin vs. Hannover
2:45 p.m. – beIN Sports en Español – Cordoba vs. Deportivo La Coruña
2:45 p.m. – FOX Soccer Plus – Motherwell vs. Dundee United
3 p.m. – beIN Sports USA – Bolton Wanderers vs. Wigan Athletic
8:30 p.m. – ESPN Deportes/Azteca America – Queretaro vs. Morelia
10:30 p.m. – Azteca America – Santos Laguna vs. Pachuca
SATURDAY
1 a.m. – FOX Sports 2 – Newcastle Jets vs. Melbourne Victory
7:15 a.m. – beIN Sports USA – Derby County vs. Wolverhampton
7:45 a.m. – NBCSN – Liverpool vs. Chelsea
9:30 a.m. – GolTV USA – Eintracht Frankfurt vs. Bayern Munich
10 a.m. – NBCSN – Southampton vs. Leicester City
10 a.m. – beIN Sports USA/en Español – Almeria vs. Barcelona
10 a.m. – Premier League Extra Time – Manchester United vs. Crystal Palace
10 a.m. – Premier League Extra Time – Burnley vs. Hull City
10 a.m. – Premier League Extra Time – West Ham United vs. Aston Villa
12 p.m. – beIN Sports USA – Sassuolo vs. Atalanta
12 p.m. – beIN Sports en Español – Getafe vs. Elche
12:30 p.m. – NBC – Queens Park Rangers vs. Manchester City
12:30 p.m. – GolTV USA – Werder Bremen vs. Stuttgart
2 p.m. – beIN Sports USA – Real Madrid vs. Rayo Vallecano
2:30 p.m. – NBC – D.C. United vs. New York Red Bulls
4 p.m. – beIN Sports en Español – Malaga vs. Eibar
4:30 p.m. – GolTV USA – Atletico Mineiro vs. Palmeiras
6 p.m. – Univision – Cruz Azul vs. Pumas UNAM
6 p.m. – Univision Deportes – Veracruz vs. Universidad de Guadalajara
8 p.m. – Univision Deportes – Monterrey vs. Chiapas
9 p.m. – Telemundo – Club Leon vs. Puebla
10 p.m. – Univision Deportes – Atlas vs. Club Tijuana
SUNDAY
1 a.m. – FOX Soccer Plus – Central Coast Mariners vs. Perth Glory
7:30 a.m. – FOX Soccer Plus – Aberdeen vs. Celtic
8:30 a.m. – NBCSN – Sunderland vs. Everton
8:30 a.m. – Premier League Extra Time – Tottenham vs. Stoke City
8:30 a.m. – Premier League Extra Time – West Bromwich Albion vs. Newcastle
9 a.m. – beIN Sports USA – Juventus vs. Parma
9 a.m. – beIN Sports en Español – Palermo vs. Udinese
9:30 a.m. – GolTV USA – Wolfsburg vs. Hamburg
11 a.m. – NBCSN – Swansea City vs. Arsenal
11 a.m. – beIN Sports en Español – Espanyol vs. Villarreal
11:30 a.m. – GolTV USA – Borussia Dortmund vs. Borussia Mönchengladbach
12 p.m. – beIN Sports USA – Fiorentina vs. Napoli
1 p.m. – beIN Sports en Español – Valencia vs. Athletic Bilbao
1 p.m. – Univision – Toluca vs. Club America
3 p.m. – beIN Sports USA – PSG vs. Marseille
3 p.m. – beIN Sports en Español – Real Sociedad vs. Atletico Madrid
3 p.m. – GolTV USA – Nacional vs. Peñarol
3:15 p.m. – Univision Deportes – Estoril vs. FC Porto
4:30 p.m. – GolTV USA – Corinthians vs. Santos
5 p.m. – ESPN2 – New England Revolution vs. Columbus Crew
6 p.m. – UniMas – Chivas de Guadalajara vs. Tigres UANL
7:30 p.m. – ESPN2 – LA Galaxy vs. Real Salt Lake