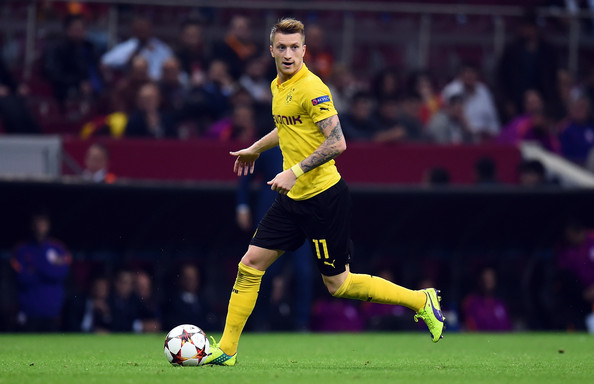 By DAN KARELL
Manchester City is preparing for another big spending spree next summer, financial fair play be damned.
The Citizens have already placed Borussia Dortmund star midfielder Marco Reus atop their shortlist, and are ready to offer him a contract worth 13 million euros ($16.3 million) per season to tempt him to join Man City, according to German publication SportBild.
The report claims that Reus has a 25 million euro exit clause in his Dortmund contract, which runs through summer 2017. Bayern Munich is already reportedly very high on Reus and hoping to tempt him south to join former teammates Mario Götze and Robert Lewandowski.
Reus has sat for a majority of the season since missing the World Cup with torn ankle ligaments. The 25-year-old reinjured the ankle in September and has only made five Bundesliga appearances in the 2014-2015 season.
Here are some more stories to kick off your Tuesday:
FC TOKYO CHASING XAVI
A new club has emerged in the chase for Barcelona midfielder Xavi.
With the veteran midfielder playing second fiddle to Ivan Rakitic this season, FC Tokyo has reportedly offered Xavi a 7 million euro per year contract to join the J. League club. The report in Japanese newspaper Nikkan Sports claims that FC Tokyo want Xavi ahead of the 2015 season, which begins in March.
Xavi was very close to joining either Al Arabi or Al Sadd in Qatar before the offers were pulled following Spain's disappointing World Cup performance in Brazil. There's reportedly still an offer on the table for Xavi to join New York City FC and their Designated Player signings David Villa and Frank Lampard.
ARSENAL OPEN CONTRACT TALKS WITH WALCOTT

Arsenal are in talks to keep another of their core players around for the long term.
After returning from a 10-month absence due to a torn anterior cruciate ligament, Arsenal are reportedly in talks with Theo Walcott over a contract extension. The 25-year-old is under contract through June 2016.
"We are starting to sit down with him," Arsenal manager Arsene Wenger said to BBC Sport. "I think he has one and a half years to go on his contract in December and it is never an easy job with him, you know.
"Will he be at his peak in the next few years? He should be, yes. He is 25. It is the best years now so hopefully we can profit from that."
Walcott played the final 10 minutes in last Saturday's 3-0 victory against Burnley, his first appearance since Jan. 4, 2014, a 2-0 victory against archrival Tottenham in the FA Cup.
QUICK KICKS
The Tel Aviv derby between Maccabi Tel Aviv and Hapoel Tel Aviv descended into violence and was abandoned in the first half after multiple pitch invasions, the first of which saw a rival supporter attack a Maccabi player. (REPORT)
Real Madrid goalkeeper Iker Casillas claimed that he could play with Los Blancos until he's 40 years old. (REPORT)
PSV Eindhoven are looking into signing Andres Guardado on a permanent deal, after spending the last 10 months with the Dutch club on loan from Valencia. (REPORT)
Chile has expressed their desire to host the 2030 World Cup, either alone or with Uruguay. (REPORT)
Manchester City left back Aleksandar Kolarov has been ruled out for a month with a calf injury. (REPORT)
Brazilian World Cup forward Jo was released by Atletico Mineiro for violating team rules. (REPORT)
—————
What do you think of these reports? Do you see Reus moving to the Etihad Stadium? Should Xavi leave Barcelona for Tokyo? Do you see Walcott extending his deal with Arsenal?
Share your thoughts below.