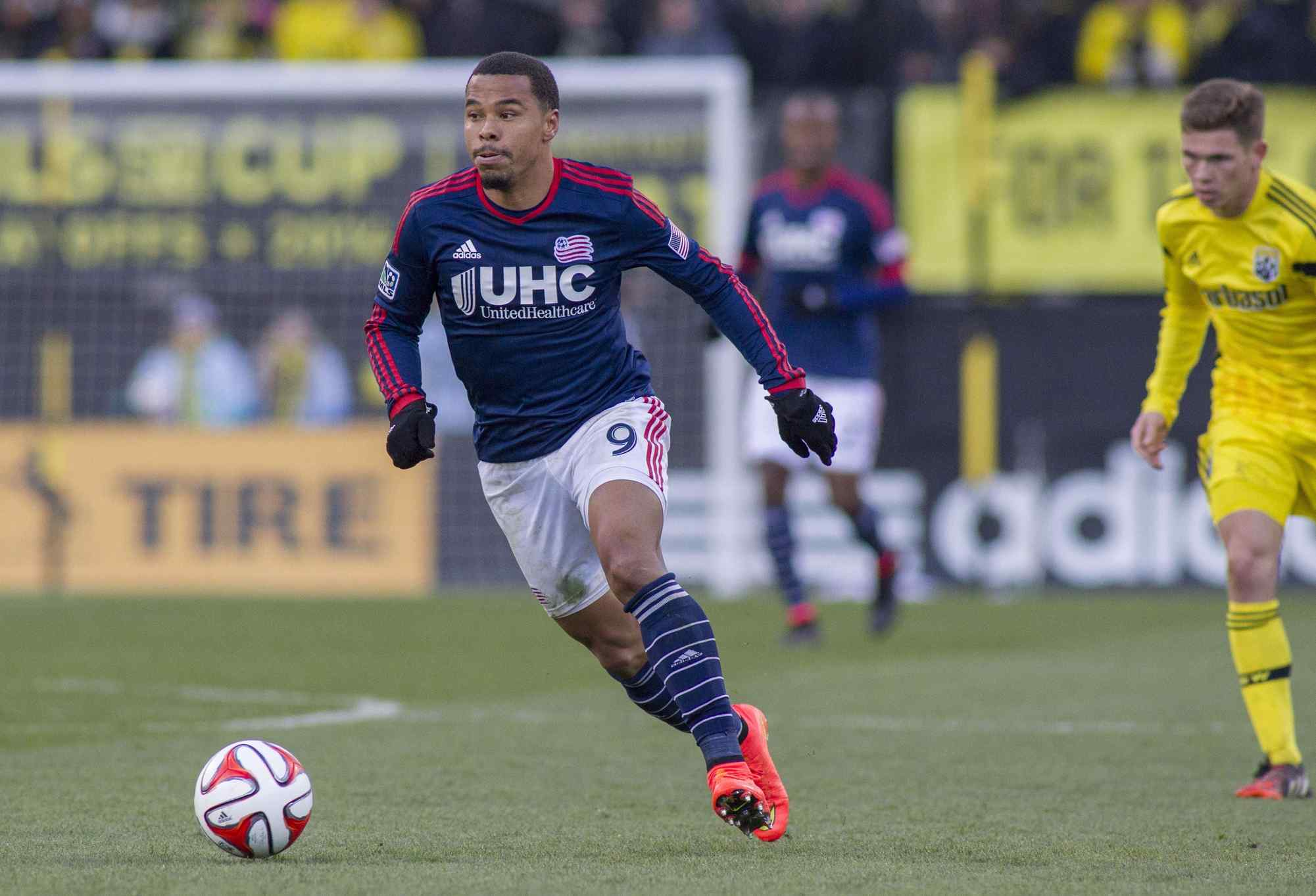 Photo by Trevor Ruszkowski/USA TODAY Sports
By DAN KARELL
COLUMBUS, Ohio — For at least 90 minutes on Saturday afternoon, vintage Charlie Davies was on display at Crew Stadium.
Davies scored two goals in the New England Revolution's impressive 4-2 victory at the Columbus Crew in the first leg of the Eastern Conference semifinals, and overall proved to be a menace to the usually defensively stout Crew defense during the match. The pair of goals were Davies' first career MLS postseason tallies, and it was his first time back on the scoresheet in nearly two months.
"For me I think it was important just to build on every performance," Davies explained to SBI. "Every time I'm out there I'm just trying to get better and I'm trying to be more effective and help this team win. Today I think the team needed me to score and take advantage of the opportunities that I had and I was fortunate enough to do that."
A constant theme during the Revolution's blinding run of form has been Davies insertion into the starting lineup, with Lee Nguyen, Teal Bunbury, and Kelyn Rowe playing behind him. Although he had only scored three goals prior to Saturday's match, Davies' play, just to open up space for Nguyen, Rowe, and Bunbury with darting runs into the box has allowed for the midfield trio to take the Revolution to new heights.
"I think Charlie being a threat really opens up other guys," Revolution coach Jay Heaps said. "I think him having a goal helped give Lee some space and we you have a lot of different threats, you can be dangerous."
After a few early chances nearly went the Revolution's way, Davies took advantage of a lack of marking from the Crew by getting on the end of a lofted free kick and sending a diving header past Crew goalkeeper Steve Clark for the opening goal.
Following goals from Chris Tierney and Nguyen, Davies put the icing on the cake with an impressive blast from nearly 30-yards out that dinked in off the post. The goal gave Davies his first multi-goal game since 2011, when he was on-loan with D.C. United.
Davies said that the second goal was a little bit of revenge against Clark, who had miraculously stopped a late one-on-one opportunity against Davies in the Crew's 2-1 victory last September with a finger-tip save.
"I'm not going to lie, I never forgot the shot that (Clark) saved the last time we played here," Davies said. "I got the space and I knew i could have taken a couple of more steps but I felt that the timing was right, if you give me two chances, I'm going to put one away."
Davies ran to the closest corner flag after each goal and performed some intricate dance moves to the delight of his teammates, with the camera catching every movement.
"That's just self-expression, to live in the moment," Davies said when asked about his celebrations. "That's why we play the game. Even as a little kid as a striker, you score a goal and you want to enjoy it. It's something that I've really taken time to enjoy every time I'm on the field and when you can score a goal, you make sure you can celebrate."
With four away goals, the Revolution are sitting pretty in the two-legged series. The only way for the Revs to miss out on the Eastern Conference finals would be a total defensive collapse, falling to the Crew by a three-goal margin.
Davies and the Revolution though aren't taking anything for granted, and instead of expressing their feelings in the media, Davies said that he wanted to let his feet do the talking.
"There's another leg to this series so we have to be focused for the home game," said Davies. "Obviously, we didn't do any talking this week with all the media trying to build up a story, trying to get us to react to what Columbus were saying. We stayed focus, we came out, we were hungry, and we showed what we're capable of when we're playing at our best.
"The concentration and focus was on a different level. When you're seeing and reading some of the comments that they're saying out of their locker room, it's funny because typically they want a reaction, they want a war of words. It just motivated us more. We did all the talking on the field."