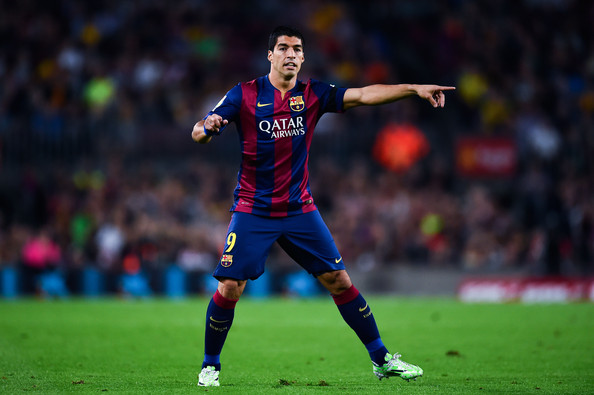 By RYAN TOLMICH
Despite having one of the more prolific goalscoring seasons in recent memory, Barcelona's Luis Suarez insists he still has plenty to learn from one of his new teammates.
The Uruguayan has admitted that he is already learning from Barcelona's stars, especially Lionel Messi, who Suarez ruled is "the best in the world".
"I learn something from Leo and all my teammates every day," Suarez said. "Having the best player in the world is a blessing, a source of pride and Messi is a joy every day. For me, there's no doubt that Messi is the best in the world, you can't compare him to anyone".
Suarez also revealed his excitement for facing former club Ajax, who Barcelona will take on Wednesday in Champions League action.
"I have always said that coming up through the ranks at Ajax was the best thing I've done in my career on every level. It taught me how to grow and lots of things in terms of football that I didn't have before. I will always be grateful for that.
"I would love to go for it tomorrow by scoring a goal and celebrating in style. Out of respect for Ajax I wouldn't celebrate, though".
Here are some more news and notes to kickoff your Wednesday morning:
RODGERS DEFENDS DECISION TO FIELD WEAKER LINEUP AGAINST REAL MADRID
With a matchup with Chelsea looming Saturday, Liverpool manager Brendan Rodgers opted to rest some of the club's key players Tuesday in a matchup with Real Madrid. However, despite putting up a spirited fight, the Northern Irishman has faced his share of criticism.
Pundit and former player Gary Lineker criticized the choices of Rodgers, calling them "unbefitting of a club of Liverpool's stature". Rodgers, who revealed plans to leave captain Steven Gerrard out of the game came about a week ago, responded to Lineker by stating that part of the reasoning was due to the team's performance against Newcastle last weekend.
"Gary is a figure I respect, he has been a top player, but he has never been a manager so he does not know what you're up against with planning and training," Rodgers said. "It was far from throwing in the white towel. Cristiano Ronaldo has scored in every one of his last 11 games so my players put in a performance that did befit this club with the quality and spirit. I think the performance says it.
 "I thought we were very unfortunate not to get something out of the game. Irrespective of the Chelsea game, we picked a team to get a result. And it does not mean those who did not play will on Saturday. We have not been consistent enough to have guaranteed starters. I had to change the team after the performance against Newcastle. I have to show trust as a coach and a manager and now we have to be focused on Chelsea and pick a team to win that game."
SANTOS LAGUNA WIN COPA MX IN PENALTY SHOOTOUT
For the first time in the club's history, Santos Laguna are Copa MX champions.
After finishing level at 2-2 in regular time, Santos took down Puebla, 4-2, on penalties. Wednesday's victory comes despite the fact that Santos conceded a pair of late equalizers to 10-man Puebla, who leveled the score in the 72nd and 90th minutes, respectively.
WIth the victory, Santos Laguna books a spot in the Supercopa MX against the winner of next season's Copa MX. The winner of that will then earn a spot in the 2016 Copa Libertadores.
QUICK KICKS
Roma's Kevin Strootman is set to feature for Roma's youth team this weekend after missing eight months with a knee injury. (REPORT)
Newcastle's Jonas Gutierrez announced that he is clear to return to Newcastle after undergoing treatment for testicular cancer. (REPORT)
Former Brazil striker Adriano has been charged over links to an alleged Brazilian drug lord. (REPORT)
Nicklas Bendtner has been left off of Denmark's squad for the upcoming Euro 2016 qualifiers. (REPORT)
Michu and Marek Hamsik are set to skip out on Napoli's upcoming Europa League meeting with Young Boys. (REPORT)
—
What do you think of Suarez's assessment? How impressed are you with Santos Laguna? Was Rodgers right to field a weakened lineup?
Share your thoughts below.