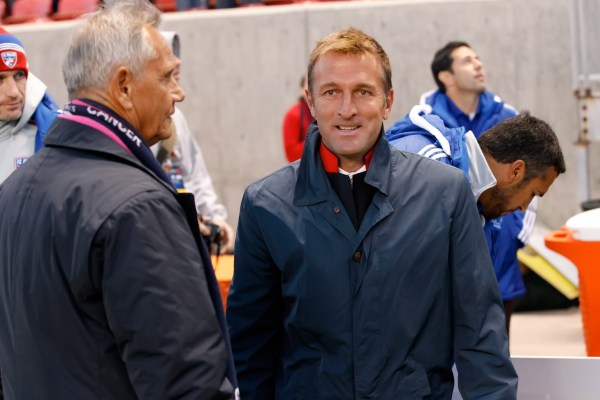 Photo by Chris Nicoll
/USA Today Sports  
By FRANCO PANIZO
New York City FC had several things they wanted achieve going into Wednesday. They accomplished most, if not all, of them.
NYC FC strengthened its roster via the MLS Expansion Draft on Wednesday afternoon, using 10 picks to bring its current squad total to 19 players. New York City started by grabbing midfielder Ned Grabavoy after fellow 2015 expansion team Orlando City picked up Donovan Ricketts, and went on to select a combination of seasoned veterans, promising youngsters and local products.
Some of them will be capable of making an impact now, others will be able to in the future. Some have previous experience with head coach Jason Kreis, others with the New York area.
All of them fit what the club is trying to do, however.
"We had some mixed ideas and wanted to accomplish quite a few things," said head coach Jason Kreis via a conference call. "We wanted to accomplish sorting out some positional needs, we wanted to accomplish getting some veteran MLS experience and we wanted to accomplish getting some young potential players.
"It's my strong belief that every team in MLS needs to be focused on doing several jobs at once: winning with the veteran players, establishing an identity with those players, and also developing young players because we're operating under a salary cap structure that demands that."
The addition of Grabavoy and the nine others – Patrick Mullins, Jason Hernandez, Daniel Lovitz, Tony Taylor, Mehdi Ballouchy, George John, Tommy McNamara, Sal Zizzo and Chris Wingert – give New York City FC a solid core with which to work with.
They now have youngsters in Mullins, McNamara and Taylor that can be groomed for the future as well as MLS vets like Wingert and Hernandez that can step in and start immediately alongside the likes of Designated Player duo Frank Lampard and David Villa.
Defensively, the club has six players that are all American and have played in the league. In the midfield, they have eight players that range in nationalities and skill-sets. Up top, they have four forwards, although youngster Omar Salgado is reportedly being shipped out.
It's a good start, but more will be needed by the time the 2015 starts.
"Clearly, at 19, it's not enough players," said director of operations Claudio Reyna. "We're going to continue to add players from outside the league and of course the college draft will be coming in January, so we'll start preparing for that in the coming weeks. We'll definitely be adding some more numbers in the next month."
One position that will certainly be bolstered is goalkeeper. New York City FC only have MLS veteran Josh Saunders on their books, and probably need to carry another two on the roster.
Kreis even said that the club's decision not to select one Wednesday could mean that a goalkeeper will be on the way in the near future.
"There's a lot of different areas, different places you can go to for players and we have a lot of different resources out there," said Kreis. "The fact that we didn't take a goalkeeper in this expansion draft means that perhaps we have another idea that will be announced shortly."
More moves may be on the way, but the club is pleased with how things went on Wednesday. The roster is now starting to really take shape, and with a variety of players that NYC FC was hoping for.
"We feel good coming out of today's expansion draft," said Reyna. "We got more positions covered with the addition of all the players. We have experience from within the league – which was always very important for us – we have young players with a lot of potential and we're really happy where we're at."
New York City FC's current 19-man roster:
Goalkeepers (1): Josh Saunders
Defenders (6): Kwame Watson-Siriboe, Jeb Brovsky, Jason Hernandez, George John, Josh Williams, Chris Wingert
Midfielders (8): Andrew Jacobson, Matt Dunn, Mehdi Ballouchy, Ned Grabavoy, Dan Lovitz, Tommy McNamara, Sal Zizzo, Frank Lampard
Forwards (4): David Villa, Patrick Mullins, Omar Salgado, Tony Taylor