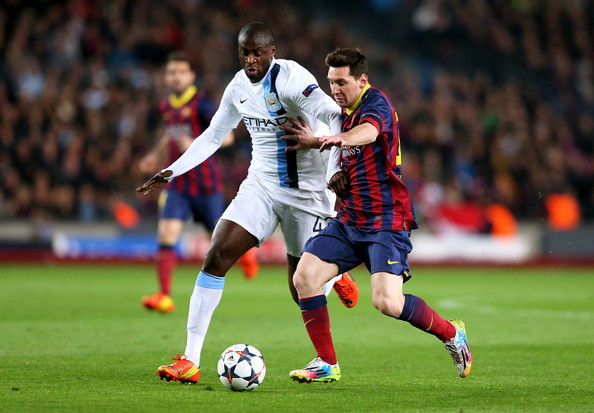 By DAN KARELL
Manchester City's reward for making it to the knockout stages of the UEFA Champions League is a mouthwatering rematch against FC Barcelona.
The two clubs were drawn together in UEFA's UCL Round of 16 draw early Monday morning, pitting the English champions and the Spanish juggernaut together for the second consecutive season. Some of the world's best will be on display as Barcelona's three-headed monster of Lionel Messi, Neymar, and former Liverpool forward Luis Suarez take on Yaya Toure, Sergio Aguero, Samir Nasri, and Vincent Kompany.
Meanwhile, the draw also put together a quarterfinal rematch from last year as Paris Saint-Germain look to enact their revenge against Jose Mourinho and Chelsea. PSG haven't played as well domestically and internationally due to a snake-bitten Zlatan Ibrahimovic, but if he's fit, he'll give Chelsea's defense plenty to think about.
Defending champions Real Madrid will also be facing a re-match of their own as they were drawn with Schalke 04. Real Madrid crushed Schalke, 9-1, on aggregate at this stage last season. It's also a dream draw for Arsenal, as they avoid the likes of Bayern Munich, Barcelona, and Real Madrid and get paired with AS Monaco. Arsenal have been knocked out of the UCL in the Round of 16 in each of the past four seasons.
The first-leg matches will be played on either Feb. 17/18 or Feb. 24/25 and the second leg matches will take place on either March 10/11 or March 17/18.
Here's a look at the UCL Round of 16 draw:
UEFA CHAMPIONS LEAGUE DRAW
Manchester City vs. Barcelona
Paris Saint-Germain vs. Chelsea
Bayer Leverkusen vs. Atletico Madrid
Juventus vs. Borussia Dortmund
FC Schalke vs. Real Madrid
Shakhtar Donetsk vs. Bayern Munich
Arsenal vs. Monaco
FC Basel vs. Porto 
————
What do you think of this draw? Which matchups stand out to you? Do you like Man City's chances to advance? Do you see any upsets on the cards?
Share your thoughts below.