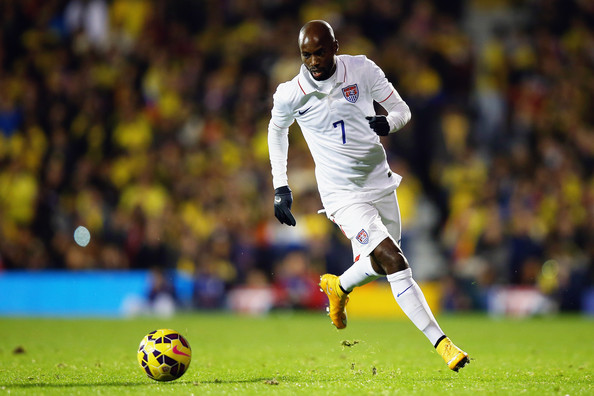 By RYAN TOLMICH
After 121 appearances and four World Cup appearances, DaMarcus Beasley is ready to close the curtains on his international career.
The U.S. Men's National Team left back took to Instagram Monday to announce his retirement from the international game. Beasley finishes his international career fifth all-time in appearances for the USMNT, while his 17 goals are the ninth-most in team history.
"Honestly, I never thought this day would come, representing my country has been the greatest thing I've done in my career," Beasley wrote in his Instagram post. "Every time I've pulled on OUR colors I tried to represent myself, my family and my country with the utmost respect. With that being said, I have officially retired from the U.S. Nat'l team. I've been blessed to be a part of the USSF family for 17 yrs.
"To all my coaches and teammates, I just want to say thank you, thank you for making me the player I am and the man I will be in the future. I will never forget all the games, friendships, memories we all shared. One thing I hope you all will say about me is that I was a good teammate and always left everything on the field when I played. And lastly I want to thank ALL the fans that have supported me and the U.S. Team, without you guys we wouldn't be where we are today! Thank you all!" (sic)
Beasley, along with Landon Donovan, Oguchi Onyewu and Kyle Beckerman, was a part of the famous U.S. U-17 class of 1999 that featured at U.S. Soccer's residency program in Bradenton, Florida and finished fourth at the 1999 U-17 World Cup.
A veteran of every World Cup between 2002 to 2014, Beasley retires as the only American to play at four separate World Cup tournaments.
Beasley, who currently plays for the Houston Dynamo, recently conceded his place in the USMNT starting lineup to Club Tijuana's Greg Garza. The 23-year-old defender has put in strong performances this past fall and could be the future long-time left back of the USMNT, while Fabian Johnson, Alfredo Morales, and Timmy Chandler are all able to play that position as well.
—-
What do you think of this news? Surprised he's decided to retire from international soccer? What's your favorite memory of Beasley with the U.S.?
Share your thoughts below.