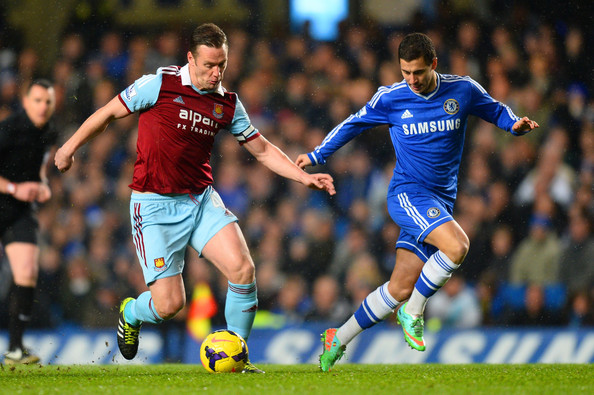 By DAN KARELL
A pair of London derbies headline a return to action in the English Premier League on a stacked Boxing Day schedule.
Chelsea attempt to remain atop the league's standings when they host West Ham United to kick off the day's action. West Ham and Sam Allardyce have defied expectations and are fourth-place in the table, and are proving their worth on a regular basis. Chelsea though seem a team that are the favorites to win this year's title and will be tough to defeat at Stamford Bridge.
A surging Manchester United take on Newcastle United in the next round of matches in the day. Newcastle have lost two consecutive matches and have slid down to ninth-place, and are in need of another morale-boosting victory at Old Trafford. Second-place Manchester City visit Alan Irvine and West Bromwich Albion, who have just 17 points from 17 games.
The afternoon finishes up with Arsenal hosting South London's Queens Park Rangers. Arsenal sit just four points out of fourth place and have won three of their last five games, though they're still missing a number of starters including Aaron Ramsey, Jack Wilshere, and Theo Walcott.
Here's a look at this year's Boxing Day schedule:
7:45 a.m. – NBCSN – Chelsea vs. West Ham United
10 a.m. – NBCSN – Manchester United vs. Newcastle
10 a.m. – Premier League Extra Time – West Bromwich Albion vs. Manchester City
10 a.m. – Premier League Extra Time – Burnley vs. Liverpool
10 a.m. – Premier League Extra Time – Crystal Palace vs. Southampton 
10 a.m. – Premier League Extra Time – Leicester City vs. Tottenham 
10 a.m. – Premier League Extra Time – Everton vs. Stoke City
10 a.m. – Premier League Extra Time – Swansea City vs. Aston Villa
10 a.m. – Premier League Extra Time – Sunderland vs. Hull City
12:30 p.m. – NBCSN – Arsenal vs. Queens Park Rangers
12:30 p.m. beIN Sports USA – Watford vs. Wolverhampton