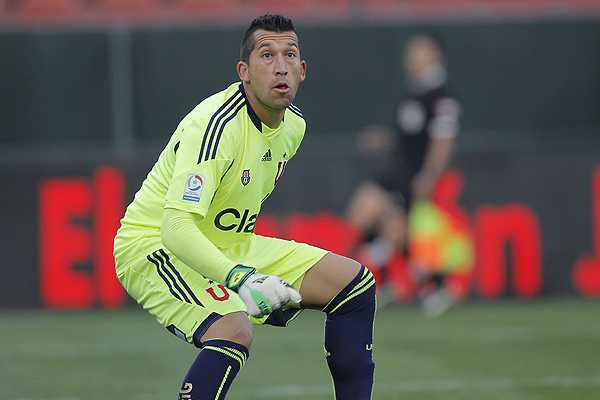 By FRANCO PANIZO
Sporting Kansas City may have just found their starting goalkeeper for the 2015 season.
On the same day that the club announced the signing of Hungarian forward Kriztian Nemeth, Kansas City agreed to a deal with Chilean goalkeeper Luis Marin on Thursday. Marin, 31, will occupy an international roster spot like Nemeth.
"Luis (Marin) is a goalkeeper with a wealth of experience and leadership," said Sporting KC head coach Peter Vermes. "He knows our team and the tasks that lie ahead for him and he is raring to go to take the challenges head-on."
Marin arrives in Kansas City after most recently being on loan at Universidad de Chile from O'Higgins FC. He has international experience, having made eight appearances for Chile and being among the 23 players that were selected to its roster for the 2010 FIFA World Cup.
Here are more notes from around MLS:
REVOLUTION TRADE DRAFT PICK TO TFC FOR HALL
Jeremy Hall's time in Toronto has come to an end, and a stint in New England is about to begin.
It was announced on Thursday that Toronto FC received a fourth-round pick in the 2015 MLS SuperDraft from the New England Revolution in exchange for Hall. The 26-year-old defender spent three years at the Canadian club, but was in need of a move and is now joining a Revolution side that is coming off making it to the MLS Cup Final.
"We saw an opportunity to acquire another asset for a player that was not returning in 2015," said Toronto FC general manager Tim Bezbatchenko in a statement. "I'd like to thank Jeremy for his contributions to Toronto FC. He is a great person and we wish him all the best."
Hall made 57 league appearances in his three seasons with the Reds, contributing two goals and one assists. His playing time dropped off significantly in 2014, however, as he saw minutes in just three matches.
WAKE FOREST'S VIDOVICH NAMED T2 HEAD COACH
The Portland Timbers turned to one of college soccer's best head coaches when they hired Caleb Porter to lead the first team, and they are making a similar move for their reserve side.
The Timbers announced on Tuesday that Wake Forest's Jay Vidovich has been appointed the first head coach of Timbers 2 (T2) ahead of their inaugural season in USL Pro. Vidovich will take over T2 after serving as head coach of Wake Forest for 21 seasons, and is also going to be an assistant coach for the Timbers' first team.
"Signing a coach of Jay's considerable caliber and pedigree is both reflective of our commitment to the T2 team and his desire to coach at a higher level," said Timbers general manager Gavin Wilkinson. "We view this as a major investment in the program and a vital step in the development of our young players coming through the club. Jay brings a wealth of knowledge and experience and is a tremendous addition to our coaching staff.
"While Jay's primary responsibility is as head coach of the T2 team, he will work closely with Caleb Porter and implement the same style and system as the first team."
Under Vidovich's leadership, the Deamon Deacons reached the NCAA Tournament in 13 of the past 14 seasons and won their first national championship in 2007.
FIRE OPEN UP DP SLOT BY TRANSFERRING ANANGONO 
The Chicago Fire have been busy making a number of signings in recent days, but have now unloaded one of their attackers and opened up a Designated Player slot in the process.
The Fire announced on Thursday that they have transferred Juan Luis Anangono to Liga MX outfit Universidad de Guadalajara. The Ecuadorian forward leaves Chicago after spending the past season-and-a-half there, and his departure frees up a DP slot.
In his time with the Fire, the 25-year-old Anangono scored four goals in 28 appearances.
ORLANDO CITY ANNOUNCE LOCAL TV DEAL
Like fellow expansion team New York City FC, Orlando City have finalized a television deal.
Orlando City announced Wednesday that they have entered a multi-year partnership with local network FOX 35/WRBW MY65, which will serve as the broadcast home for Lions' games not aired by MLS's national television partners.
"This is a landmark day for Orlando City fans," said club president and founder Phil Rawlins. "We look forward to working closely with our partners at FOX 35 to create, not only a first class broadcast for our fans, but additional in-market promotions and opportunities to bring them closer to their Club and the players on the field."
Orlando City, which begins playing in MLS in 2015, expect to announce a local radio and Spanish-language television partner soon.
FC DALLAS' HOMEGROWN PLAYER CRAFT UNDERGOES SURGERY
FC Dallas' Homegrown forward Coy Craft has gone under the knife, but is not expected to miss the start of the 2015 season.
Craft underwent a successful surgical procedure to repair a torn labrum in his left shoulder, the club announced on Wednesday. Craft, 17, has already begun rehabbing and is expected to join Dallas for preseason preparations in late January.
The Under-18 U.S. Men's National Team attacker made one appearance for FC Dallas during the 2014 season after signing a contract in August.
—–
What do you think of Sporting KC signing Marin? Do you see Hall carving out a regular role in New England? Like the Timbers' appointment of Vidovich?
Share your thoughts below.