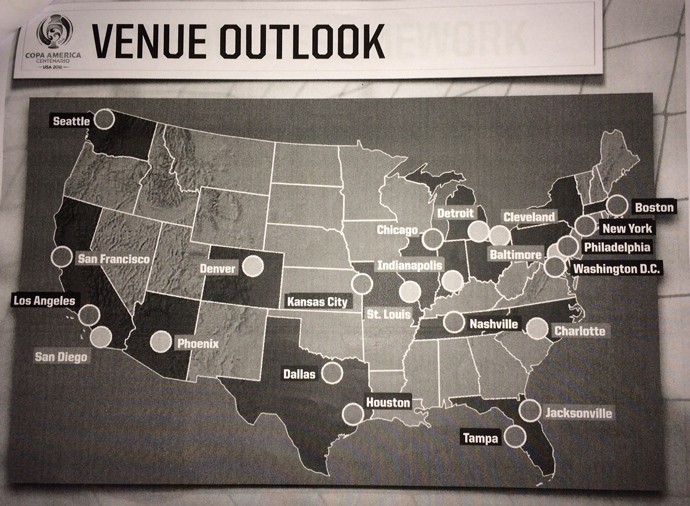 By RYAN TOLMICH
The 2016 Copa America Centenario is set to be held on U.S. soil and the picture is starting to becoming a little bit clearer on where exactly the games will be played.
CONMEBOL are reportedly eying 23 cities in the U.S. as potential hosts, while two, Miami and Atlanta, have been disqualified, despite their Latin populations, due to incomplete stadiums ahead of the 2016 tournament.
A map detailing the potential stadium sites shows 11 cities (Seattle, Los Angeles, Kansas City, Dallas, Houston, Tampa, Nashville, Philadelphia, New York, Boston and Washington, D.C.) listed in one color, with 12 more (San Francisco, San Diego, Phoenix, Denver, St. Louis, Indianapolis, Chicago, Detroit, Cleveland, Baltimore, Charlotte and Jacksonville) in another.
The list of potential destinations reportedly came up during a recent CONMEBOL Exective Committee meeting and is expected to reduced as the tournament approaches.
The 2016 tournament, which will represent the competition's 100-year anniversary, is set to feature the ten members of CONMEBOL (Brazil, Argentina, Uruguay, Colombia, Chile, Paraguay, Peru, Ecuador, Bolivia and Venezuela), as well as the U.S., Mexico, Costa Rica, Jamaica, and two other CONCACAF participants.
—-
What do you think of the potential cities? Which cities would you like to see CONMEBOL choose? Plan to attend any of the games?
Share your thoughts below.