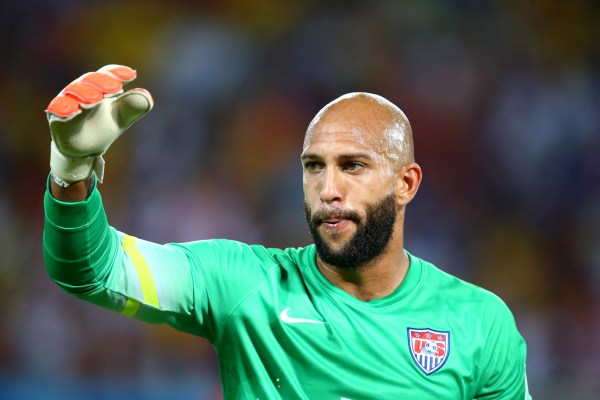 Photo by Mark J. Rebilas
/USA Today Sports  
By FRANCO PANIZO
Tim Howard has yet another piece of hardware to add to his trophy cabinet.
Howard was named the 2014 CONCACAF Goalkeeper of the Year on Tuesday morning, giving him the distinction for the second straight year. The U.S. Men's National Team veteran edged out Mexico's Guillermo Ochoa and Costa Rica's Keylor Navas for the award, but interestingly enough finished behind Navas in the Player of the Year voting.
Other Americans to win awards this year were Abby Wambach and Mark Geiger. Wambach was named the Female Player of the Year after finishing second in that category in 2013, while Geiger collected the Referee of the Year accolade.
The winners were determined by an equally-weighted vote among member association men's and women's national team coaches and captains, media, and fans.
Here is a full rundown of this year's CONCACAF awards winners:
PLAYER OF THE YEAR
Winner:  Keylor Navas, Goalkeeper (Real Madrid/ESP & Costa Rica)
Second:  Bryan Ruiz, Forward (Fulham FC/ENG & Costa Rica)
Third:  Tim Howard, Goalkeeper (Everton/ENG & United States)
  
FEMALE PLAYER OF THE YEAR
Winner:  Abby Wambach, Forward (Western New York Flash/USA & United States)
Second:  Shirley Cruz, Midfielder (Paris Saint Germain/FRA & Costa Rica)
Third:  Veronica Charlyn Corral (Merilappi United/FIN & Mexico)
 
GOALKEEPER OF THE YEAR
Winner:  Tim Howard (Everton/ENG & United States)
Second:  Guillermo Ochoa (Malaga/ESP & Mexico)
Third:  Keylor Navas (Real Madrid/ESP & Costa Rica)
 
COACH OF THE YEAR
Winner:  Jorge Luis Pinto (Costa Rica)
Second:  Luis Fernando Suarez (Honduras)
Third:  Oscar Ramirez (LD Alajuelense/CRC)
 
REFEREE OF THE YEAR
Winner:  Mark Geiger (USA)
Second:  Marco Antonio Rodriguez (Mexico)
Third:  Walter Quesada (Costa Rica)

GOAL OF THE YEAR
Winner:  Bryan Ruiz, Costa Rica v Italy, 44th minute (June 20, 2014)
Second:  Esteban Ramirez, Herediano v Saprissa, 20th minute (November 2, 2014)
Third:  Joel Campbell, Costa Rica v Uruguay, 54th minute (June 14, 2014)