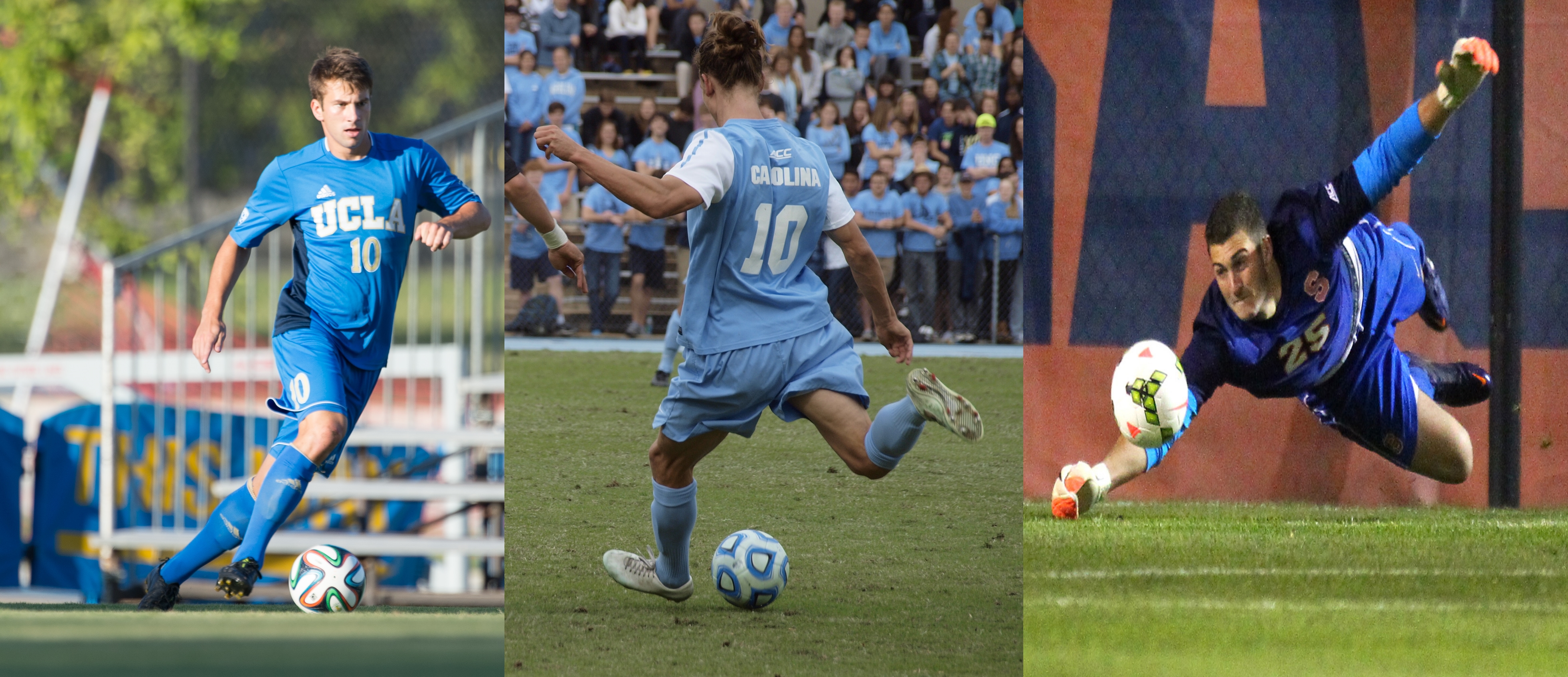 By AARON CRANFORD
The finalists for the 2014 Men's MAC Hermann Trophy were announced today, and UCLA midfielder Leo Stolz, North Carolina forward Andy Craven and Syracuse goalkeeper Alex Bono are up for nomination.
The Bruins star midfielder has led his side to their first College Cup semifinal since 2011, and he leads his team in goals and assists with nine and six, respectively. He will lead the side Friday night against Big East champion Providence in the hopes of claiming a spot in the College Cup Final Sunday.
Craven, the prolific Tar Heel goalscorer, has scored at will this season, leading the nation with 15 goals this campaign while his team has netted 52 this year, a nation best as well. The Tar Heels were knocked out of the NCAA tournament by UCLA, but Craven's accomplishments as a striker are outstanding when compared to his peers.
Finally, the Orange wall, Bono, has enjoyed a tremendous year in goal for Syracuse. He started and played all 21 matches for the Orange, and while making 67 saves, he only allowed 12 goals all season, a team record. Furthermore, he posted 12 shutouts and is the first goalkeeper to be a finalist since the structure of the nomination narrowed the finalists down to three in 2003.
In addition, the NCSAA released their All-America teams, highlighted by the inclusions of Stolz, Craven and Bono. Have a look at the complete teams below:
FIRST TEAM
G Alex Bono – Syracuse
D Joseph Greenspan – United States Naval Academy
D Brandon Vincent – Stanford
D Joshua Yaro – Georgetown
M Jay Chapman – Michigan State
M Patrick Hodan – Notre Dame
M Leo Stolz – UCLA
M Tanner Thompson – Indiana
F Andy Craven – North Carolina
F Fabien Herbers – Creighton
F Robbie Kristo – Saint Louis
F Jordan Morris – Stanford
SECOND TEAM
G Tyler Miller – Northwestern
D Francis De Vries – Saint Francis (Pa.)
D Boyd Okwuonu – North Carolina
D Jose Ribas – Creighton
M Fatai Alashe – Michigan State
M Eric Bird – Virginia
M Nicholas Besler – Notre Dame
M Timo Pitter – Creighton
F Connor Hallisey – California
F Camerson Iwasa – UC Irvine
F Kyle Parker – North Carolina-Charlotte
F Khiry Shelton – Oregon State
THIRD TEAM
G Callum Irving – Kentucky
D Michael Amick – UCLA
D Oumar Ballo – UMBC
D Forrest Lasso – Wofford
D Andy Thoma – Washington
M Cristian Roldan – Washington
M Jamie Dell – North Carolina-Wilmington
M Phil Towler – Providence
F Brandon Allen – Georgetown
F Sal Bernal – UNLV
F Guillermo Delgado – Delaware
F Timi Mulgrew – George Mason
——
What do you think of the three finalists? Who do you think will win the MAC Hermann Trophy? What do you think of the All-America teams? Any snubs?
Share your thoughts below.