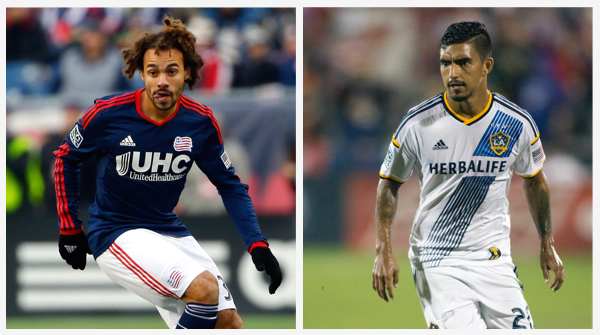 By FRANCO PANIZO
CARSON, Calif. — When the LA Galaxy and New England Revolution square off in the MLS Cup final on Sunday, there stands a good chance that two players who grew up playing against one another will meet again. Two players who have taken distinctly different paths, but who share a similar story in that they have had to overcome trying personal issues to get to this point.
Galaxy defender A.J. DeLaGarza and Revolution fullback Kevin Alston both grew up in the Baltimore-Washington metropolitan area. They battled against each other on the field on multiple occasions as kids, and their friendly rivalry carried over into college before they both made their way to MLS.
They have each been able to care out respectable careers albeit on completely opposite coasts. They both entered the league in 2009, bounced around positionally at their clubs due to their versatility, but showed plenty of promise before becoming regular contributors.
DeLaGarza and Alston have something else in common. Both have dealt with challenging obstacles in their personal life as of late.
Alston was first, diagnosed with a treatable form of leukemia during the opening months of the 2013 season. The news was an emotional punch to the gut, especially for a person and player who had always made it a point to look after his own physical well-being. Alston broke down when he heard the diagnosis, crushed to learn about his health condition and flabbergasted about what it meant.
"It's tough. You could imagine anytime somebody hears something like that, you don't know what to think," said Alston on Saturday. "It was hard to deal with for a while, it's still hard to deal with."
Alston, 26, spent much of the past two seasons dealing with his condition. He lost his regular starting spot with the Revolution during that time, frustratingly missed dozens of games, and was forced to go from a completely healthy professional athlete who was used to playing at full speed to someone who had to be cautious of how much energy he exerted.
It was a challenging process at first, one that was as much mental as it was physical, and still is now. Alston's health has improved and he's playing in games again, but he is still dealing with the health condition and still learning how to cope with the mental hurdles that come with it.
"It's my biggest challenge, getting my mind right," said Alston. "I feel good now, but I don't know what's going to happen down the road. I try to block that out, but I have good days and I have bad days."
DeLaGarza is not suffering from an illness himself, but earlier this year tragically learned that his unborn son, Luca, was diagnosed with the rare condition that is Hypoplastic Left Heart Syndrome while still in his mother's womb. His chances of living were low according to doctors and dependent on him having to go through several heart operations. DeLaGarza and his wife, Megan, were devastated.
The couple kept the faith, however. They chose to continue with the pregnancy, and Luca was born in late August. Sadly, he died shortly after his birth due to his illness.
DeLaGarza, 27, took a hiatus from the field to deal with the distress he and his wife felt. He wasn't away for long, returning quickly to his Galaxy teammates. Not because he was obligated to, but because being on the field provided him security, a space of refuge.
"This was kind of my safe place I think, where I could just come here and enjoy the day and kind of predict what was going to happen," said DeLaGarza on Saturday. "A child with a heart problem, you can't really help him. You've just got to let the doctors do everything, so it was tough to just sit there and watch.
"But here I can come out with a good attitude, like I did, and play well and help the team out and I think I took it in a positive way."
While DeLaGarza's performances on the field were as good as they had been throughout a season that Galaxy head coach Bruce Arena has praised, there was still some understandable hurt at home.
Megan was still grieving the loss of her infant son, and that sorrow was made worse when several of DeLaGarza's teammates had babies of their own in the weeks after Luca's passing.
"It's difficult for her to see, not that these other guys have healthy babies, but she lost her child so it's hard to see that," said DeLaGarza. "I think there have been four or five births since Luca was born, so it's got to be pretty tough."
Through all the adversity and heartache, DeLaGarza continued to help the Galaxy in their quest for another MLS Cup trophy. His contributions in his safe haven helped him piece together a season that, it can be argued, has been the best of his six-year career, and are why Arena called him the club's most valuable defensive player this season.
Alston has earned similar high marks from Revolution head coach Jay Heaps. Alston has not played as big a factor to New England's cause as DeLaGarza has been to LA's, but recently started at left back in the decisive leg of the Eastern Conference Finals. Alston did an admirable job in that match against the New York Red Bulls, helping his club seal the series victory and move onto the first MLS Cup Final seven years.
Like DeLaGarza, returning to the field was a welcome development after dealing with incredible agony.
"Just being able to get back and be a part of the team and being able to contribute means the world to me," said Alston.
DeLaGarza and Alston go way back as far as playing soccer goes, but they are not close friends. In fact, they have not spoken to one another during these trying times.
Still, the two defenders have wished the best for one another. They have history and a mutual respect that has only grown during these last couple of years as each of them has had to handle his own difficult circumstance.
The two defenders will renew acquaintances on the field on Sunday afternoon, with MLS's grandest prize up for grabs. Only one of them will be hoisting the trophy with his team in the end, but the manner in which both DeLaGarza and Alston have gotten this far, especially after some unexpected personal struggles, is something they can cherish as much as their childhood battles.
"That was what we would look forward to on the weekend just playing against each other," said Alston. "When we finally got to play with each other, I got to know him better and his family and he's just a great guy coming from a great background."
Added DeLaGarza: "We grew up playing, we were always rivals. I remember we have some close friends, we hung out a couple times I'm sure in college, but he's a fighter as well and a role model to a lot of people. Last year, he was down and he's come back pretty remarkably this year."