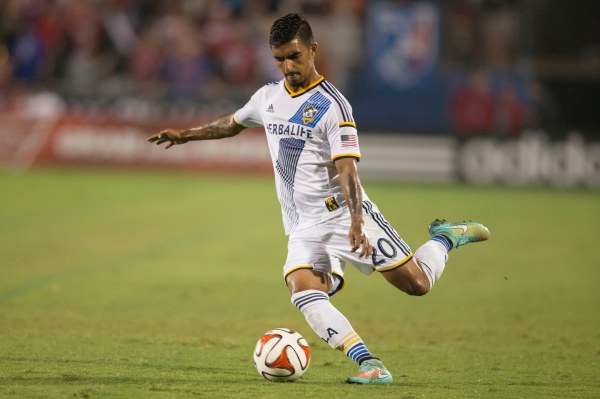 Photo by Tim Heitman
/USA Today Sports
By FRANCO PANIZO
LOS ANGELES — A.J. DeLaGarza was forced to sit helplessly and watch as the LA Galaxy fought to keep their MLS Cup dreams alive last weekend.
That is not looking to be the case again on Sunday.
DeLaGarza has been dealing with a strained hamstring that he sustained in the first leg of the Western Conference Finals vs. the Seattle Sounders on Nov. 23, but said Friday he has fully recovered and should be available for selection in Sunday afternoon's MLS Cup Final against the New England Revolution.
The 27-year-old defender missed this past weekend's match away to the Sounders, not even making the 18-man roster as the Galaxy did just enough in a 2-1 loss to advance in the two-legged affair.
"I feel 100 percent," said DeLaGarza. "I've been sprinting and all that with no problem and no setbacks. My trainers have been on top of it since it first started affecting me and I think I got back sooner than I thought and without any pain. I think it's great."
It is unknown right now if Galaxy head coach Bruce Arena will insert DeLaGarza back into the lineup, but the veteran is an option at both right back and centerback. Helping DeLaGarza's cause to return to the field at StubHub Center is his experience in MLS Cup Finals, as he has seen time in two of the last three championship matches that the Galaxy have played since his rookie season in 2009.
"This is the game you want to play in," said DeLaGarza. "At the beginning of the year, you set your sights to play for an MLS Cup Final. Just to be back, my fourth MLS Cup Final in six years, is pretty crazy. I'll never taken it for granted. Just enjoy the moment and everything that comes with it."
Here are more notes from Galaxy camp:
ROGERS TALKS SMOOTH TRANSITION TO LEFT BACK
It is common for players who drop from a wide midfield role to a fullback spot to say that the two positions are very similar, but Robbie Rogers does not agree.
Rogers moved from his natural place at left midfield to left back earlier this season for the Galaxy, and has fully adopted the change despite feeling that playing in defense possesses completely distinct challenges. He has thrived at the position, so much so that long-time LA starter Todd Dunivant has been reduced to reserve role.
For the 27-year-old Rogers, the transition is still a work in progress but has been pretty smooth to this point. In fact, he did not expect it to go this well this fast.
"Of course there's been challenges, but I thought it was going to be a lot more difficult than it was," said Rogers. "I think the coaches have done a great job just to kind of work with me on things, and watch video, and to go over all that kind of stuff (as well as) talking to some of the guys that have played there for a while.
"I have a lot to learn, but I think it's a pretty natural position for me.
Rogers will likely be in the Galaxy's lineup on Sunday against the Revolution, tasked with marking a player in Teal Bunbury who has also changed positions this year. Bunbury has gone from serving as a forward to a right winger, helping New England add another dimension to its attack.
The two former U.S. Men's National Team teammates will see plenty of one another on the flank on Sunday, and winning that mouth-watering individual match-up could go a long way in determining which team adds its name to the history books.
"He's an athletic guy, he likes to take players on, he's very strong," said Rogers. "I'm going to just be wary of him, and I'm athletic as well, so I'll try to use my pace and my strength as well. But he's also going to have to defend a lot, too, so I'll just try to run up and down the flanks and try to win that one-on-one battle."
ISHIZAKI TOUCHES ON EUROPEAN ENCOURAGEMENT AHEAD OF GALAXY MOVE
When Stefan Ishizaki was contemplating a move to the LA Galaxy this past winter, he received no shortage of encouragement.
Ishizaki left Europe in January after spending his entire career there, but not before discussing the potential move to Los Angeles and MLS with multiple compatriots. Most notably, former Seattle Sounder Erik Friberg gave Ishizaki positive reviews of the league to help to convince the midfielder to make the move.
Friberg wasn't the only one to support it, however.
"Even in Sweden, LA Galaxy is a known brand and a known club, so most were excited for me," said Ishizaki. "But obviously I had some interactions with some Swedish players who played in the league and I asked for what they thought and everyone I talked to said that it's a great adventure, the league is a lot better probably than people in Europe think.
"They just said, 'Go for it.'"
Ishizaki, 32, did just that and is now a regular starter for a Galaxy team vying for its third MLS Cup trophy in four years. Ishizaki has previously won two titles in Europe, and is hoping to add to that success while maintaining his perfect record in games with championships directly on the line.
"I've played a couple of winning games, like last-season games that if we won, we've won the league," said Ishizaki. "We've done that twice, and came out successful both times. I'm 2-0 so far, hoping to go 3-0."