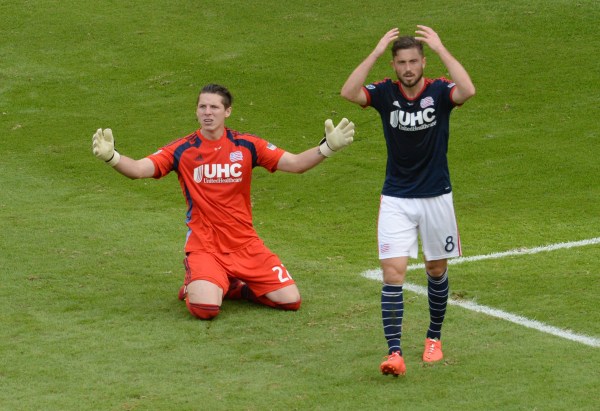 Photo by Jayne Kamin-Oncea
/USA Today Sports  
By RYAN TOLMICH
CARSON, Calif. — For the fifth time in as many opportunities, the New England Revolution fell short in an MLS Cup Final.
A franchise that has endured as many heartbreaking defeats as any in the league, the Revolution suffered a loss Sunday that seemed all too familiar. Much like the four prior trips to the title game, the Revolution saw their season come to an end, losing in 2-1 in extra-time to the LA Galaxy at StubHub Center.
There was no trophy, no celebration. Just a world of frustration and pain.
"I'd be lying if I said I wasn't devastated," said goalkeeper Bobby Shuttleworth. "I think this team really came together and they grinded out a lot of good results toward the end of the year. This locker room is so tight and all of these guys are great friends. It hurts a lot right now. We had a good year, but it's tough to look at it right now."
Added a visibly somber Teal Bunbury: "Everybody was pushing each other. It really is devastating and disappointing for all the fans that came out, the family members, all of the people that have supported us the whole season, but they've got to be proud as well. We gave it everything we got."
The Revolution were reminded, once again, that the sport truly comes down to inches.
Just moments after seeing Chris Tierney net the equalizer, Bunbury tapped a looping effort that soared up and over Galaxy goalkeeper Jaime Penedo before smacking off the crossbar in an effort that would have all but secured the club an MLS Cup title.
"Late in the game, it's unfortunate," said New England head coach Jay Heaps. "I thought we could have gotten a little help on that."
"I wish it would have gone in," echoed Bunbury. "It was that close."
Unfortunately for the Revolution, Bunbury's effort proved to be the team's best chance at securing the club's first MLS Cup. Despite a general consensus that the team went toe-to-toe with the Galaxy, Robbie Keane's extra-time winner ensured that New England would, once again, leave a cup final empty handed.
"I thought we played well. I thought we matched up great against them," Bunbury said. "We maybe didn't have as many counter attacks, but we possessed the ball quite a bit. We had great movement and I feel like we were able to capitalize on some chances and keep the ball going, but Robbie Keane, MVP, a legend, he'll do that to you."
Despite the disappointment, the Revolution found some sense of positivity in Sunday's defeat. With an admittedly young and inexperienced roster, the team has aspirations of getting over the hump next season by keeping together a majority of the group's core.
"I think the biggest thing for us coming into next season is that we need to use this as motivation," Shuttleworth said. "We need to try to win the Supporters' Shield and host this game. I think, going forward, it's important for us to reflect on it and take the negatives right now, but we have to take the positives and take that into next season."
"I hope that everybody can get healthy and come back good and concentrate on next season," added Jermaine Jones. "I think the big point is that if you're concentrated, then you really can battle with anybody in this league."
With that, New England hope to battle its way back to this point again next season in an effort to finally bury the ghosts of disappointment that reared their ugly head once again Sunday.
"It is what it is," Heaps said. "I'm going to try and do it again sometime, to get these guys back here. That's what it's all about."