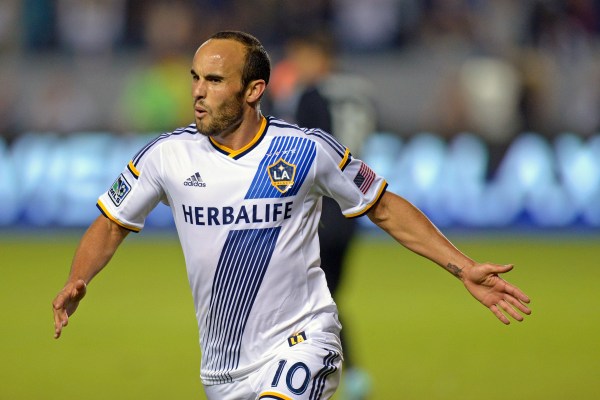 Photo by Jake Roth
/USA Today Sports  
By FRANCO PANIZO
LOS ANGELES — Final game. At home. MLS Cup Final.
It seems the stars are all aligning for Landon Donovan.
Donovan is set to play in his seventh MLS Cup Final on Sunday when his LA Galaxy host the New England Revolution, but what makes this match unique compared to all the rest is that it will mark the last game of the 32-year-old attacker's illustrious career. Donovan announced back in August that he would be hanging up his cleats at the conclusion of the 2014 MLS season, which due to good form on his and the club's behalf has extended to the championship game.
For Donovan, win or lose, there is no tomorrow. He isn't going back on his decision, which is all the more reason why he wants to end things on a high. The spotlight is fixed largely on him – a bulk of the questions during the days leading up to the final have been directly about or related to Donovan – and it still isn't fazing him ahead of a match that could give him his sixth MLS Cup trophy.
"This week has been a little bit different because I personally didn't know what was coming next. Now I know," said Donovan. "I've been very excited every day to wake up and go to training. Candidly, I don't want it to end right now. It's been a lot of fun and I'm going to have that attitude Sunday.
"I personally want it to be as enjoyable as possible and that would be winning. I enjoy winning, and these guys deserve it and I want to help do that."
To get to this point, Donovan has had to go through some headline-grabbing highs and lows in 2014. He was notoriously left off the U.S. Men's National Team's World Cup roster, only to immediately respond with some of his best performances in the MLS season.
Donovan has said on several occasions that the controversial omission – which is still discussed heavily to this day by fans from all corners of the U.S. – did not play a major factor in his decision to retire. Announcing that he would be calling it a career has, however, allowed him to play freely, with the mental stress he's been carrying for a couple years now and internal conflict he's been going through gone just like that.
The run of good form that Donovan is currently on has helped guide the Galaxy back to their third MLS Cup Final in four years. He has scored goals, delivered assists and turned in the kind of solid performances that he has long been known for during LA's postseason run, and is hoping to be able to do it once more on Sunday.
He's also not overly concerning himself with what's next, even with his looming retirement fast approaching.
"I just want to play and we want to win a championship," said Donovan. "After that, I'll think about the rest but I gave myself a few days early in the week to really understand the finality of it. Now, it's a game. We're at home, playing for a championship, and we're all so programmed now to play the next game. That's where my mindset is right now."
Indeed, Donovan has pushed aside any of the emotions that could come from realizing your life's work is about to be complete. He has, for the most part, approached this week as any other. He's practiced like normal, done his media appearances like normal, and gone about his routine like normal.
"He's a true professional and he's playing every game like it's his last," said Galaxy midfielder Stefan Ishizaki. "Always very focused in training and always taking care of his body and making sure he's prepared for the game. I don't think anything changes for him this game.
"Obviously, knowing it's going to be his last game he's probably going to go in with a bit different mindset, but other than that he's preparing himself like he usually does."
Donovan couldn't have asked for a better game to end his career. There's a championship at stake, he's playing at home in front of friends and family, and doing so with the club he's led to the promise-land several times before.
He could ride into the sunset a hero. He just needs to deliver for 90 more minutes.
"If anyone deserves to go out on a high, it's certainly Landon, for what he's done for this league and what he's done for the men's national team," said Robbie Keane. "He's been absolutely tremendous. Landon deserves it. He deserves to go out on a high."