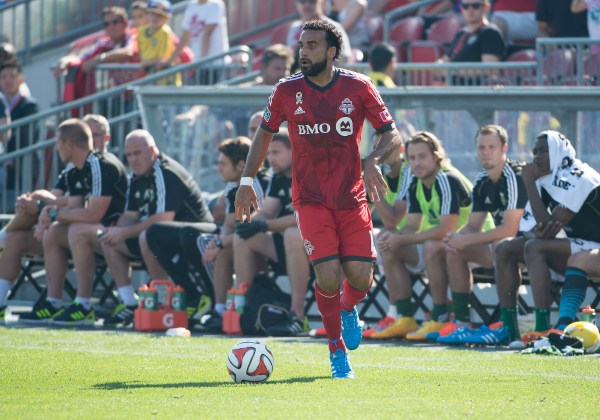 Photo by Nick Turchiaro
/USA Today Sports  
By FRANCO PANIZO
After a largely inactive week, the MLS player landscape figures to change more noticeably on Thursday.
Stage 2 of the 2014 MLS Re-Entry Draft will take place less than a week after an expectedly-quiet first round, with 56 players still available for selection.
Last Friday's Stage 1 saw three veterans picked up by new clubs, but there figures to be a lot more movement in Stage 2 as teams attempt to fortify their rosters at discounted rates. Players taken in this round can have their contracts renegotiated.
The Montreal Impact are first to choose, followed by the San Jose Earthquakes, Colorado Rapids, Chicago Fire and Houston Dynamo. Expansion clubs New York City FC and Orlando City choose last.
Some of the more recognizable remaining players include Canadian attacker Dwayne De Rosario, versatile defender Marvell Wynne, goalkeeper Jon Busch, seasoned midfielder Shalrie Joseph, and forward Edson Buddle.
Players who are not selected in this round will become available to any MLS club on a first-come, first-served basis.
Here's a look at the entire list of 56 players available for Stage 2 of the MLS Re-Entry Draft:
MLS RE-ENTRY DRAFT AVAILABLE PLAYER LIST
Patrick Ianni (Chicago Fire)
Hunter Jumper (Chicago Fire)
Steven Kinney (Chicago Fire)
Sanna Nyassi (Chicago Fire)
Gonzalo Segares (Chicago Fire)
Bakary Soumare (Chicago Fire)
Carlos Borja (Chivas USA)
Marvin Chavez (Chivas USA) *
Oswaldo Minda (Chivas USA)
Martin Rivero (Chivas USA)
Nathan Sturgis (Chivas USA)
Daniel Paladini (Columbus Crew SC)
David Armstrong (Colorado Rapids)
Edson Buddle (Colorado Rapids)
Kamani Hill (Colorado Rapids)
Dimitry Imbongo (Colorado Rapids)
Marvell Wynne (Colorado Rapids)
Jair Benitez (FC Dallas)
Adam Moffat (FC Dallas)
Hendry Thomas (FC Dallas)
Nana Attakora (D.C. United)
Alex Caskey (D.C. United)
Jeff Parke (D.C. United)
Conor Shanosky (D.C. United)
Omar Cummings (Houston Dynamo)
Brian Ownby (Houston Dynamo)
Rafael Garcia (LA Galaxy)
Chandler Hoffman (LA Galaxy)
Brian Perk (LA Galaxy)
James Riley (LA Galaxy)
Mamadou "Futty" Danso (Montreal Impact) *
Matteo Ferrari (Montreal Impact)
Troy Perkins (Montreal Impact) *
Andre Akpan (New England Revolution)
Shalrie Joseph (New England Revolution)
Stephen McCarthy (New England Revolution) *
Bobby Convey (New York Red Bulls)
Kosuke Kimura (New York Red Bulls)
Corben Bone (Philadelphia Union)
Fred (Philadelphia Union) *
Brian Carroll (Philadelphia Union) *
Kalif Alhassan (Portland Timbers)
Rauwshan McKenzie (Portland Timbers) *
Danny O'Rourke (Portland Timbers) *
Rich Balchan (Real Salt Lake)
Aaron Maund (Real Salt Lake)
Tristan Bowen (Seattle Sounders)
Josh Ford (Seattle Sounders)
Marcus Hahnemann (Seattle Sounders)
Jon Busch (San Jose Earthquakes) *
Atiba Harris (San Jose Earthquakes) *
Josh Gardner (Sporting Kansas City)
Dwayne De Rosario (Toronto FC)
Jeremy Hall (Toronto FC)
Ryan Richter (Toronto FC)
Andrew Wiedeman (Toronto FC)
* = out of contract
—–
What do you think of the list of players available ahead of Stage 2? Which ones would you like to see your club pick up? Wishing there were more big names available?
Share your thoughts below.